---
SUBJECT:
'Cause It's 1... 2... 3-4 Years, You're Out!
DATE:
June-30-2004
Today, at the Yankees/Red Sox game (Boston 3 NYY 11), Vice President Dick Cheney was in attendance. When a stadium camera showed him on the videoboard during the seventh-inning stretch, the crowd booed. Personally, I think they could have done better:
Get us out of Iraq, Dick,
Get us out of that mess.

There're no Saddam loyalists still at large--
I don't care who you say is in charge!

'Cause the problem now is the Shiites
Same as it's been all along
There the Ones...That... Sad-dam... Hussein
Kept a big lid on!
-- mm
---
SUBJECT:
Through a Glass Sternly
DATE:
June-29-2004
Back in February 2004, DJ Howard Stern was censured by the FCC in the form of a $495,000 fine levied against Clear Channel Communications, the radio conglomerate that delivers his show. As a result, Clear Channel pulled Stern's show from six radio stations in second-tier cities in Florida, California, Pennsylvania, and New York (note: the cities in question in each state are not the big ones, e.g., Miami, LA, San Fran, Philly, NYC... the show still runs there). Today, Stern announced that other stations in those second-tier markets would pick up his show and ranted at Clear Channel, saying the real reason they pulled his broadcasts was because he criticized Bush.
Now I like a good fart joke as much as the next guy, but when that's pretty much all you got and you're still a multimillionaire media mogul, I really don't think you have much right to complain about anything. Of course, you do need to attract some publicity now and then. Claiming that an evil, conservative corporation is attempting to crush your courageous, lone, Bush-critical voice by refusing to bear the cost of airing your anal sex jokes in Orlando and Rochester... why, Mr. Stern, you've become a full blown martyr! Let the press conference to announce the censorship begin!
Hey, Howard... just go back to your Win-a-Date-with-a-Lesbian-Stripper schtick and thank the God-of-Mediocrities that anyone ever signed a check for your particular brand of no-talent, arrested-adolescent tripe.
-- mm
---
SUBJECT:
Buy Asian, Support America!
DATE:
June-28-2004
A computer manufacturer in Idaho, MPC (formerly Micron PC) has recently touted itself as a patriotic American business success story in that it has gone from the brink of disaster to profitability without outsourcing any jobs overseas, as is common in the computer industry. The MPC website (as of June 2004) proudly features a red-white-and-blue, Statue-of-Liberty motif with the tagline "We're keeping jobs right here in the United States." And, true enough, there are 1,000 MPC employees in the U.S. who owe their jobs to MPC's no-outsourcing policy.
Of course, most of the internal components of MPC's computers--hard drives, logic boards, memory chips, etc.--are all made in Taiwan, Korea, Malaysia, etc. But the company still proclaims "Buy MPC ... Support America." How exactly is that? Well, I suppose that if you buy an MPC, their U.S. assemblers, salespeople, stockboys, etc., get to keep their jobs. OK, I can see that.
Futhermore, part of the money you give MPC funnels back to Southeastern Asian countries that have troubled economies. This helps provide people in those regions with jobs, income, the chance for a better home and family life. Some Southeastern Asian countries (Malaysia and the Phillipines, for example) have large Muslim populations and known anti-U.S. terrorist elements. Since the best possible recruiting base for terrorists are disenfranchised people with no family ties and no prospects for a better life, ensuring stable economic conditions in these "hotbed" countries can help reduce terrorism and, ultimately, make America more secure.
Nah. That's too complicated. Let's just invade and see how it goes.
-- mm
Story on Wired News: Patriotic PC Maker: No Outsource
---
SUBJECT:
How Good Is Google?
DATE:
June-27-2004
How good is Google? Well, the other day in a blog entry, I used the rhetorical descriptor "does he have another expression?" of John Kerry's depressed/angry face. This sounded familiar to me, as if I'd used it before in another context, but I couldn't remember.
So, I hopped over to Google and typed mattmchugh "another expression". In 0.06 seconds it came back with text from my Feb-26-2004 blog entry on Donald Trump, posing the same parenthetical about the Donald's trademark menacing stare.
It was faster and easier for me to let Google search 3-billion-odd web pages for a phrase I'd used than it would have been to go through the files on my own hard drive. I know that the Google-backlash is gaining steam (too many results! blogs are polluting it! no good for serious research! it's page ranking is wrong/bigoted/arbitrary!) and there's some truth to it. But, damn, I still find it scary impressive constantly.
-- mm
BTW... ever want to know what I think about anything, just type in Google "mattmchugh" (no space!) followed by whatever. As I say, it works with terrifying accuracy.
---
SUBJECT:
Why Snowmen Smile All the Time
DATE:
June-26-2004
My three-year-old boy has a stuffed toy snowman. It's based on the illustrations from the famous, word-less book The Snowman by Raymond Briggs. It has a green floppy hat, black coal eyes and buttons, a red tomato nose, and two legs.
This morning, when I woke him, he rolled over and noticed the snowman (which he's had for two years, by the way). He picked it up and said slowly, as if he were working out a new idea: "Daddy, snowmen don't have legs. They just have big balls."
After I composed myself I said the only thing I could: "Yes, they do."
I just had to record that one for posterity.
-- mm
A Snowman toy, based on the Raymond Briggs book, similar to one that prompted this revelation.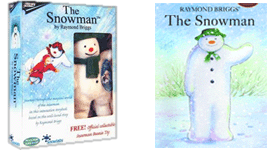 ---
SUBJECT:
New Bush Ad?
DATE:
June-25-2004
I just saw a video ad on GeorgeWBush.com, the official campaign site. It features clips of high-profile Democrats (Al Gore, Howard Dean, Richard Gephardt) and Michael Moore (??) ranting against Bush. It also includes a brief flash of a video from MoveOn.org, a stridently anti-Bush site not directly affiliated with the Kerry campaign, that compares Bush's foreign policy to Nazi war crimes. Near the end, over Kerry's depressed and angry-looking (does he have another expression?) face, it it superimposes:
This is not a time for pessimism and rage
Followed by an image of Bush looking vacuously dumb-struck (the now-infamous Florida classroom "Seven-Minute Stare"), captioned:
It's a time for optimism, steady leadership, and progress.
I don't get this one. Basically, it gives air time to some pretty harsh anti-Bush criticisms. Gore: Administration-approved abuse in Abu Ghraib is a stain on U.S. honor. Yep, sure is. Moore: Bush fabricated reasons for going to war with Iraq. That does seem to be the general consensus nowdays. Kerry says something about Bush taxing your camel and kicking your ass that sounds ridiculous, so we'll give the Dubya guys a point that one--but otherwise, I swear, the thing feels an anti-Bush ad all the way. It's like a Saturday Night Live (back before it sucked) political ad spoof of meaningless content and shock imagery. Right down to the creepy, saccharine "steady leadership" kicker.
My only guess is that they figured Bush supporters already hate Gore-Dean-Moore et al. so images of them yelling just fans further dislike. And the MoveOn.org Bush-Hitler montage is meant to make Bush-supporters cry agitprop foul, but--were I running Dubya's website--I'd sure "ixnay the Itlerhay" thing. First rule of advertising: make people feel good about your product.
There is a melodramatic fade-to-focus disclaimer in the beginning saying Democrats are indulging in hysterical, dirty-pool, Bush=Nazi rhetoric--and I suppose the ad is meant to illustrate this. It's an interesting campaign media strategy that I'm noticing more often: the other guy's ads are sleazy... don't vote for him. Well, this Dubya ad is baffling... you make your own decision.
-- mm
---
SUBJECT:
Elvis Has Entered the Pantheon
DATE:
June-24-2004
I've been reading accounts of the launch of Bill Clinton's new biography--book signings in Manhattan, BBC interviews, an appearance on Oprah... that kind of thing. Apparently, this is the fastest-selling non-fiction book ever (surpassing even Hillary's!), though it's a distant-distant-distant second to any of the Harry Potter books.
The brouhaha prompts me to ponder Clinton and Reagan as counterpoint political personalities. I will not enter into any kind of a discussion as to who was a "better president": the question is far too subjective by nature, furthermore I am fully convinced that Americans have become too politically polarized to even approach it honestly. Suffice it to say that each has been lionized or vilified in their respective quarters to such a degree that any almost statement you make about either can be cheered or contradicted with equal vigor. So, to enable a comparison of the two men, I'll do what I do best: reduce the argument to fact-less caricature!
Reagan was the Horatio Alger-esqe Everyman who charmed with his sincerity. Clinton was the slick huckster who won you over with a wink. Reagan waved his cowboy hat for the crowds to see. Clinton raised his hand to his chin so your eye just caught the glint of his Yale ring. Reagan was old, stalwart, trustworthy. Clinton was young, smart, crafty. Reagan was the golden promise of the West. Clinton was a Southern Boy at home in the Ivy League. Reagan was a Movie Star. Clinton was a Rhodes Scholar. Reagan doddered. Clinton philandered. Reagan was, at heart, a bigot. Clinton was, at heart, a sexist. Reagan was Forrest Gump. Clinton was Machiavelli.
So, you've got The Gumpper or Bubbiavelli. Take your pick.
-- mm
---
SUBJECT:
Back in the Garage
DATE:
June-23-2004
Just made my second (third actually, but that's another story) song-like thing with Apple's Garage Band software. It's a little 2.7mb / 2:25-minute ditty I like to call New-Agey World Beat Jazzy Conga Thing.
While far from award-winning, I definitely like this composition better that my first effort (Pointless-Techno Dance Mix Crap). There's no live playing at all--it's all pre-recorded loops--but I think it has more mood and cohesion to it. Also, I layered two percussion beats in a way that sounds very organic, almost messy. Looped music can sometimes sound so precise, a little sloppiness is distinguishing (I think). My wife pointed out that I went a little heavy on the 80's keyboard swells and synth riffs, but a (def?) leppard can't change his spots.
I'm starting to get the hang of the software, and I've played around enough that I'm also starting to get tired of the default loop library it includes. I really can't justify spending $100 on the extended loop pack, but justice has never been my forte.
-- mm
---
SUBJECT:
Secret Identities Not Indemnified
DATE:
June-22-2004
On Monday, the Supreme Court ruled that people do not have a constitutional right to refuse to tell police their names. This is the result of a case begun in 2000 in Nevada where a local man stopped by police refused to give his name and was arrested and eventually fined $250. The ruling in effect says that you can not willfuly hide your identity from a police offer if they ask.
It's official: superheroes are outlaws!
Which is just the way we like it.
-- mm
on Wired.com: Court: Names Must Be Revealed
---
SUBJECT:
Bloggers Convene
DATE:
June-21-2004
So the Democrats have announced that select high-profile bloggers will be granted press credentials to cover the convention alongside traditional print journalists. The Republicans are hanging back a little, but I'm sure they'll do the same--though I suspect they'll be very careful to choose the friendly ones.
It's an interesting coming-of-age for the concept of democratizing information, a long-in-coming promise of the Internet. If not exactly revolutionary--after all, it's just more people writing about an already hyper-covered event--the idea of legitimizing bloggers serves a kind of notice to the established news media.
The day I see streaming video of a press conference with a political columnist squirming under a barage of questions from bloggers asking if he's worried about his job... well, then I'll know that the revolution will indeed be webcast.
-- mm
on CNN.com: Bloggers seek access to conventions
---
SUBJECT:
Father's Day
DATE:
June-20-2004
Father's Day today. My third, technically. And what do I want for Father's Day? The one thing I can't have (I do that a lot, it seems): not to be a father for a day.
I love my kids. They amaze me constantly. But they NEVER go away. I mean, they're always underfoot, needing something, demanding attention of one sort or another. If left to my own devices, I'll always recede into my own head. Nothing puts the kibosh (an expression I hate, by the way--though it does have an interestingly mysterious origin*) on that like a pair of insane ankle biters.
They say that becoming a parent changes you. True, but that's not an instanteous transformation. It's a long, subtle process tied to aging, tied to the accumulation of experience, tied to an awaress of mortality (ever know anybody without kids to get extra life insurance?). All this knots you up into something different than you imagined you would become. It is neither bad nor good... it just is. Just like the kids just are. Though, in the end, I suppose they are good for me, keeping me from the all-but-constant daydreaming that is my wont.
Still, it might be nice to be able to go the bathroom on my own schedule for a day.
-- mm
From The Word Detective on the Web (word-detective.com/), an excellent site from columnist Evan Morris.
---
SUBJECT:
The Matrix Regurgitated
DATE:
June-19-2004
Look, it's perfectly simple. Humans build a conscious machine that spawns a race of intelligent machines. They get into a war. The humans lose and are enslaved for their bioelectric energy. The Matrix is created to keep the comatose humans content, but in order for it be convincing, it has to account for human variables, such at the hope of salvation. The One, a superhuman savior capable of defeating the machines, is a false hope built into the Matrix that keeps the humans distracted for generations as they await and prepare for The One's arrival with a religious fervor.
The Architect built the Matrix, but because he could not grasp the imperfect logic of human thought, it always failed eventually. The Oracle provided the necessary human emotional balance, but she grew compassionate enough to want to help them escape the enslavement of the Matrix. However, because The One was created by the machines therefore an easily controlled enemy, her efforts to help The One would inevitablly fail as well.
The wild card in the equation is Smith. A program from the machine world who, when faced with deletion, escaped and learned to replicate himself--becoming, in essence, a virus capable of destroying the system. When Smith merges with Neo at the end, he becomes mortal. Killing Neo kills Smith in one stroke and saves the machine world. In accordance with the agreement made with Neo, the machines call off the destruction of Zion. Similarly, the Architect, at the prompting of the Oracle, agrees to free any humans in the Matrix who desire release. The truce begins a new error of co-existence between humans and machines.
That's it. There's a lot of other goofy junk in the movies (The Merovingian? The Train Man? The Keymaster? Serif? Pointless padding.), but the core of the sci-fi story is pretty good. Really. It is.
-- mm
More of my Matrix blather: The Matrix Revisited / The Matrix Reactions
---
SUBJECT:
Liquoring Ladies Legally
DATE:
June-18-2004
The New Jersey State Assembly recently voted unanimously (78-0) to approve a bill making it legal for bars to offer "Ladies Night"--i.e., reduced admission and drink costs for women. The bill was proposed in response to a June 1 ruling from the state Division on Civil Rights that said it was, effectively, discrimination to grant a pricing break to a portion of the population based solely on gender.
Setting aside for a moment that this is a completely ludicrous waste of legislative energy in the state I pay my taxes to, I'm glad this was upheld. From Belmar to Hoboken... from Pennsauken to Stone Harbor... luring women into bars to lure men into bars is as all-Jerseyan a tradition as hook-shotting your quarters from the passenger side into the toll buckets on the GSP. After all, bars are businesses that thrive on the munificent machismo of guys trying to get chicks drunk. So why not cut the poor saps a financial break?
Let's face it... it's the only reason we go to bars. The ever-hopeful pursuit of the Drunk Chick. Oh sure, if there are none around, we'll pretend we came to watch the game--but that's a way distance second choice. Talking to each other ain't even on the radar. We're there to meet chicks. The drunker, the better. Interestingly, women don't seem to go to bars to meet men. They go to cluster in corners and talk about how much they're like Sex in the City. Or dance encircling a pile of purses and shoes on the floor. Like a heard of rhinos protecting their young. Or perhaps a ring of Wiccan priestesses forming a living She-Henge around the sacrificial altar of capitalism.
Does that last analogy make any sense? I can't tell... I was drunk when it occurred to me.
-- mm
Article on CNN.com: Ladies' night a civil rights issue in New Jersey

P.S. - Paul Johnson Jr., an American civilian working in Saudi Arabia, beheaded and filmed by al Qaeda members in Riyadh this week. Raised in New Jersey. Just noting it.
---
SUBJECT:
Return on Investment
DATE:
June-17-2004
Some advance announcements from staff reports on the 9/11 Commission came out today. Among the findings: Saddam Hussein was probably not involved in or aware of the Al Qaeda plot--though the government of Iran may have been; original plans for the hijackings may have involved as many as ten planes; and the detail most caught my eye:

The Sept. 11 plot cost "somewhere between $400,000 and $500,000 to execute," with much of the money spent in the United States on flight training, living expenses and travel, including tickets for the planes. *
So, for about the price of a Manhattan one-bedroom co-op, these guys caused tens of billions in damage, changed the course of world history, instigated war on an more-or-less uninvolved country--not to mention losses of life. The ludicrous skew of that just burns me. All the assorted Islamic terrorist groups exist for one purpose: to gain political control in Arab nations, most notably, Saudi Arabia. The means for this is to create unity among disenfranchised populations by exploiting hatred of an outsider (a core precept of Islam is animosity toward "infidels").
9/11 was a publicity stunt designed to attract recruits. No real military or strategic purpose, just a chance to look big in front of the home crowd for chump change. That, ultimately, infuriates me more than anything.
-- mm
* from New York Times, June 17, 2004: Panel Finds No Qaeda-Iraq Tie; Describes a Wider Plot for 9/11;
Full Coverage of the Sept. 11 Commission (registration required)
---
SUBJECT:
One More
DATE:
June-16-2004
Oh, yesterday's total: I ran through it in my head again and now I come up with 9 --though it wouldn't surprise me if I'm missing some. Nine co-workers, all under forty-five. Some natural causes, some by accidents.
So, of the--say--400 (?? -- no idea... it's a pure guess) individuals I have had a regular working relationship with at one time or another in the past eighteen-odd years, 9 are no longer alive. That's about 2.25% (again, a pretty speculative figure). When I look at it that way, it doesn't seem so out of proportion with what one might expect from the population-at-large. But, as I run down the names and faces in my mind, it seems quite a staggering count.
This life thing... it's a tough game. This God fellow... he plays for keeps.
-- mm
---
SUBJECT:
Passing of a Colleague
DATE:
June-15-2004
A colleague of mine from work died this week after a protracted illness. In my eighteen-ish years as a wage-earning professional, that brings the total number of people I have worked directly with who died before the age of forty-five to 8.
Eight. And that's not counting anyone I knew indirectly who was killed on 9/11.
Makes me realize that the whole "circle of life" thing is a lot closer than I usually allow myself to notice.
-- mm
---
SUBJECT:
Undermining "Under God"
DATE:
June-14-2004
Today, The Supreme Court upheld the use of the phrase "under God" in the Pledge of Allegiance in the face of a case brought by a San Francisco man arguing that a public school's recital of it amounted to religious indoctrination forced upon his 10-year-old daughter. Interestingly, the court ruled on a technicality saying the father, who is divorced from the girl's mother, did not have adequate custody rights to represent the daughter.
Now, I have something of a visceral reaction to seeing children forced to parrot dogma--religious or nationalistic. Rows of kids reciting ideological speeches they are incapable of agreeing or disagreeing with. I just find it creepy, in a Village-of-the-Damned-Hilter-Youth-in-Asia kind of way. I realize we need to instill a certain degree of conformity in our kids, but must we make them swear fealty to abstractions that many adults haven't the mental wherewithal to grasp? On the other hand, the Pledge of Allegiance--with or without God (the Ultimate Abstraction)--is a pretty banal bit of pseudo-patriotism, and compelling kids to mumble it every morning amounts to pretty minimal indoctrination. To put it another way, I just don't see the big deal.
But, apparently, this guy from California does. Maybe he's right, maybe he's wrong--but, in either case, I find it most likely he's just trying to get some professional attention (he is a lawyer, after all, getting to argue a case before the Supreme Court--the Holy Grail for anyone who's ever passed the bar). And using his kid as the wedge to work his way into litigation history... I don't know. Right or wrong, it just doesn't seem right.
-- mm
---
SUBJECT:
Sweet Sweet Condoleezza
DATE:
June-13-2004
Maybe it's just me, but every time I see Condoleezza Rice's name in print, I just think it has too many letters. Seriously, two E's and two Z's? What's the point? It looks like a typo. It makes me want to stretch out saying the name like a bad rodeo cowboy: "Yeee-haaawww ... it's Con-do-leeeeee-zzzzaaa!"
Actually, it kind of reminds me of the old movie title Sweet Sweetback's Baadasssss Song, the archetypal "blaxsploitation" film by director Melvin van Peebles--recently revived in the media thanks to his son Mario's new movie, Baadasssss!, about his father's experience making the original.
It's a bizarre coincidence. After all, what does blaxsploitation have to do with the Bush Administration appointing Dr. Rice, who's academic career concentrated on Sovietology, to be the primary spokesperson for military actions involving brown people in the Middle East. All sounds kosher to me.
-- mm
---
SUBJECT:
The Matrix Revisited
DATE:
June-12-2004
With my recent viewing of the third Matrix movie (the one everyone seemed to love to hate), I have to say that overall, I found the underlying story interesting and satisfying. I truly believe it could have been better accomplished in two rather than three movies. #2 and #3 were so fattened with spectacular visuals that they left you numb with sensory overload. #1 seems almost skeletal by comparison, but I can think of a half a dozen images from it that have stuck in my imagination. I find it hard to come up with any from the latter two. (Okay, Morpheus taking on a speeding SUV with nothing but a samurai sword in Reloaded was pretty memorable.)
But back to the story. Without dropping any "spoilers," I have to say I really like the whole arc of The One v. Smith and their interrelation to the Human and the Machine Worlds. Very ying/yang in a convoluted way. I like the fact that the Machine World is not a singularly evil thing. It's a complex civilization trying to survive and grow, with atrocity and nobility intermingled throughout (sound familiar?). I love the Machines depicted as insect-like--the perfect image of order from the multitude. I like the idea that victory demands sacrifice, even compromise, and that sympathy for the enemy can be a key to salvation.
I keep reading reviews of the trilogy lambasting it for "spiritual mumbo-jumbo." Well, I applaud it for taking a crack at explaining the unexplainable. The best sci-fi tends to take on the Big Questions (who are we? why are we here? what is life or death or right or wrong?) and, rather than answer them, just finds different ways of asking them. Anything that can spur you to take a fresh look at the imponderables of existence is worth the price of admission in my book.
-- mm
---
SUBJECT:
The Matrix Reactions
DATE:
June-11-2004
Rented The Matrix Revolutions tonight. I recall that this was pretty roundly panned by critics and fanboys alike, and usually when I finally see something that's been given a complete drubbing in the press I tend instinctively counter-react to all the layering of negativity and find the film "not so bad." And so it was with this: it wasn't so bad.
Actually, there was plenty to enjoy about it (if you like that kind of thing). Excellent effects and action, and a even story with an interesting twist--but it was all so cluttered with overkill. The Big Battle sequence was an incomprehensible hurricane that went on and on. Same thing with the Big Chase and the Big Fight. I truly believe that these kinds of movies are more often harmed than helped by unlimited CGI resources. When you can put anything and everything you can imagine on the screen, creative judgement--forced upon film makers of lesser budget--often flies out the window. The directors seem to want to make you go "wow!" over and over, but after two dozen "wows" your mouth starts instinctively turning them into "yawns" (go ahead, try it).
I'm sympathetic to the pressure Wachowski Brothers must have been under to deliver "bigger and better," but everybody knows (and often forgets) that the two ain't necessarily the same thing. And after the truly revolutionary first Matrix movie, how could they possibly top it? Obviously, they can't. You can't force a revolution, no matter how much you spend on it. All in all, I think they did a respectable job.
-- mm
---
SUBJECT:
Longing for the Good Old Daze
DATE:
June-10-2004
Tonight I watched a "making of" special about an upcoming History Channel show about King Arthur on my Comcast OnDemand. There's several elements in that statement I could happily cross-examine. My love/hate relationship with "making of" specials. The fact that I actually sat through a documentary about a documentary. The way the History Channel, desperate for programming, will repackage anything as "history." How much I love my OnDemand (my new slogan for it: It's still crap... but it's crap on your schedule!). Or how much anybody trying to commit the Arthurian legend to film should watch John Boorman's Excalibur and just give it up.
But... what I enjoyed most about the show was when they sent two professors of Medieval history to a Medieval Times restaurant to assess its historical accuracy. As amusing as that concept is, they actually pulled an interesting point out of it. Medieval Times presents a cliched, commercialized, contemporized, and cheesily sensationalized experience that has little to do with historic realities. Exactly as Sir Thomas Mallory did in Le Morte Darthur.
It makes perfect sense. Mallory was writing roughly 1,000 years after the time that most scholars believe the real "King Arthur" lived--or at least any person(s) that might have inspired the legends originally. Mallory took shadowy myths from the distance past and fashioned them into a romance that appealed to the sensibilities of his contemporary audience. Turning some barbarian warlord with a wood-and-leather shield into the archetypal British king in shining armor is no more or less a distortion than having out-of-work actors in rayon costumes saying "Wouldst thou have fries with that, mi' lord?" History is easily romanticized into legends of a time when virtue was uncorrupted and people untempted by the decadence of modernity. Even the normal vicissitudes of fallible human beings are smoothed over to provide a better screen for us to project our perpetual dissatisfaction with the present.
Oh, that reminds me: anybody watch any of Reagan's funeral?
-- mm
---
SUBJECT:
Current Favorite Commercial
DATE:
June-9-2004
For the most part, I don't really like TV commercials (controversial stance, I know!). I'm somewhat interested in them as cultural artifacts and examples of multimedia rhetoric, but I generally find them annoying. There are few standouts, though, that I actually look forward to seeing.

My current favorite: the Travelocity.com Roaming Gnome commercials. These have been around for a year or so, though they're just starting to really sink into my consciousness. They're the ones that look like a series of vacation slides featuring a little pointy red-hatted garden gnome statue who narrates each with the drollest of deadpan Brit wit. Apparently, it's all based around a urban legendish prank involving gnome-statue kidnapping some bored suburbanites supposedly started years ago. That's as it may be, but it's execution that floors me.

When they show him in a Jacuzzi saying how it puts "one in danger of getting bubbles up one's whoopsie-daisy"--I giggle for half and hour. Or him standing in front of Rodin's "The Thinker": "I told him it was just a knock-knock joke, you big silly." The best aspect is the pacing. Each slide passes by without pause, content to let the subtle gags zip by anyone not paying attention. When it comes on, you want to stop and watch closely, knowing you'll be rewarded by catching a funny line you might have missed before. In this sensory-overkill, dumbed-down, media-saturated world, it's actually a pleasure to encounter advertising that doesn't underestimate your intelligence.

I know who I'm booking my next vacation through.

-- mm

Adventures of The Roaming Gnome on Travelocity.com (but video doesn't seem to work). Story with a video link at MSN Slate
---
SUBJECT:
Fahrenheit 411
DATE:
June-8-2004
Sci-fi grandmaster Ray Bradbury is apparently hopping mad over Michael Moore's Fahrenheit 9/11 taking its title from his novel Fahrenheit 451. Moore has actually explicated his title as "the temperature at which freedom burns"--a parallel to "the temperature at which paper burns" (in case anyone doesn't know, the book is about a society where "firemen" burn forbidden books). Bradbury claims he contacted Moore's publicist, saying he didn't want him to use the title, but Moore never responded.
Oddly enough, it seems that the only news agency either canny or fortunate enough to get a hold of Bradbury (he's 84 and lives in L.A.) was from Sweden, so the story hasn't been widely circulated in the U.S. (other than blogs!). Bradbury teed off royally on Moore, calling him an asshole and a horrible person and accusing him of ruining Wesley Clark's chance to become president by supporting him.
Now, I'm moderately sympathetic to Bradbury, even if he does come off like an cranky old crab (I don't recall ever hearing Arthur C. Clarke complain about 2069: A Sex Odyssey). After all, it's just rude to build something based on a living author's work without getting their permission. On the other hand, the title and concept have very much passed into the cultural lexicon and playing off them satirically is fair use (in the legal sense as well). Still, Mikey... bad form, you know?
In the end, what intrigues me most about this story is that I learned the Swedish word for asshole (skitstövel). I got to remember that next time an IKEA clerk hassles me.
-- mm
Story on DN-Kultur in Swedish, Spiegel Online in German, and English translated bits on Secular Blasphemy blog.
---
SUBJECT:
Star-Struck Trek
DATE:
June-7-2004
I'm finding all the hubub over former President Ronald Reagan's death (93-year-old man dies... a nation in shock!) a little baffling. I've often been confused by people who feel compelled to personally mourn the passing of a celebrity they never knew personally; I remember seeing people all over America weeping over Princess Di's (albeit sudden and tragic) death and thinking they needed psychiatric help.
Even as Americans supposedly bred on democracy, we are still enthralled by royalty. That's essentially what Reagan was: Hollywood nobility raised to the highest office in the land because people loved the icon of success, prosperity, security, and moral certainty he represented. But the man himself? You never knew him. You may have projected your hopes and dreams onto him, but you only saw the carefully prepared image he chose to show to the public. You've only heard him say things other people wrote for him. You know him only through TV and magazines. Perhaps you found his image inspirational, but you didn't know him. He never came over for dinner. You've never had a conversation with him. He didn't call to console you when your mother died. He's essentially a fictional character to you.
What would you think of me if I took a day off from work and wore a black armband when Spock or Kirk died? You'd think I was as nuts as that Whitewater Trekkie Juror. But Kirk and Spock aren't real, you say. They're just characters, played by professional actors, produced for TV, speaking lines created by teams of professional writers--and everyone ultimately just trying to keep their jobs by winning a loyal fan base.
Exactly. Ex-freakin'-zactly.
-- mm
---
SUBJECT:
A Day of Historic Significance
DATE:
June-6-2004
June 6, 2004. 60th Anniversary of the D-Day Invasion of Normandy. Death of former President Ronald Reagan--the oldest elected (at age 69) and longest lived (age 93) of any U.S. president. A lot to write about. So what will I pick?
Neither. D-Day is an historical event so large and so far removed from my everyday life, that I can't come up with anything I want to say about it. And Reagan... well, never liked him (though I voted for him. The other choice was Mondale/Ferraro--what was I supposed to do?). He was an actor, playing a role, saying "Well,"-crafted (get it?) lines fed to him by a political machine he figureheaded. I was never wowed by his reputed charisma. To me, he epitomizes the concept of politician as mannequin: just look good and say whatever makes the greatest number feel comforted. And what of his accomplishments while in office? History and industry and assorted political coalitions did that. Seriously, if you think an old movie actor was a prime mover behind the breakup of the Soviet Union, you should get yourself checked for Alzheimer's.
I just wanted to say that I got to take a nap today. For one hour of midday bliss, while the baby slept and the wife and boy were out, I slipped into a sweet, untroubled unconsciousness for a few brief moments.
Sort of like what Reagan used to do at cabinet meetings.
-- mm
---
SUBJECT:
Moore to the Point
DATE:
June-5-2004
Recently saw the trailer for Michael Moore's Fahrenheit 9/11. I'm not particularly a Michael Moore fan. I generally find him shrill, arrogant, closed-minded, and intellectually slovenly. With his mike and camera and documentary-style editing, he seeks to pass himself off as some kind of journalist, whereas he is, in fact, a satirist. There's no more truth in a Michael Moore film as there is in a newspaper political cartoon.
Though, some of those cartoons can be pretty good. I recall one showing two men in Arab headwear--one labeled "Saudi Arabia," the other "Al Qaeda"--holding hands as President Bush looks on, saying: "Because it's not a marriage between a man and woman, I refuse to recognize it." Hee-hee. Or one with Bush pointing to a chart with the words AL-QAEDA and IRAQ. The "Q's" are circled and he's saying "Clearly, there is a connection." Snicker.
When Michael Moore waylays congressmen supporting the war asking them which of their own children (he has names and pictures) they're planning to send to fight in Iraq, it's rather cutting. When he reads the Patriot Act over a loudspeaker outside the Capitol building, having discovered that many of the legislators who passed it did not read it (and, in fact, rarely read what they ratify)--that's funny and scary. When he shows Dubya earnestly saying to the camera that all nations must do everything in their power to combat terrorism--then the camera pulls back to reveal he's on a golf course, just about to tee off... well, that's friggin' hilarious and speaks volumes.
Michael Moore may be something of an obnoxious jerk, but he makes a few good points here and there.
-- mm
---
SUBJECT:
Internet Back!
DATE:
June-4-2004
My Internet connection came back on tonight. For no reason whatsoever--same as when it went down. I'm pleased, but perplexed. If there's anything worse than an unsolvable problem, it's a problem that solves itself and never tells how it did it and leaves you in constant worry over what it's going to decide to do next.
-- mm
---
SUBJECT:
New Freakin' Material
DATE:
June-3-2004
On the weekends, I take my three-year-old son for a walk into town. The itinerary varies a little. For example, we might pause to look at the statues in front a church (he's very interested in the fact that Jesus is both a baby and a guy on a cross). Or go into the pet store to watch the fish (he has two at home unambiguously named "Goldfish" and "Brown"). Or sometimes we buy a trinket at the Dollar Store or a donut at Dunkin' Donuts.
On this particular day, we got donuts. He had a pink frosted one with "minkles" (i.e., sprinkles--a word he can say just fine but continues to use his two-year-old pronunciation because it makes us laugh). We're sitting enjoying our donuts and a group of teenagers are goofing around at the next table. One demonstrates how he easily he can consume a donut in its entirety. A compadre says something to the effect of: "Dude, did you just shove a whole freakin' donut in your mouth?"
My boy, who's been watching them intently, considers this for a while. He looks at his donut--practically a spare tire in his little grasp--and takes several careful nibbles. Eventually, he looks up and shares his conclusion:
"Daddy, this is not a freakin' donut."
I laughed so hard that I suspect he's found his replacement for "minkles."
-- mm
---
SUBJECT:
Flash Mob Baptism
DATE:
June-2-2004
Recently, in the Falmouth Waterfront public park in Virginia, one Rev. Todd Pyle of a local church decided to hold a baptism in a stream that ran through the park. Parishioners stood on the banks while about a dozen initiates waded into the river for the minister to give them an old-fashioned, Biblically inspired dunking. Park officials interrupted the ceremonies. They allowed him to finish, then asked him to move along.

The Rev. Pyle is threatening a lawsuit, and normally at-odds groups, such at the Christian Defense Coalition and the ACLU, are united in their indignation over this governmental assault on freedom of religious expression. Setting aside the fact that said groups will take any opportunity for headline grabbing, I actually tend to agree. Now I'm far from a fan of public river-dunkin' Bible belters, but it seems to me they were well within their constitutionally guaranteed rights. If they created a curious site on a hot day, so what? If they sang and prayed and that annoyed agnostics within earshot, well, that's their problem. These park officials are simply agents of religious persecution and intolerance. They had absolutely no right whatsoever to impede the church's event and --

-- Huh... what's that? Nobody at the church bothered to contact the park ahead of time for a permit? And you say all groups who schedule group events in public areas of the park are required to get a permit? And they didn't have a permit?

Oh. I see. Never mind.

Hey, Rev.--get a freakin' permit next time.

-- mm

On CNN.com: Public baptism sparks controversy.
Some back-and-forth on this topic between me and Blather Review blog posters.
---
SUBJECT:
Go Assign Yourself
DATE:
June-1-2004
Yes... my Internet connection is still down, and I'm becoming increasingly irked by it. It seems that my eMac (OS 10.2) can not recognize the IP being fed to it by Comcast's DHCP server. The computer just keeps giving itself an invalid "self-assigned" 169 IP address. This began out of the blue one day for no apparent reason and has resisted all attempts to fix it (releasing the IP, modem reset/power-cycling, replacing ethernet cables, creating a new network location, even reinstalling the system).
Interestingly, in my research, I've discovered this is a problem that crops up from time to time with Mac OS X and Comcast, in particular. No one seems to know what causes it (I've heard lightning storm surge as a possible explanation... as good as any, I guess), but it seems to be a software glitch on the Mac side (how storm surge could cause a software glitch is incomprehensible to me). My last effort will be to spend $130 to upgrade to OS 10.3 in a blind hope it will help. Beyond that, I have to take the computer to the shop.
I don't have a very technical background, but over the years I've grown to enjoy tinkering with the machine at least a little more than the average user. I like puzzles and problem-solving, and deciphering the electronic autism of wayward computers can be an interesting challenge. But I'm sick of this one (as I'm sure anyone still reading is). I just want the friggin' thing to work.
Ain't that what you always brag about, Mr. Jobs?
-- mm
---