SUBJECT:
Me Like Smut
DATE:
April 30, 2005
I just wanted to point out what a good word "smut" is. Great sound. Nice and tight... a derogatory, hissing sibilant followed by a prim, lip-pursing "m"-- ending with the voiceless alveolar stop ("t") that can be withering or comical with equal aplomb. Its original literal meaning refers to destructive agricultural fungi, most often a kind of mold that grows on corn and fouls its taste. From there, it grew naturally to a slang descriptor for pornography--particularly the seediest, low-quality stuff. Anti-smut and pro-smut forces both embrace the word lovingly to voice their displeasure or support, and that's pretty rare for any slang term.
Say it a few times. Casually and with gusto. Smut. SSSMUTT! smut smut smut smutsmutsmut. It's fun to say. It conjures up a wonderful host of images of hair-bunned Sunday school teachers and trench-coated adult bookstore pervs. Side with whom you like. Pick it up as your sword or shield, but most of all, enjoy it. Enjoy the word.
Enjoy "smut."
-- mm
---
SUBJECT:
Smut Strippers Legal
DATE:
April 29, 2005
President Bush signed a bill today that clears the way for companies (at the moment, really only one in Utah) to create and sell software that works with select DVD players to automatically skip over scenes of sex, violence, or profanity. For example, let's say you're watching Scarface... this would cut out all the sex, violence, and cursing (it'd probably be 12 minutes long). Basically, the software knows the movie DVD--presumably by a time index--and steps in to mute or fast-forward at key moments. You have to pay $4.95 to download the "smut stripper" file for each specific movie you want and, since it's created by a human, smut is in the eye of the beholder (e.g., I doubt it makes The Passion of the Christ 12 minutes long... see, that's "good" violence).
Now, in principle, I have no problem with this. You want to watch a movie in the privacy of your own home but don't want to see stuff that offends you, fine. You're essentially pissing on the creator's artistic vision but, frankly, there are plenty of artists who deserve to have their visions pissed on. Besides, who's to tell any individual they MUST experience a work of art in a certain way. I skipped pages like hell in The Sound and the Fury and I don't think it hurt Faulkner's reputation much. Personally, I feel that if you want to experience a work of art--even the worst of Hollywood hackery--you should give yourself over to it and decide if you like it or not, rather than re-shape it on the fly to your liking. But, hey, you want to see The Godfather but blood icks you out, then this is for you.
The controversy with the whole thing--that is, movie industry protests over the law--revolves around who gets to make money from the enterprise. In the past, some companies have tried to sell edited versions of DVDs without paying any licensing fees to the studios. That was pretty much shot down as piracy (despite some religious groups crying censorship of their right to censor), but this one, where a third party offers not an alternate version but simply automated instructions for jiggering playback--is a little trickier. Hollywood claims they deserve a licensing fee, that each smut stripper file is a derivative work; this law affirms otherwise: the stripper file is a complementary work--like a review or a book of essays about a film. In this case, I tend to side with the law--though, if I made a movie and some schumck figured out a way to make money from it without giving me any, I supposed I'd be pretty pissed, too. Of course, the real answer is for studios to release DVDs with a built-in smut stripping menu option--keeping the money and control for themselves--but the Director's Guild has nipped that in the bud. (Candy-ass directors. Apparently, Jonathan Demme and Ridley Scott have been known to show up randomly at people's houses and pry their hands from their eyes during the gory parts of Silence of the Lambs and Alien.)
-- mm
---
SUBJECT:
Private Accountability
DATE:
April 28, 2005
In his televised press conference tonight, President Bush stumped mightly on his prime-time bully pulpit for his planned revisions to Social Security. He made some suggestions about reducing future benefits for the "well-off" (Republicans don't use the world "wealthy"... listen for it; you'll rarely hear it) that struck me as surprisingly pragmatic and un-Republican. A major component of his plan, though, is to privatize at least a portion of Social Security by allowing individuals the option to invest some of the money in the stock market. There seemed to be a bit on contradiction here in that, at one point, I thought he claimed that such money would also be back by government Treasury bills--but I'm probably misunderstanding that. I mean, how can stock market investments be backed the government? (Maybe just the principal? I don't know...)
Again, trotting out my sweeping ignorance of economics here, the whole idea of putting Social Security money into the stock market really just seems like an intended boon to the stock market. I suppose you could argue that its rate of return, over time, is likely to surpass what a government-only plan could give (some risk, of course, being the price of that). Still, isn't that what IRAs and 401(k)'s do now? Isn't there a whole industry based on voluntary, privatized retirement savings? Isn't Social Securtiy (granted, a program which antedates all that) supposed to be the fool-proof plan to make sure people have something for retirement, regardless of their savings-and-investment wisdom or lack thereof elsewhere? OK... if you say it will go bankrupt in 35 years (I'm too ignorant to argue one way or the other) and needs fixing, fine. So tick up contributions a bit (translation: tax-hike) or reduce benefits (translation: screw grandpa) if you must, but why privatization? Is the aim to help future retirees, or current Wall Street brokers? If both can be accomplished with one stroke, great... but I'm wary of the motive.
As I say, the intent was always that Social Security was fool-proof. I just wish I understood exactly why Dubya feels the need to fool with it in this manner.
-- mm
---
SUBJECT:
The Wrath of Jobs
DATE:
April 27, 2005
Apple CEO (and widely reputed "sociopath") Steve Jobs recently demanded that all books from publisher John Wiley & Sons be pulled from the shelves of all Apple Stores. This was apparently prompted by his displeasure over a new book Wiley plans to published entitled iCon: Steve Jobs and the Greatest Second Act in Business History. After seeing an advance copy sent to Apple by the publisher, Steve lost it and ordered the de-shelving of Wiley's titles--which include the omnipresent For Dummies series and a host of computing reference books.
This story has been all over the tech and business news for days. The book in question has shot up to the number one slot in Amazon's pre-order list, number 144 (as of today) overall. The coverage has uniformly highlighted the "Steve's nuts!" angle with varying degrees of subtlety and made generally laudatory comments about the yet-to-be-released book. As they say in the business, you can't buy that kind of publicity.
Or can you? Imagine for a moment that this is some kind of collusion between the publisher and Jobs. The book supposedly praises Jobs impressive comeback to Apple in great detail. I'm sure it contains moments of less-than-flattering characterization (the "sociopath" label was first pinned on Steve in the 80's and has stuck ever since), but seriousy, is there anything this book could say--positive or negative--that hasn't been said many, many times before? Besides, how thin-skinned can a billionare be? What better way to garner interest in yet-one-more Steve Jobs book than to orchestrate a clash-of-titans media firestorm ahead of it? I have no doubt it's done all the time. Can't help but wonder about this one, too (though, personally, I don't think anyone involved in this instance was that crafty).
-- mm
New York Times article on Steve Jobs' reaction to iCon, posted on cnet.com
---
SUBJECT:
Mousitis
DATE:
April 26, 2005
Add to my ever-growing list of physical ailments an almost-constant dull ache in the right shoulder and a kind of tingly weakness in my right forearm and hand. It took me a while to figure out what could be causing this. Heart attack? No.... usually on the left. Nerve pinching in the neck? Maybe... I do get that, but it's typically more severe and has a different flavor of pain (I've become quite the connoisseur). Tumor? Who ever heard of a shoulder tumor? (though, I'm sure they exist). After thinking about it and talking to a few people, I 'm pretty sure I know: rotator cuff stress and carpal tunnel from using a mouse all day (and often half the night).
This makes perfect sense with the ever-increasing amount of time I spend on the computer. It's a growing "occupational injury" apparently. Simply put, any single action or position you put your body through frequently is going to, over time, manifest itself as uneven musculoskeletal wear, like ruts on the carpet under the rocking chair. The good news is that, usually, by altering your routine, you can correct the damage. The bad news is when that routine is your livelihood, you can't really alter it.
I suppose you can do that "stand and take a five-minute break every hour" thing (who says smokers don't get some health benefits?), but that's not always feasible and, in acutal fact, a pretty tiny countermeasure against the accumulated damage of decades of repetitive stress. Quitting my desk job and becoming a carpenter or gardner might help--though, of course, if I had to do those jobs all day every day, I'd probably develope hammer-wrist or hoe-hand or something.
Ah well. No rest for the wicked with a mortgage it seems.
-- mm
---
SUBJECT:
George and Abdullah Sittin' in a Tree
DATE:
April 25, 2005
President Bush today met with Saudi Crown Prince Abdullah at his Texas ranch. They reportedly discussed oil production, pricing, terrorism, Israel, the war in Iraq... all the usual suspects. No surprises there.
Aside from the substance of their conversations, the items from that meeting that seem to have gotten the most air time are the photos of the two men holdings hands as they walked through Dubya's meadows and orchards. Apparently this is a Saudi custom for men of equal standing to hold hands when they meet and the fact that the U.S. president follows such a foreign custom is, I think, an admirable token of cultural respect. However, on the surface to contemporary American sensibilities, it simply looks hilarious.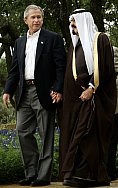 Two grown men--one in a suit, one in a robe and head wrap--strolling through the park, hands clasped like junior high kids going steady. Much has been written about the Bushes long-standing relationship with the Saudi ruling family, and every time a photo like this is released, there's a rush of comical captions ("Oh, shut up! Yentl is my favorite movie, too!" ... "I love it when you flex your OPECs." ... "We're so close, sometimes we almost finish each other's death sentences."), but I would never stoop so low.
-- mm
"I Wanna Hold Your Hand" ... cheap shots a-plenty at washingtonpost.com
---
SUBJECT:
HybrIId DrEEEamin'
DATE:
April 24, 2005
I keep seeing more about hybrid cars--a concept I generally like--but have become a little more wary of ever since I read an article questioning the economics and environmental impact of battery disposal (all hybrids have a large, rechargeable battery that will, over a few years, wear out and need to be replaced). That's a big unknown that gives me (a pragmatist with tree-hugging tendencies) pause.
I saw this book on the IEE website: The Electric Car: Development and Future of Battery, Hybrid and Fuel-Cell cars. It has a chapter covering battery disposal. I was thinking that since I know someone who works for the IEE, I could ask to borrow a copy of the book. However, I realized as I looked closer that the person I know works for the IEEE (Eye-triple-E, Institutite of Electrical and Electronics Engineers) and not IEE (Eye-double-E, Institute of Electrical Engineers). They are affiliated somehow, but I don't know if that means they have each other's books lying around their respective offices.
Oh, well. I guess I'll just have to keep riding my rickety old bicycle to the train station--still the most practical, least expensive, and environmentally friendly option there is.
-- mm
---
SUBJECT:
The Boy Barfs
DATE:
April 23, 2005
So my four-year-old son got the stomach flu full-on today. As you may know--or certainly imagine--kids that age have very little control over the symptoms of such illnesses. However, he did manage to get through the day without any huge disasters and seemed a good deal better in the evening.
So, he's sitting at the computer playing a game before bed, when suddenly he starts whining and curls into the fetal position on the chair. I ask him what's wrong and he says his tummy hurts. I ask him if he wants some Tums or Crackers or Coca-Cola to help his tummy feel better. He looks at me very calmly as says, "But I might drool."
As I hesitated--stumped for a moment wondering why he thinks Coke might make him drool (I mean, it can, I suppose...)--he suddenly geysers uncontrollably all over my bookcase. Aside from the mess, I'm left wondering where he got that the word "drool" means "vomit." I'm sure "drool" has been said somewhere in a cartoon was about someone salivating messily, but I'm curious to find out exactly how he made the connection.
-- mm
---
SUBJECT:
Pope Cliff the First
DATE:
April 22, 2005
All I think about when I hear the birth name of the newly elected pope, Joseph Ratzinger, is John Ratzenberger who played Cliff on Cheers. I can practically hear him:
"He's a, eh, little-known fact: the Immaculate Conception refers not to Ahr Lady's conception of Ahr Lawrd, but to her own conception, eh, free from the bahnds of original sin there. Another little-known fact about the, eh, Blessed Mother. She was actually Lithuanian."
"Tradition tells us that, eh, Joseph--the foster father on Earth of Ahr Lawrd--was a cahrpenter. While there is, in fact, little if any Scriptural evidence to support this, it's cahmmonly accepted by scholars of the, eh, Church there. In fact, many believe he actually invented the mitre saw--hence the name for this precision-cut hat here."
Maybe it will turn out that the 2004 Red Sox were actually a "subito santo" miracle of Pope John Paul II. Or that the Virgin Mary Grilled Cheese turns out to be a fraud, but the Baby Jesus Potato Chip is the real article. Perhaps infallibility will be extended to when the pope speaks "ex scamnum" ("from the stool").
Feel free to jump in any time.
-- mm
---
SUBJECT:
New Pope, New Problems
DATE:
April 21, 2005
Habemus Papam, they say. "We have a pope." Cardinal Joseph Ratzinger, a German theologian who was a long-standing member of Pope John Paul II's ... court? ... administration? ... enclave? ... not sure what you'd call it. Reputed to be at least as conservative, if not more so, that JPII, Ratzinger--who has chosen the papal name Benedict XVI (that 16 for those of you who, like me, who have to mentally tromp back to 5th grade when confronted with a Roman numeral)--served in the Hilter Youth and later the Nazi army in the early 1940's. That's not a condemnation: most German teenagers in the early 1940's had to join the Hitler Youth and then were inducted into the army. The fact he lived through that might give him an interesting perspective on the dangers of militant nationalism and demagoguery.
There's no doubt JPII will be a tough act to follow. At the most superficial level, BXVI seems to be more of an intellectual and less of a missionary than his predecessor. However, as I've said before, JPII pretty much transformed the papacy into an ambassadorial office, so BXVI is going to have to follow suit to some extent and get out there and press the flesh with presidents and prime ministers. On the intellectual front, aside from the host of current thorny theological issues the Church faces, I predict that cloning and genetic engineering are going to smack it upside its metaphorical head big time in the next decade or so.
The Church's current position--had it the directness to articulate it thus--is that the soul resides in the genome. Human DNA, in any state of development, equals a sanctified human life. When we can build pigs fully stocked with human replacement organs, or a chimp with a human brain that can speak and reason (granted, scenario one is the more likely, at least in the short term), then the definition of what is human and what isn't gets really tricky. The day the first clone gets baptized, the concept of the soul will have gone through the looking glass. I can't wait to read the encyclicals. Better start boning up on my Latin.
-- mm
---
SUBJECT:
Gun Control Challenge
DATE:
April 20, 2005
I recently read a blurb from a book peddling the theory that if more individual citizens had guns, society as whole would be safer. This guns-prevent-crime argument gets trotted out by gun nuts all along the sanity spectrum. I would have thought the basic logic of it--i.e., if everyone knows everyone else is armed, no one will dare try anything--had long been disproven by the dynamics of gang violence, but you know these guys... won't give up anything 'lessen it's from their cold, dead hand.
Anyway, I've always wanted to test that idea in a real-world, non-lethal way. Here's my little experiment: I give you (as a representative Second Amendment Unbound advocate) a water pistol. Sometime during the next 24 hours, some person unknown will try to shoot you with a similar water pistol. All you have to do is shoot them first. Here's the catch: the other guy is an outlaw who can do anything he wants; you must act legally. You may carry the water pistol as a concealed weapon (let's say you're a retired cop, as per the Law Enforcement Officers Safety Act of 2004), but you may not draw it or discharge it except in a case of immediate threat. That is, you have to see the other guy about to shoot you with his water pistol before you can use yours.
You'd get shot every time. 100% guaranteed. What possible self-defense effectiveness can a gun have against an opponent bound by no rules to declare themself, an opponent able to use stealth and misdirection toward the singular objective of plugging you when you're not looking? I suppose that if everyone had a water pistol, the stealthy criminal would get a hell of a squirting after he squirted you, if that's any consolation. Of course, there'd be a whole lot of accidental squirtings, but what they heck. Small price to pay for the peace of mind of a piece.
-- mm
---
SUBJECT:
I've Got a Sander and I Ain't Afraid to Use It
DATE:
April 19, 2005
While checking some things online for work today, I came across a review of a book by an academic with the thesis that any form of gun control only increases criminal gun violence. Beyond that old "if we outlaw 'em only outlaws will have 'em" chestnut, this book--judging from the review (bad practice I know)--seemed to take the idea a step further, advocating that the proliferation of concealed personal firearms among the general populace actually makes for a safer society. This harkens back for me to an All in the Family episode where, on a televised editorial, Archie recommended that subway crime could be eliminated if all passengers were given a gun upon boarding. I suspect the main difference between this guy's book and Archie's op-ed is that the book has some tables and charts to pad its argument.
Oddly, I am not a big proponent of gun control, per se. They are a specialized tool, like any other, and their proper use or abuse depends on the intent of their handlers. Of course, the potential for catastrophic abuse with a gun is much greater than for, say, a belt sander--so people who say let's get rid of all of guns, just to play it safe, do have a point after a fashion. On the other, what if you actually need that tool at some point and there are none about and/or you have no proficiency with it. Try to strip a hardwood floor without a belt sander and you may see my point.
-- mm
---
SUBJECT:
Sick Day
DATE:
April 18, 2005
I was wretchedly sick today. A stomach flu has been making the rounds in town and I can predict like clockwork when I'll get something the second my kids show any symptoms. I didn't get the nausea that hit my wife and kids a few days earlier, but I did have body ache and fever I wouldn't wish on a terrorist dog.
I pretty much spent the entire day in bed. Save for a nasty episode where I threw my back out real-real bad a few years ago, I haven't done that in ages. With two small children in the house, staying home sick just isn't that restful--no matter how much my wife keeps them occupied--but today, I did manage to get a good bit of rest.
I am never so grateful for what I have as when I am ill like that. A nice bed to rest in. A helpful spouse to take care of me. A job that gives me paid sick days (though I shudder to think of the string of minor disasters that always seem to mount up whenever I'm absent from the office) and medical insurance if I'm really badly off. I always think of the dozens of homeless I stepped over every day when I worked in NYC... or people in poverty-stricken/war-torn/disaster-ridden countries... or even just sad, lonely people without any partner in life... and I am reminded how fortunate I am. In a day or two, I'll feel better and start bitchin' again about this or that, but for now, I am one lucky, thankful SOB.
-- mm
---
SUBJECT:
Amityville Horror House
DATE:
April 17, 2005
There's a new film remake of The Amityville Horror, which is based on an allegedly true story of the Lutz family who bought a house in Amityville, New York, in which a disturbed young man had recently murdered his entire family claiming voices and shadowy figures in the house had goaded him to it. The Lutz family fled the house after 28 days, claiming it was haunted by violent spirits. Their experience was recounted in a bestselling book and the original 1979 movie. I remember reading the book when I was about 13 and obsessed with paranormal stories. The movie was the first R-rated film I ever saw (I wonder if 13-year-olds today can get into R movies as easily as we could back in the day?).

I tend to be extremely skeptical of paranormal phenomena today. I can certainly imagine that more exists than civilization at large is aware of, but I also know that people love a good spooky tale and tend to perpetuate and embellish beyond all reason. The Amityville haunting has long be decried a hoax. A number of subsequent owners of the house have maintained there is nothing unusual about it (save hordes of trespassing tourists) and numerous journalists and investigators have pointed out inconsistencies in the Lutz' story from the book (the original door was never "twisted off its hinges," there was no storm the night they fled the house, etc.). Certainly the writer of the original bestseller, Jay Anson, and the Lutzes made a good bit of money from the book and movies, and that alone is reason to view the enterprise skeptically.

Of all the liberties taken with the story, the one the bugs me most is a photo of the house from the new movie. The entire architectural configuration of the house has been altered to put those famous triangular attic windows in the front. Now, everyone who's ever seen a Dutch colonial house knows that those characteristic windows are on the side. I know. I'm sitting in my Dutch colonial attic right now looking out my "Amityville" windows. Interestingly, I saw a picture of the Amityville house as it stands today and those windows have been replaced by simple rectangular ones. What a disappointment it must be to ghost-hunting tourists that they can't easily spot the house driving down the street!

-- mm

A few words about the Ocean Avenue house's history on amityville.com
---
SUBJECT:
IKEA Run
DATE:
April 16, 2005
The wife and I took what seems to be our monthly IKEA run today. Mostly, we go there as place to let the kids play on rainy days, but today we actually bought something: some big-ass sideboard thing the wife wanted for extract storage in the dining room. I didn't argue, since we do have stuff all over everything. Something with lots of drawers to hide it in seems like a good idea. Besides, it was "Tax-Free Weekend" where IKEA paid the 6% NJ state sales taxes. Between that and a coupon we had, we saved $43 dollars. Stick that in your pvîpë and schmøk it.
As I walk around my house, I realize that the vast majority of furniture I own has been I've assembled using an Allen wrench. Every time I go to a non-IKEA furniture store, I find myself wondering why I bothered. Most of the stuff is five times the price, nowhere near as practical, and--if you've ever walked into a few furniture stores around northern New Jersey, you'll know what I mean--tends to be a little too "Goodfellas" for my taste. Any store that has a life-sized silver metallic statue of a greyhound on the floor falls into the be-very-afraid category for me.
Besides IKEA stuff is all made in Sweden. Everything else is made in China. I give the Chinese enough money already. (So do you. Take a look at the bottom of any ten manufactured objects currently within your hand's reach. On average, seven will say "Made in China." Go ahead... I dare you.)
-- mm
---
SUBJECT:
Less Taxing
DATE:
April 15, 2005
I pay someone to do my taxes. As a married person with one income, one mortgage, two kids, few investments, and a job in the same state where I reside, my taxes are not particularly complicated. Still, I've always had something of an aversion to even thinking about them, so for the last half-dozen years or so, I've just sent everything in an envelope to a guy who has a small tax firm in NYC who then sends me a bill for $200 and in a few weeks I get a couple of checks from the government. On one level, I think it's foolish of me to spend that money; on another, it's a pretty small annual price to pay for zero anxiety about the whole thing.
When I tell people this, I get one of two reactions: either A) "that's crazy!" or B) "that's smart!" The "that's crazy!" A-contingent are all people with some kind of accounting or financial background who actively enjoy doing their taxes. They basically consider it an interesting challenge to bilk every legal penny from the government and a matter of pride that they've figured it out themselves. The "that's smart!" B-folks are a bunch of intellectual, right-brain types who can't seem to grasp the concept of carrying over the value entered in line 9a to line 21. Then again, none of the A's ever send hand-painted Christmas cards
For my part, I just look at this way: I've got more than enough to worry about. One less thing seems well worth the money. Besides, tax accountants need to make a living, too, you know.
-- mm
---
SUBJECT:
Sad Superhero Story
DATE:
April 14, 2005
The other day, my four-year-old boy got in trouble at preschool for biting another kid. They were scuffling over a puzzle and my boy bit this other boy's hand. He's been admonished for hitting, pushing, and yelling, so I guess he was just running down the checklist. Kind of resourceful, in its own way--still, it's a behavior you've got to quash pretty quick. Four-year-olds are slick enough to assure you they understand when you tell them they can't do something, but you can tell they're mainly just agreeing because they want you to shut up (not unique to pre-K children, I suppose), so I was trying to think of a way to get this to hit home.
Every night, I have to tell my boy a superhero story. It has to new, not one he's heard before, and involve characters he knows (Superman, Batman, Spiderman, The Incredibles, etc.)--so basically, I've got to make up a story every night. I'm pretty good, but it's pretty taxing. Anyway, The Flash and The Atom (a guy who shrinks) are some of his favorites. In old cartoons he's seen, The Atom always rides around on The Flash's shoulder. So, for the story, I told him how one day The Atom was riding on The Flash's shoulder and Flash stopped suddenly. The Atom fell off. The Flash said sorry, put him back on and started running again. Flash stopped suddenly again, this time on purpose, and laughed as The Atom fell off (my boy laughed at this). Atom asked him to please not do that, Flash apologized again and promised he wouldn't. A third time, Flash stopped short deliberately and Atom fell. The Atom called for his mini-jet car, which came and took him home. The Flash was lonely without anybody to run with. The End.
When I told this, my boy looked very sad and said, "I didn't want the story to be like that." I said that sometimes stories go like that. Maybe Flash will say he's sorry to Atom another day and they'll be friends again. I then reminded him of his behavior at school, and said I hoped he might apologize and be friends again with the other boy.
I don't know if the whole "lesson" thing really sank in, but I could tell he was actually sadden by it. He didn't just tune out like he does with a lecture. We'll see if it has any lasting impression.
-- mm
---
SUBJECT:
Google... Number 3 and Holding
DATE:
April 13, 2005
I'm creeping up in the WWWorld. Currently, if you type "matt mchugh" (with a space) in Google, you get my site as the number 3 hit. That's the highest it's ever been, and it's been holding for almost a week. "matt mchugh" gets me as number 1, with several other top 10 slots in Yahoo, MSN, Lycos--though I believe they all use the same database to some extent. Unfortuntately, "mchugh" in Google doesn't show me till hit 42, on the fourth page of results. In Yahoo, et al., it's a little better, but still not great. Sci-fi author Maureen F. McHugh still handily dominates any variations of "mchugh fiction."
Even more interesting is that if you type no-space "mattmchugh" into a Google Images search, you turn up all the image files from my site--even some I'd forgotten I'd put there. The first one is a picture of me at about age 7, I think.
-- mm
---
SUBJECT:
$94,000 in Checking
DATE:
April 12, 2005
Tonight, I had to run out to the ATM to get some cash for tomorrow. When I got to the machine, there was a receipt sticking out of the slot that someone ahead of me apparently forgot to take. They had withdrawn $200 from Checking and had a remaining balance of $94,233.56
Who keeps $94,000 in their checking account? I'm no financial wizard, but even I know you can do a lot better than 1.9% checking interest. I tell you, this guy better be buying a house in the morning--or ransoming somebody.
-- mm
---
SUBJECT:
Dr. Pepper
DATE:
April 11, 2005
I've started having a Dr. Pepper from time to time with lunch. I delude myself that it's healthier than Coke since it has no caffeine (I think) and tastes vaguely of fruit.
What flavor is Dr. Pepper anyway? A great proprietary secret, apparently. All they'll say is "not prune."
Too bad. Talk about a healthy soft drink alternative.
-- mm
---
SUBJECT:
I'm a Papist, You're a Papist, etc.
DATE:
April 10, 2005
My last pope joke, I swear.
About twenty years ago, when Johnny Carson was the host of The Tonight Show, he used to do a bit called Carnack the Magnificent, a kind of goof on an Arabian Nights-type soothsayer. The bit was that Carnack would hold an envelope to his forehead and divine the answer to a question written on a paper inside. He then tore open the envelope and read the question. Some typical ones:
ANSWER: Sis-Boom-Bah
QUESTION: What sound does an exploding sheep make?

ANSWER: No can do.
QUESTION: What do you look for when you're tracking a no-can?

Etc. Here's my personal, all-time favorite:
ANSWER: Amadeus
QUESTION: What does the pope sing instead of "I'm a Pepper"?

Now, to get that joke you have to 1) recall that the movie of Amadeus had just come out; 2) know the long-defunct Dr. Pepper "I'm a Pepper" jingle; and 3) have a smidge of Latin. To make it really funny, you have to imagine a pope in white and gold robes, dancing and singing "I'm a Deus! You're a Deus! He's a Deus! She's a Deus! Wouldn't you like to be a Deus, too?" just like David (American Werewolf in London) Naughton did in the original commerical.
-- mm
---
SUBJECT:
For Yourselves, Decide You Must
DATE:
April 9, 2005
I don't know... there's something about seeing the news highlights over the last few days of thousands upon thousands of people filing past Pope John Paul II's body lying in state that just gives me the creeps. For someone so pointedly anti-communist, it just has this weird echo of Lenin and Mao to me.
On another note, over the last few years, I often found myself fascinated by how much Pope John Paul II had come to resemble Yoda.
Scary, it is.
-- mm
---
SUBJECT:
Pope and Circumstance
DATE:
April 8, 2005
The funeral of Pope John Paul II is being cited as the largest gathering of world leaders for a funeral. That underscores the point that--though he lacked any real civic authority--no one would hesitate to think of JPII as a "world leader." He certainly wielded far-reaching political influence in shaping events, particularly in Eastern Europe and Latin America. In fact, his legacy is much more political than religious in many ways. For example, contrast him with Pope John XXXIII--not a globe-trotting ambassador at all--who instigated the sweeping reforms of Vatican II in the 1960's, widely considered the most radical reformations in the Church's history.
As for all these people expressing admiration for JPII as a great moral example for the world, well, people have a way of expressing moral respect for someone whose principles they have no intention of actually following (witness Republicans and Jesus). Seems like I'm always coming across polls saying the majority of American and European Catholics (even some bishops) disagreed with the Vatican on such basic things as celibacy, female ordination, birth control, and even abortion. Most leaders in the U.S.--notably three of them photo-opped kneeling at his coffin--ignored his criticisms of American economic and military imperialism. Yet, all proffer words of admiration for JP2. It is certainly possible to admire someone you don't agree with; it is also possible to be a hypocrite giving lip service.
Personally, I would say I admired JPII for always speaking out against oppression and poverty, and I appreciated his unyielding positions on Church doctrine. As Dubya likes to brag of himself, at least you always know where he stood. In JPII's case, it was actually true. He definitely made decisions I disapprove of (refusing to send Vatican representatives to international humanitarian summits if discussions of birth control policy were even on the agenda is absolutely reprehensible in this day and age), but you could always predict where he'd come down.
-- mm
---
SUBJECT:
Oldest Story Ever Told
DATE:
April 7, 2005
At dinner tonight, my 4-year-old boy wanted to know what the bump in our necks was; when I said it was called an "Adam's Apple" he wanted to know why. This seemed a pretty organic chance to tell him the story of Adam and Eve.
I told the story as simply as I could--emphasizing that it was a "story," embellishing a few thematic details that might resonate later, and stressing that the point of it was that since they didn't listen to what God had asked them to do, they couldn't stay in God's garden anymore. He listened very intently then, at the end, asked if I could tell the story again but change it so that when the serpent tempted them to eat the fruit that would "make them as smart as God," they said "no" so they wouldn't get in trouble.
First inkling he's gotten that God is an authority figure with the capacity to punish (God the "Father" takes on a whole new meaning, eh?). A little of the inevitable death of innocence.
-- mm
---
SUBJECT:
It's for Storage of Knowledge
DATE:
April 6, 2005
For several months, I've driven along stretch of a highway through Secaucus, New Jersey, from time to time. A good bit of building--hotels, stores, self-storage facilities--has happened along that stretch. There was one particularly large building that I could see the back of from the highway. It was right next to a sign for a self-storage place, so that's what I assumed it was. Tonight, however, I actually happened to pass through the town of Secaucus itself and saw this big, new building from the front. It's a new public library.
I can't tell you how good that made me feel.
-- mm
---
SUBJECT:
Sitcom Script
DATE:
April 5, 2005
All you regular readers might remember that back in the summer of 2004, the cable channel Bravo (the never-met-a-reality-show-they-didn't-like network) had a contest for a (what else) reality show about pitching a sitcom. To enter, you had to submit an original script for a sitcom pilot. Ten finalists were chosen; two were picked to produce 15-minute specs of their sitcom and pitch it to TV execs. This was supposed to have shot in the fall and aired in the winter, but so far, it's not been announced.
Sad to say, my entry wasn't chosen. I have to admit, I was a little disappointed. I think it would have been a fun adventure. Besides, I did spend a couple months really chewing over the concept and characters, thinking of jokes, making notes, even getting a few books on sitcom writing (surprisingly, I think they did help). Writing the script took about three solid days, and I rather enjoyed immersing myself in the experience. In the end, I actually felt like I came up with something decent.
Well, so it goes. Anyway, if you're curious about my losing entry for the Bravo TV contest, here's my sitcom idea--along with the pilot script in HTML and in PDF (big file - 1.5 mb).
-- mm
---
SUBJECT:
Daylight Savings Time
DATE:
April 4, 2005
I've reached the age where this really throws me off. The Sunday of the change, I kind of muddle through obliviously. The Monday, however, is a big problem. My whole biological clock is off so I have trouble getting up and I'm not sure when I should eat. The sudden extra hour of light also makes it a lot harder to convince the kids it's actually bed and bathtime. To top it off, I have a watch that syncs to the atomic clock daily, except it doesn't do daylight savings times and it so complicated to set that I have to hunt around for the manual.
Who thought this whole daylight savings thing up anyway?
-- mm
---
SUBJECT:
An Evening of Trailers
DATE:
April 3, 2005
I spent about half-an-hour tonight watching movie trailers on my free On Demand cable service. That may seem ridculous but there was nothing else on, and--as everyone knows--trailers are always better than the movies themselves. The best of them are stand-alone little films of art unto themselves. The worst just distill the movie to two minutes, so even if it's a bad movie, you've only wasted two minutes on it.
One of the trends I've noticed in recent years is misdirection in the trailer. The trailer is cut in such a way as to make it seem that something will happen in the movie that doesn't (e.g., a character aims a gun, fade to black, and a shot is heard; in the actual movie, that character never fires). Some of them even have scenes that aren't in the film at all. I particularly appreciate this as I've often found myself watching a movie, waiting for a moment from a trailer, then--after seeing it--feeling irked that I knew it was coming.
More and more, I find I like to know as little as possible about a movie when I first see it and I appreciate the trailers that get that and don't give away the show.
-- mm
---
SUBJECT:
I Buried (John) Paul (II)
DATE:
April 2, 2005
Pope John Paul II (born Karol Wojtyla...first non-Italian pope in 400 years) died today after his 26-year papacy. I distinctly remember his election back in 1978 when I was in Catholic grade school; it was particularly notable because his predecessor, John Paul I, died after only a month in the office so there was a near-frenzy over it among the nuns and priests. Catholic popes serve for life, so to get two in a month was a big deal.
Throughout high school, I remember lots of hubub over the globetrotting of "J2P2" (as one waggish priest had dubbed him). John Paull II was the only pope who made a habit of visiting places: poor countries, communist countries, Arab and Asian countries, as well as Western nations with big Catholic populations. This was considered pretty remarkable and he single-handedly changed the world's image of a pope from that of a cloistered monarch issuing pronouncements to a missionary ambassador drawing rock festival-size crowds and meeting with political leaders.
It's interesting that his legacy as pontiff melds that truly revolutionary habit of going out among people with an extremely conservative interpretation of Catholic doctrine. No married priests. No women priests. No birth control. No premarital sex. No gays. No abortions. (I think of George Carlin's line: "Why do conservatives oppose gays and abortions? Who has fewer abortions than gays?")
J2P2 was definitely a paradox of modernity and old school. I wonder what the next pope will be like. I hope he continues John Paul's ambassadorial tradition. I hope he reconsiders some of the outdated doctrine. And I really, really hope he picks the name George Ringo I.
-- mm
---
SUBJECT:
Cruelest Month
DATE:
April 1, 2005
April is the cruellest month, breeding
Lilacs out of the dead land, mixing
Memory and desire, stirring
Dull roots with spring rain.
Those are the opening lines of T.S. Eliot's poem "The Waste Land"--for all of your who hear "April is the cruelest month" quoted and wonder where it came from.
Personally, I never much got with Eliot. Any writer who's work requires you to read annotations longer than the work itself to get it is just asking more than I'm typically willing to give. In college, when working out such literary puzzles was a badge of honor in the English Department lounge (and nowhere else), I would put some energy into it, but very little of that has stuck with me. A pity because it is very satisfying to finally get the reason why everybody says some seemingly impenetrable work of art is so great. Well, it's not going to be "The Waste Land" for me this April. (I also seriously doubt I'm going to get around to Ulysses by Bloomsday this year, either.)
My favorite Eliot poem is "The Love Song of J. Alfred Prufrock" precisely for the reason that I figured it out. In the first stanza, it mentions "an overwhelming question" but declines to say what it is. Near the end is the line "No! I am not Prince Hamlet, nor was meant to be;"
The question is to be or not to be. Seriously. Read it, you'll see.
-- mm
On bartleby.com, the full text of and "The Waste Land" and "The Love Song of J. Alfred Prufrock"
---