SUBJECT:
New Transmission
DATE:
July 31, 2005
Our 2000 Toyota Rav4, a car I have generally been quite pleased with, had been having some transmission problems. For a year now, it's been a little rattly in third. It recently started being kind of balky in first, and most recently--and seriously--refused to stay in fifth at highway speed. It just dropped out of gear. My wife took it to a shop that was honest enough to point out that the car was, just barely, still under warranty for transmission (5 years or 60,000 miles; it only has 38,000 and August 20 is the 5-year anniversary of our purchase).
Long story short, the dealer replaced the transmission and it didn't cost us a dime. I drove it for the first time today and it's definitely better. On the one hand, the fact that the transmission failed after less than 40,000 is a big negative. On the other, the fact we got a whole new transmission with less than a month left in warranty feels like winning the lottery. I hoping the first transmission was just bit of a lemon and this one will be good for 100,000. We own the car outright and I plan to keep it till it disintegrates. I'm hoping to be able to give it to my son when he's 16, so I want to keep it relatively decent shape.
Of course, he probably won't want the stodgy old family car by then (no use trying to explain what a hip, young demo it was originally marketed to in the early aughts). Fine. He can go get a job and buy his own damn car.
-- mm
---
SUBJECT:
Saturday in the Park
DATE:
July 30, 2005
Our town had a little parade this morning, followed by a little fair in the park across from city hall. It was amusing to stand on the curb with the kids and get enthusiastic about watching it all go by: some horses, motorcycles, a really bad high school marching band, and the mayor and city council in convertibles loaned from the local car dealership. Miss New Jersey was there, too--but she looked so young that I could only think of her as "cute" rather than "hot."
In the town park, there were the usual distractions. Cotton candy and funnel cake. A clown on stilts (which my four-year-old boy was actually fascinated by, rather than terrified of). A rock-'n-roll band of fortysomethings playing garage band classics with bar band quality. (I admit it... I bobbed my head a bit to "Brown Sugar). To me though, the most interesting moment was when I passed a kid--no more than 15--sitting in the gazebo with his guitar. He was playing "Sunshine of Your Love" by Creem, a fortysomething song in itself. I remember being 15 and playing that with my garage band buddies.
I have several theories as to why such songs endure generation after generation, but for the moment, I'll just bask in the great circle of life of it all.
-- mm
---
SUBJECT:
The Perils of Selective Magnanimousness
DATE:
July 29, 2005
A item in the NY Times the other day (slowly catching up on my news) told the tale of an Iraqi farm boy, injured when his cow set off an unexploded American bomb, who was brought to America for medical treatment. This was a privately coordinated and funded trip, due largely too the efforts of a retired lawyer in Florida, though more than one government official had themselves photo-opped with the boy and his father as they were given VIP tours of such iconic American institutions as The Pentagon, the UN, and WalMart ("It's bigger than my village," the father was reputed to have said).
Unfortunately, some aspects of the trip were less than successful. The explosion had left the boy blind in one eye. Doctors hoped to be able to repair that, but in addition to a detached cornea, they found that the entire optic nerve was dead. Furthermore, scarring for shrapnel on the boy's face could only been partially lightened by laser treatment. On top of those disappointments, both the boy and his father desperately wanted to stay in the U.S. After a stint in four-star hotels as a guest of the State department, I guess the appeal of war-torn Iraq lost its luster.
There's something very paradoxical about this tale. On the one hand, it's quite a blessing that this boy is getting a chance to see things and receive treatment (even if less than ideally effective) utterly impossible in his home country. On the other, it seems almost like condescending generosity to jet-set these people around for a week or so, only to pat them on the head and sent them back to their bombed out hovels. Something about it all just leaves a bit of bad taste in my mouth. It's like America is flaunting how it can bomb you, heal you, pamper you, then discard you with equal ease.
-- mm
---
SUBJECT:
No News Is Not Necessarily Good
DATE:
July 28, 2005
Another disadvantage of being away for a week, as I was recently in Greece: no idea what's going on in the world. I'm not a religious newshounder--I don't read any specific paper or magazine and I never, never watch TV news programs (national is shallow; local is a joke)--but I at least skim the headlines on CNN.com or elsewhere, or read a few Reuters, NY Times, or Washington Post items on my Palm (AvantGo... best thing ever created for the PDA). However, when I'm away from my daily routine for business or vacation, I lose all touch with the world.
Case in point, I only found out about the second London tube bomb attempt after I got back. I saw a bit about the Egypt hotel bombing at the airport, but only a snippet. I was way behind on the Karl Rove spy-leak thing ("turd blossom" alone makes it worth following this one). The problems with the space shuttle are the big story this week and I'm still behind on other things to follow it too closely. Again, I'm not obsessive about it, but I do like to have some idea what's going on in the world and feel a little out of sorts when I'm so clueless.
-- mm
---
SUBJECT:
More About Workings
DATE:
July 27, 2005
Here's some fleshing out my "Workings" concept, where instead of sitting in a room having a meeting about a specific business project, all the team members go to their desks and block out an hour or two of time specifically devoted to actually working on that project, communicating with each other as necessary during that time.
Here are the basic rules of a working:
All participants must agree to work exclusively on the designated project during the allotted time. No answering phone or e-mails or co-worker questions not related to the project.
What each participant does during the working can be either defined by agenda (Bill: monthly sales report; Sue: customer follow-up calls; etc.) or left open to each participant's discretion (I'll research competitor prices; you check vendor costs; etc.)
All participants must be accessible to communicate with one another during the time. This could be via phone conference, e-mail, or instant messaging (the preferred way). Of course, this is subject to the tasks each is performing, e.g., if someone's making customer phone calls or away from their desk in the file room.
The best workings will produce specific deliverables, e.g., when it's done, you'll actually have a marketing plan or a production schedule or draft of the quarterly report or a new database API. That's key: you DO something at a working... not just talk about it then try to find the time to do it later.
Now this won't totally eliminate the meeting. There will still be times when you need to sit in a room and discuss things (e.g., there has to be something for senior management to do all day...lord knows the can't actually "do" anything. Don't roll your eyes. You know it's true.). However, I really think the "working" has significant productivity merits for the average grunt. I'm going to try pushing the working over the next few months and see if it clicks. Let me know if you have any success with the concept.
-- mm
---
SUBJECT:
Back From Meeting to Working
DATE:
July 26, 2005
So back to the real world from my little Greek holiday. Since a good portion of it was actually work related, I don't feel quite as out-of-touch as I do when I take full week's vacation (which I hate to do for exactly that reason), but still, stuff just piles up. The thing I hate about work meetings is that you sit in a room and everybody talks about what they're going to do and it all sounds great. Then you go to the next meeting, have similar but unrelated talks, and do that three more times in the day. By the end of the day, you have a colossal list of things to do and (let's face it) you ever manage to get to half of them, it's a miracle.
So, here's my new business productivity concept. Workings. Not meetings. Workings. A working is when you and five other people all involved in some common project all commit to be at your desk from 10:00 - 12:00 and work on nothing but that particular project. Everybody should make themselves accessible by phone, e-mail, or IM during that time, again, ONLY for that particular project. The whole idea is to set out a defined block of time where you will actually work on something, not just talk about it. I find it incredibly frustrating to have discussion after discussion about something, but never the time to get it done. Seriously, half the people I know have meetings all day, then do their work after hours. To quote my 9-to-5 work idol, Hank Hill: "That ain't right."
So, next time you actually have some collaborative project at work, try a working in place of a meeting. You'll be pretty impressed with the result, I promise you.
-- mm
---
SUBJECT:
Some Final Thoughts About Greece
DATE:
July 24, 2005
Well, my trip to Athens--the business and pleasure portions--is done. So what are my overall impressions of the place, you may well want to know. OK then...
Athens proper is a nice enough major city. Many improvements made for the 2004 Olympics--such as the excellent Metro transit system, all public signs in Greek and English, and the complete refitting of the Hilton--served us very satisfactorily.
The Acropolis and other pockets of ancient ruins in Athens are truly worth seeing. Otherwise, the city may well be the least interesting place architecturally I have ever seen. Everything is 4-story concrete slab construction as far as the eye can see. The only exception are the districts of Plaka and Monasteraki, right in the shadow of the Acropolis, which still have classic stucco-and-tile buildings, densely packed along narrow, twisty streets. Naturally, these districts are the heart of the tourist industry.
Athenians seem very accepting of tourists. They all speak English and seem to bear no particular ill will to Americans. The do, however, rip them off. I suppose this is no different than any tourist area, but I did feel fleeced more than once. Overcharged by cab drivers (apparently notorious around the world). Shortchanged by street vendors (using a clever two-man misdirection technique so I wouldn't count my change). Stung by a beach chair vendor (six euro for to use two chairs for an hour). Not to mention the lousy dollar to euro conversion. I never quite understood the ramifications of fluctuating international currencies. I do now. And how.
The Greek Islands are really what a Greek vacation are all about. I see now why people speak so highly of them (and we saw only the tiniest bit of them; there are dozens) and return year after year to explore them. If I ever go back to Greece, and I'd be happy to, it's two days in Athens, then two weeks on the islands (Mikonos and Santorini are high on my list).
So, that was Greece. Unlike most places I go for business, I actually feel like I got see a bit of the place and get a feel for what it's like. As I say, I'd love to go back. I've been many of the places in the U.S. I've always wanted to see. I think I'm hitting that European Holiday stage of life. (Right on schedule with my age!)
-- mm
---
SUBJECT:
Back From Greece
DATE:
July 24, 2005
Our business/vacation trip to Athens ends today. 8:00 am flight to Heathrow, four-hour layover, then 8 hours to Newark. On the flight to London, I watched Sahara on the aisle video system (no back-of-seat monitors on this flight). The movie was entertaining at points, wore a little thin at times, and stretched credibility to the limit quite often. The tape had problems so every ten minutes or so, the image would go out and the audio distorted for two or three minutes. I had to listen very carefully to follow the plot and I missed a good bit (Exactly how is the African river toxin connected to the lost Confederate ironside? Not a clue.)
The layover in Heathrow wasn't as tedious as I thought. I love London and even the airport has a little of the "flavour" of the city. Bought some more things for the kids at a cute little toy shop and hand lunch in an authentic English pub (i.e., it had "football" on TV and was filled with smoke... that's really all that's required for authenticity in the category).
On the flight from London to Newark, my back-of-seat monitor didn't work so I was forced to read a work-related report I had in my bag (ooh! Impact of Google Scholar on traditional A&I services! Whooopee!). After I while I just watched >L.A. Confidential without sound over somebody's shoulder. I've had worse times on planes. At Newark Airport, the cab driver overcharged us almost as much as the Athens cab drivers, so a nice bookend to the trip.
-- mm
---
SUBJECT:
Putting Around Aegina
DATE:
July 23, 2005
The bing-bang-boom tourist cruise to three Greek islands my wife and I took yesterday was just enough to whet our appetite for more. Unfortunately, this is our last day in Athens, so we could only pick one to re-visit. Aegina is the closest and easily accessible by fast hydrofoil boats, so that made it the natural choice.
For our second day on Aegina, we rented motorscooters to explore the island a little more. These are a way of life on the island, it seems--and with narrow, congested streets and gas about four bucks a gallon, they seem like a smart idea. Of course, they're innately dangerous as hell (my wife had a minor accident and burned her leg on the exhaust pipe when it tipped), but that doesn't seem to bother native islanders. You can see entire families crammed on one--dad, mom, and infant (I kid you not)--scooting all around town without a helmet or baby seat to be seen. In America, you'd be arrested on the spot then in and out of child services court for a year--but, hey... when in Rome.
Injuries aside, we had a fine time zipping along the stunningly lovely coastline for a couple hours and taking another dip off another rocky beach too rugged for tourists so we invaded the locals space a bit (they were perfectly gracious about it). Bought some toys for the kids in town and had grilled octopus. What is grilled octopus? It's an octopus they grill and chop up into bits and serve. That's it. Maybe squeeze some lemon on it, if you like. Quite good actually--and I'm not much for seafood.
All in all, a fine taste of a local Greek island.
-- mm
---
SUBJECT:
Three Islands
DATE:
July 22, 2005
My business meeting in Athens finished on Thursday, so on Friday the wife and I signed up for a tourist "island sampler" cruise (88 euro per person, including lunch), which hits three Greek islands in one day. A bus picks you up at the hotel and takes you to Piraeus, a city just south of Athens that is, without question, the busiest port I have ever seen. Cruise ships, auto ferries, commuter hydrofoils, and massive commercial ships all bustling in and out of the dense harbor constantly.
Our older but perfectly comfortable cruise ship took us to:
POROS

A tiny, working class island, popular among yachting enthusiasts of more modest means (that's relative, for sure). This picture doesn't do it justice. It was completely covered with buildings, like an utterly man-made mountain rising from the sea. The island itself was mostly touristy taverna and narrow streets winding up the small hill to the clock tower. Pretty neat, though we only got an hour on it, so I saw very little.

HYDRA

A ridiculously picturesque "artist colony" island with no motor vehicles, shining white mansions dotting the steep cliffs, and a rocky coast that serves as a beautiful but treacherous swimming beach. Taking a dip off those sharp, slippery rocks in the pristine green-blue sea was a highpoint of the whole trip. Wandering a few blocks back from the busy waterfront into its quiet, narrow alleyways was a unique pleasure as well.

AEGINA

The Jersey Shore of Greece. The closest and most populated island to the mainland, full of shops and beaches catering equally to tourists and residents. On the hilly interior of the island, there are a couple of ruin sites we didn't get to see, as well as Byzantine monasteries and weekend mansions for wealthy Athenians. We mostly clung to the harbor area beaches and shops for our stopover.
-- mm
---
SUBJECT:
Statue That Looks Like Me
DATE:
July 21, 2005
Here's something. In the National Archaeological Museum in Athens, my wife and I stopped dead. This statue looks like me. I mean, really... an uncanny resemblance. This is absolutely my profile: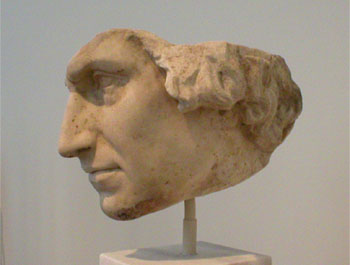 It's freaky. I'm quasi obsessed with it... like in that episode when Gilligan found that headhunter obelisk with his likeness on top. I didn't have the brains to take a picture of the legend, but I've got to contact the museum to find out where this came from. I'm more Roman than Greek in ancestry (as the nose suggests), so very curious about the shared gene pool between this guy and me.
-- mm
---
SUBJECT:
Greek National Archaeological Museum
DATE:
July 20, 2005
My work-meeting in Athens allowed me Wednesday afternoon off, so I went with the wife/traveling companion (wonder how many other men my age can say those two are always the same?) to the Greek National Archaeological Museum. It's a fairly modest building--at least compared to the sprawling institutions one might find in NY, Philly, Chicago, DC, etc.--but its collection of antiquities, as you might imagine, is unparalleled. Mostly statuary and pottery, and, after a while, the immediate impact of each one starts to lessen on you--but thinking back on it, the quantity and quality of what is there is nothing less than stunning.
Case in point: I realize only now that didn't take many pictures in the museum (maybe 20 or 30; my digital cam's capacity is 256). I mean, after you walk into the first room--which would constitute a wing in any other museum--you stop snapping photos in the overload of it all. I didn't even get a shot of the famous "Mask of Agamemnon."
-- mm
---
SUBJECT:
At the Acropolis Museum
DATE:
July 19, 2005
There's an indoor museum right on the Acropolis where they've put most of the statues and friezes from the monuments to protect them from acid rain, which is quite a problem in polluted Athens. It's kind of disappointing to find out that the caryatids you see in situ on the famous Porch of the Caryatids are, in fact, concrete reconstructions. The real ones are in the museum behind glass (5 out of 6, that is; one is in the British Museum... a touchy subject for proud Athenians). Still, better to have them well preserved and so easily viewed up close.
The last one is interesting. It's a painted terra cotta figure of the goddess Athena (patroness of Athens, of course, to whom everything on the Acropolis is dedicated). It was probably an offering from a humble peasant pilgrim. The thing that interests me is that it looks just like a Madonna--like something you might find in a tourist shop in Mexico. The expression, the posture, the hand position, the draping robe, even the halo (which in Athena's case is a crown or helmet). The image of the benevolent, deified female--Christian or pagan--has a remarkable consistency over time.
-- mm
---
SUBJECT:
At the Acropolis
DATE:
July 18, 2005
On Sunday of my work-trip to Athens, the wife (she came for fun) and I went to the Acropolis. The Acropolis is the "high place" in the center of Athens, a tall, flat marble rock hill that bears the 2,500 year-old ruins of the Parthenon and some smaller buildings. It really is an impressive thing to behold and walk upon, and the impact of it actually grows each time you catch a surprise glimpse of it strolling around the city. You can't actually walk into the interior spaces of the buildings, but just to be in their presence (even where they've been "reconstructed" with new materials) is pretty awe inspiring.
A few snapshots. Don't bother clicking them... they don't get any bigger. I'm trying to conserve bandwith on my humble little site.
Yes, that's a stray cat sleeping on the Temple of Athena Nike. There are stray cats all over the Athens monuments, and stray dogs all over the streets.
-- mm
---
SUBJECT:
Saturday Night at Syntagma
DATE:
July 17, 2005
After some 14 hours of travel, my wife and I arrived in Athens--me for business, her for R&R--at about 6:00 pm (18:00) on Saturday night. Several overnight trips to Europe have taught me to resist the urge to take a nap upon arrival at the hotel. You basically close your eyes, then wake up at 2:00 am (02:00) and your internal clock is out of whack for the week. So we toughed it out--which wasn't so hard with the excitement of being in a new place--and went out to dinner around 10:00 pm (22:00... oh, you get the point), which is pretty typical of Athenians it seems.
After strolling for 15 minutes, we stumbled across Syntagma Square, a small city park near the Parliament building. It reminded me a bit of Bryant Park in NYC, with fountains and open-air cafes (taverna, they're called in Greek). We had a little supper there. I got the ham-and-cheese "toast," which is the term they use for a light, toasted sandwich. Just right for a late night after a day of travel.
Afterward, we watched the changing of the guard at the Parliament building, which is done every hour on the hour, day and night. The guards are known as Evzone soldiers and wear a Greek folk-type uniform, with a kilt, fez, gartered stockings, and shoes with pom-poms. The changing is a strange, ritualized affair where they perform synchronized, ultra-slow, high steps with stiff arms raised. It looks for all the world like a Monty Python silly walk. I'm sure there's some reason it is as it is, but for the moment, I just enjoyed it.
Some pictures. Not very good quality in the low light, I'm afraid.
-- mm
---
SUBJECT:
Constantine and Harry Potter
DATE:
July 16, 2005
On my British Airways flight to London, en route to Athens for a work-type thing, we had the little in-the-back-of-the-seat-in-front-of-you personal video screens, which are a wonderful thing on a 7-plus hour flight. I just can't sleep very well on a flight, and I hardly read anything non-work related anymore... and I'm pretty sick of work-related stuff at the moment. So, me and the wife simultaneously, on our separate TVs with headphones, watched Constantine
Based on a comic book ("graphic novel" my keester), Constantine is about a guy who has a near-death experience and spends two-minutes in Hell before he's revived. Having briefly experienced damnation he becomes dedicated to defeating demonic assaults on the human world--i.e., he becomes an kind of super-hero exorcist. Basically, it's an R-rated episode of Charmed (another show I blame the wife for forcing me to sit through on occasion) with a little fire-and-brimstone (literally) theology thrown in. It was pretty well made as a horror/action flick and was unsubtle enough to not suffer too much from the poor video and audio quality of plane-based cinema.
More interesting to me was a Discovery channel special following an American Tae Kwan Do champion's trip to Korea. It showed a bit about the art is practiced in both civilian and military sectors, and even delved into an older folk style that includes dance-like hand movements and grappling techniques essentially absent from contemporary "sport" Tae Kwan Do. My wife was less interested in such things but was quite happy to be able to buy the new Harry Potter book in London the day in went on sale. It was like a little pilgrimage for her.
-- mm
---
SUBJECT:
Off to Athens
DATE:
July 15, 2005
I'm flying off to Athens (Greece, not Georgia) today for business. It's a five-day sales convention/interdepartmental lovefest/boondoggle we have once a year and they often pick nice European spots (Nice, France; Sintra, Portugal; Brussels, Belgium--which I missed; Montreal...which is almost more European than North American in some ways). The wife is tagging along this year. She's always wanted to go to Greece and couldn't pass the chance up. The grandparents got the kids for a week.
Anyway, the fight is seven or so hours from Newark to London; three hours London to Greece. Depart 9:00 at night Friday, arrive 5:30 pm (that's 17:30 for your Euro-chrono-philes) on Saturday. I don't like overnight Eastbound flights that leave you like a zombie for a day, but they are most convenient. There's no work-related stuff until Sunday night, so I built in some recovery time. I'm sure we'll run around sightseeing, rather than resting, on Sunday anyway.
Never been to Greece, and I've barely had time to poke my nose into any of the guidebooks I bought the wife as Mother's Day gifts. I don't quite know what to expect, but I've heard it's pretty easy to deal with as a tourist. I've been to a few other (e.g., the aforementioned) places in Europe and managed just fine, but that's always been on the company nickel. At least of portion of this trip will be me and the wife on our own, though I'm sure we'll manage.
-- mm
---
SUBJECT:
The Perils of Not IKEA
DATE:
July 14, 2005
We bought a bookcase for our two-year old daughter the other day--a cute white thing with a peaked top like a roof and little windows so it looks as much like a dollhouse as bookcase. It was made in China (of course) out of what I think is pressed plastic particles--though it could be sawdust and glue... it's hard to tell--and came flat in a box for assembly. It was purchased at Target for about fifty bucks.
While assembling it, it cracked in several spots as I tightened down locking nuts. A couple of the pre-drilled holes were either missing or in the wrong spot and had to be re-drilled (this is when I started to suspect the thing was made of plastic, which shreds when drilled in a distinctive way). All in all, I got it together and it looks OK and the girl loves it, but still, I'm fairly disappointed in the quality.
Just goes to confirm, once again, something I've espoused for years: don't buy furniture anywhere other than IKEA--especially cute, little bookshelf-type things. Lesson learned.
-- mm
---
SUBJECT:
Backpack Too Small
DATE:
July 13, 2005
Damn. The laptop backback I just bought the other day is too small. The 17" Mac PowerBook just barely fits. I don't like the idea of having to squeeze and $2000 computer into a flimsy backpack, so I'm going to return it and order one online that will definitely fit.
Maybe I could get a better price if I have it custom-made in China. I'll have to ask.
-- mm
---
SUBJECT:
Fallingwater and Cliffdwelling
DATE:
July 12, 2005
Speaking of Fallingwater, the famous Frank Lloyd Wright house in Mill Run, Pennsylvania, near Pittsburgh...
I've never seen it personally, but--like so many--I am fascinated by the photos. I recall reading once that some group of architects declared it the greatest example of a building integrated to it's natural setting ever designed.
Now, not to take away from Mr. Wright's accomplishment, I've always taken exception to that. Ever see those cliff dwellings of the Anasazi in the American Southwest? I think they blow away old Frank's cantilevered creation in the "integration with a natural setting" department.
-- mm
Cliff dwellings at Mesa Verde National Park
---
SUBJECT:
Delaware River Towns
DATE:
July 11, 2005
Aside from a love of the thin green line of nature framing the mid-state Delaware River (giving me something pleasant to look at from my rented canoe or kayak), I love the little towns dotting the shoreline on both sides. Frenchtown, Point Pleasant, New Hope, Lambertville. Granted that these are mostly tourist traps, dedicated to shops full of vintage clothing and shabby-chic antiques (which elsewhere would belong in Salvation Army stores), I still enjoy them. The conservatively hip/quaint-with-vengeance vibe they cultivate might strike some as false, but I find it as comforting as a theme park promenade.
I've often thought that if I were ever able to make a decent living writing or doing anything where I didn't have to be tied to a corporate office (physically or psychologically), I'd happily settle in one of those artsy-fartsy towns. Buy an old farmhouse or warehouse or mill along the Delaware Canal and renovate it into a kind of rustic, Prairie-style home with ultra-modern amenities. Something that integrates the natural setting--the stone and the water--with the clean angularity of glass and steel.
Basically, I want to live in Fallingwater in New Hope. Is that so wrong?
-- mm
---
SUBJECT:
Kayaking on the Delaware
DATE:
July 10, 2005
Met a couple of friends today for a kayak trip along a stretch of the Delaware River, between Frenchtown and Point Pleasant. If you know that little corner of the world, you'll know it's a nice span of semi-rural suburbia, with just enough nature preserved along the river on each side (PA and NJ) that, as you drift along in the gentle current, it feels almost like a legitimate wilderness for a moment here or there.
Of course you're never more that a quarter­mile from an interstate and on hot summer days, the river is downright crowded with boaters and tubers (i.e., people drifting in inner tubes, not floating potatoes--though that's a fascinating image). Still, I find it hard to be unhappy paddling a rented kayak down the Delaware, not far from where I grew up. I have neither the experience nor the grit to be a real outdoorsy type. Hot, running water and spring mattresses are pretty much essential to me in any given 24-hour period. But, when I can, I like to dabble in the camping/hiking/boating/climbing life for an afternoon or so.
I love nature. I just don't want to live in it. Nature is wonderful, provided you can leave it when you want to for the comforts of civilization. I'm glad both exist, though I do think civilization has had such a strong run that I wouldn't mind seeing nature get some preferential treatment for a change. Call in Green Affirmative Action if you will.
-- mm
---
SUBJECT:
Big Laptop Backpack
DATE:
July 9, 2005
I recently got a spiffy new laptop for work: 17" Mac PowerBook (feel free to ooh-ahh on your own time). It's a nifty thing, and they gave me a nifty case for it--an enormous passed briefcase with a neat little padded attache that slips out for just the computer itself. It's very nice, but I can't stand carrying briefcases or shoulder bags, even on my relatively short commute. My achin' back just don't approve... besides, it makes it harder to ride my bike to and from the train station every morning (note that I say "harder" not "more dangerous" since nothing could make riding that rickety old thing--with only one set of working brakes and a busted gearshift--through rush-hour traffic any more dangerous than it already is). So, I want a backpack for the laptop.
Damned if I can find one. Nothing fits it. None of the standard size day packs at standard sporting goods stores. None of the laptop-capable backpacks at department stores. None of the super-specialized, designed-for-computers backpacks at computer stores. They all say "up to 15-inch screen" but I've got 17 inches (and don't you forget it, babe.) I bought one that said "fits large laptops"... we'll see if it works or not.
Oh, by the way, each and every backpack I picked up: made in China. Jansport. Eddie Bauer. Nike. Timberland. Targus. Victorinox (the Swiss Army Knife company). Every single brand was made in China, just in case you were wondering.
-- mm
---
SUBJECT:
Allnighter
DATE:
July 8, 2005
Pulled an allnighter last night (or is that today? I can't tell). Started working on something--a big PowerPoint presentation for work (over 100 timed slides... they take freakin' forever)--around 11:00 pm and kept at it till 5:30 am. At that point it, didn't make much sense to go to bed, so I took an early train to work.
I was a little foggy until about 9:30, when I crossed the hump. Did fine most of the day, though started to get a little blinky after lunch (though that's about the norm for me, to be honest). Managed just fine through the evening, then crashed around 11:00. Haven't pulled a true allnighter since college. Nice to know I still can in the crunch.
Oh, and the presentation I worked on: I pretty much have to re-do it from scratch. It's way too long, and lacks hard information--mostly padded with descriptive fluff. That's not my fault; I got the raw text from a dozen different people and did my best to synthesize something coherent. If I hadn't actually done that, I wouldn't know now what I need to do to get it into shape, so I don't view it as totally pointless. Stayed up all night for a rough draft, basically. It happens.
-- mm
---
SUBJECT:
Bombs in London
DATE:
July 7, 2005
A coordinated series of bombs were exploded on public transportation vehicles in London today (I say that for historic purposes, not because I think anyone needs reminding right now). I work with a number of people in London. Seems everyone I know is OK so far.
All I'll say about this is to reiterate how absolutely pissed off it makes me. I pride myself on being able to look at emotionally volatile issues with some measure of rationality, some sense of proportion and balance. But I swear, about 9:15 this morning if there'd been a little button I could have pushed to wipe every Muslim off the face of the Earth, I would not have hesitated. I know that isn't fair. I know that isn't just. I know that such a sentiment, carried to extreme, is exactly what lay behind this act I judge to be unmitigated barbarism. But goddammit, I wanted that button.
Intellectually, I know this shit will only get worse before it gets better and that such a high-profile "soft target" attack will happen in the U.S. at some point. And on that day, I'll be looking for the anti-Muslim button, too. Till then, I'm going to try to keep a cool head and remember that I, myself, do not want to be judged by the actions of others in some shared demographic.
-- mm
---
SUBJECT:
All the T-Shirts in China
DATE:
July 6, 2005
Look, I have nothing against China, per se. The history and culture of that massive nation is deeper and more varied than anything even a Mayflower descendant can justifiably lay claim to. And I certainly bear no ill will to individual Chinese citizens trying to make a living in the disposable dinnerware factory.
I just want to know why we (meaning, pretty much, the rest of the world) have to buy so much crap from them. And it is crap. Not so much in quality (they get better every year, clever little patent-infringing, copyright-ignoring buggers), but just by it's nature. CD storage cases. Inflatable pools. Cat litter pan liners. White plastic lawn furniture. Mountains of toys and trinkets and coffee cup lids.
Can't we learn to do with less of this stuff?
-- mm
---
SUBJECT:
Chinese Fireworks
DATE:
July 5, 2005
Upon hearing my rant over major U.S. fireworks displays consistent primarily of wares made in China, a few canny folks have pointed out to me that "The Chinese invented fireworks, you know."
Yep. I know. Still doesn't mean I have to like the fact that ones we shoot off over the Washington Monument every 4th of July were made there.
-- mm
---
SUBJECT:
Celebrating the 4th with a Chang
DATE:
July 4, 2005
Here's some food for thought on Independence Day: the fireworks used in major displays you see around the country--including, the ones in New York and Washington D.C.--are made primarily in China. This was not true 10 years ago, but apparently tighter regulation and--of course--cheaper Chinese labor have made this the norm. Even famous U.S. manufacturers such as Grucci now buy the majority of their fireworks from China (or so I have heard from more than one source).
I suppose this shouldn't surprise me. Everything you buy in the U.S. now is made in China. Pick up five everyday objects within your hand's reach. At least three will be made in China. I guarantee it. Still, it bugs me. I'm pretty far from a rah-rah-xenophobic-lunkhead patriot, but damned if sometimes I don't feel like America is selling itself down the Yangtze river. China: the most populous (@ 1.3 billion), most repressive (tens of thousands of political dissidents jailed, state-controlled media, and--oh, yeah--the 50 million or so Mao killed over a couple decades), most polluted (16 of 20 of the world's dirtiest cities are in China), most Communist (remember, the guys we used to say we didn't like?), and--before the end of this century--certain to be the wealthiest, thanks to our incessant appetite for plastic consumer goods and cheap electronics. Oh, and fireworks.
China. Proof that the bad guys can win sometimes.
-- mm
---
SUBJECT:
Batman Began
DATE:
July 3, 2005
Saw Batman Begins over the weekend. It was good, and I enjoyed it--though the last half hour was so frantically edited that it felt like a lot of sound and fury signifying little. All in all, though, I'd say it was an entertaining movie and a thoughtful, believable depiction of an iconic comic book character.
Here's the rub,though: the more I see of these big budget superhero movies--and there's been quite a spate of them, some surprisingly good--the more I become convinced that film is simply not the medium for the genre. Comic book heroes belong in comic books. Anything else dilutes their appeal. Superheroes deny physics, biology, logic, and often time and space itself. Putting that onscreen, even with really, really good CGI, holds them up to a scrutiny of verisimilitude that just shows the chinks in their armor. After a while, they start to seem a little... well, silly and childish. Besides, no moving image can ever capture the imagination like the beautifully crafted hyper-kinetically frozen stills that fill good quality comic books.
Barring that, the next best home for superheroes are cartoons. Warner Brothers has put out a string of excellent DC hero cartoons--from a darkly menacing Batman to a colorful, witty Justice League--that really capture the fun and exaggerated excitement of the genre. They're carefully made to be appropriate for kids but with sophistication to keep an adult interested for 30 minutes. The more I see of those, the more I think Hollywood is just barking into the wrong cave (artistically, if not financially speaking).
-- mm
---
SUBJECT:
The Cruiser Calls the Kettle Black
DATE:
July 2, 2005
Seriously, not that I give a gnat's dinkus about this kind of celebrity drivel, but I just had to shake my head upon reading a quote from Scientology poster-boy Tom Cruise. Ladies and gentlemen, for those of you who have perhaps been vacationing on Venus or Mars this summer, a week or so ago The Cruiser (Did I coin that term? Well, I'm taking credit, in any event.) made some disparaging comments about the prevalence of antidepressive drugs, singling out actress-model (though for from model actress) Brooke Shields in particular for having taken Paxil for her postpartum depression (though how somebody that hot has any call to be depressed quite baffles paunchy, balding me).
Now, first off, bear in mind that all this is probably orchestrated publicity. The Cruiser's promoting a movie, and Brooke's doing Grease in London--a fact I'm aware of only because of the hubbub. Also, Brooke actually wrote a book about her depression experience (another fact newly known to me via same hubbub), so she's put herself forward as a kind of de facto spokesperson--and has just published an Op-Ed in the New York Times responding to The Cruiser. My point is that both parties are benefiting nicely from the spotlight, so I take all this as much less personally contentious than it is made to appear.
The thing, though, that really got me was when in a recent interview The Cruiser called psychiatry as "pseudo science." For a Scientologist to call anything a pseudo science is like a 45-year old guy who lives in his mom's basement, which he has fashioned into a reconstruction of the Enterprise's bridge, calling Harry Potter fans "geeks." Dianetics, the basis of Scientology, is a textbook example of a pseudo science, fabricated in its entirety by one guy with no scientific credentials but, interestingly, a colossal output of fiction. Often billed as the "modern science of mental health" the only vaguely scientific tidbit in dianetics and Scientology practice revolves around the galvanic skin response; they use something similar to a lie detector to quantify people's emotional hang-ups. A multi-billion dollar, tax-exempt religious "faith" based around something that's not even admissible in court.
Tom... Tom... Tom. Glass houses, my friend. Glass freakin' houses.
-- mm
---
SUBJECT:
Let Freedom Stand
DATE:
July 1, 2005
A redesigned version of the 1,776-foot Freedom Tower, planned for the site where the World Trader Center towers stood, was unveiled the other day. The previous version had to go back to the drawing board, supposedly to rectify unspecified "security concerns" in its design, though I'd wager those concerns were largely aesthetic. The previous design was just plain ugly. A tall, spindly asymmetrical glass spire that looked like a rejected concept for the Fortress of Solitude. This new one is a little stouter, though of the same height, with a silverized glass skin of intersecting beveled planes to reflect changing light through the day. I definitely like it better.
The redevelopment plans of the WTC site in downtown Manhattan have been a source of constant contention for years. You've got everyone from the unrealistic "Don't build on my son's grave!" family members who lost loved ones in the towers, to the "Build them exactly as they were!" types--not to mention the middle-ground multitudes, each of whom (including me) have their own half-baked ideas of how to design something that combines memorial and commercial space. It's such an emotional issue, stirring up a cocktail of grief, pride, and artistic preference that no two individuals are ever going to share perfectly.
Personally, I like the general idea of a single tall tower, reflecting pools on (or near) the footprints of the original towers, and some park and memorial space. I look across the Hudson at that hole in sky every day and would love to see something beautiful and defiant rise up to fill it. That's a tall order for an office building, but I think the new design makes a solid attempt at it.
-- mm
Freedom Tower info on Lower Manhattan Development Corporation's site renewnyc.com
---