SUBJECT:

Enjoying Church

DATE:

March 1, 2009
I kind of enjoy going to church on Sundays now. The religious ceremony per se has very little to do with it. Basically, I get a solid 20 minutes when I'm sitting in one place, the kids have gone downstairs for the "children's liturgy" (brilliant innovation I wish they had when I was a youngster), and there's no practical demands on my time or attention. Yes, people talk and read and I kind of listen, but I'm essentially free to let my mind wander.
And wither does it wander? Surprisingly -- or not -- I will often turn over moral or spiritual or social justice questions in my head, often prompted by things the priest says. I don't much focus on what the priest says. I've known many priests and they mostly say predictable things, so I have no qualms against zoning them out. But when they touch upon a idea that interests me, I may set off and follow it through the trails and thickets of my mind. Sometimes it yields something, sometimes not. That's not the point. That little mental stroll itself is a pleasure.
Why? Why, exactly, is letting my mind wander in church more pleasant than elsewhere? Practically every minute of the day, every day, no matter how stressful or vacant the given task at hand may be, I'm always thinking in some fashion that I should be doing something else. If I'm working, I keep thinking I need to finish because I have more work waiting. If I'm relaxing, I keep thinking I should be working. If the kids are around, I should be watching them. If they're not, they'll be back soon and I should be working or relaxing because to get it in before they return. On and on. All the time.
In church, for literally 20 minutes, is the only chunk of time I have all week where I feel there's nothing else I should be doing during that time. Twenty distraction-free minutes to think about my life.
Thanks, God, for that little weekly gift.
-- mm
---
SUBJECT:

God and Long

DATE:

March 2, 2009
As I sit and let my mind aimlessly, happily wander in church every Sunday, I often contemplate the nature of God. Not in an academic, theological way -- and not in a direct, anthropomorphic way -- but somewhere in between. To paraphrase Douglas Adams, "Who is this God person, anyway?"
I wonder what God thinks of us... if He thinks of us in anything like the way I think He might think. Seems to me a human contemplating God is like an earthworm contemplating vector calculus. Too big a gap? OK then, how about a dog watching a football game. A dog will find some aspects of a football game comprehensible: people run, wrestle, chase a ball... all things that have a place in a pooch's universe. But the dog will never grasp the rules or inter-city rivalrly or the coach's record or it's 3rd and long on the 47th with 1:16 to go in the 4th quarter and the favored team is down by 3. Nope, that's all beyond a mutt -- though if a squirrel ran onto the field that dog would instantly think it was the greatest thing he'd ever seen.
Sometimes, I think we're all just dogs at the Super Bowl when it comes to God. No clue what He's actually up to, but we'll fixate on that squirrel and think we've grasped the mystery. The squirrel, of course, being Jesus. At least for Evangelical dogs.
-- mm
---
SUBJECT:

Kindle for iPhone App

DATE:

March 3, 2009
Yesterday, Amazon released the "Kindle for the iPhone" app. This is a little free application you can download for your iPhone or iPod Touch allows you to read ebooks formatted for the Amazon Kindle, purchased on the Amazon site, on your iPhone. This allows you to buy the content once, and can switch back and forth between devices as you like.
I played with it a little, and it works perfectly. You go to the Amazon Kindle Bookstore, pick a title, and after logging in and registering a device (in this case, my iPod Touch), boom, you can download books wirelessly with one click. Every book has free sample chapter, so you can try it out as much you like for free.
Basically, Amazon and Apple just shook hands and decided the fate of ebooks for the next five years. Go ahead. You just see if any other players can make a dent after this.
-- mm
---
SUBJECT:

Double AA Uber Alles

DATE:

March 4, 2009
Here's some stats on why, exactly the new partnership between Amazon and Apple, just changed the universe under our feet.
As of two days ago, there were about 2200 individual ebooks available for the iPod (mine is one). As of yesterday, there were 240,000. That's the number of ebooks formatted for the Kindle available from Amazon.
To date, the best industry estimate for Kindle sales is 50,000 maximum. There's reputed to be something in the neighborhood of 50 million iPhones/iPod Touches in circulation.
Overnight, Amazon increased the market for its proprietary ebooks a thousandfold, and Apple went from a few thousand books to a quarter million. Overnight. No big announcements. No marketing. They didn't notify anyone... didn't ask anyone's permission. They just did it.
I've been talking to a bunch of people, and they just don't seem to get how huge that is. Reminds of the day ... six? ...seven? years ago when Steve Jobs held up the first iPod (which was far from the first MP3 player, mind you... just as this is far from the first multi-device ebook service) and said "This little device will change the world." I remember reading all the tech columnists scoffing at the time. Notice they're not scoffing over the Amazon-Apple thing. They're all going "eh" like it's barely worth notice.
Yeah. I'm sure that's just how the Double AA Cult wants it. It's just Kool-Aid. What's the big deal? Have a sip.
-- mm
---
SUBJECT:

Print Publishing is Kindling

DATE:

March 5, 2009
Been talking to folks plugged into the publishing industry about the Amazon-Apple Kindle-for-iPhone partnership. Most seem simply unaware while a few know of it but, like the tech columnists of the world, think it's a minor novelty at best. I feel like John the Baptist, screaming naked in the desert about the new messiah, and nobody cares.
People I talk to are saying a lot of predictably dumb things like "I don't have a Kindle" or "It's too expensive for the masses" or "Why would you want to read a book on your iPhone" or "I like print books." I know you do, bunky, I'm sure you loved playing your 8-tracks in your AMC Pacer at the drive-in, too. You're a reed, my friend. Bend or hold fast all you like, but the tide comes in regardless.
Print is mortally wounded. It's not dead yet, but its death is assured. It's lingered far longer than I ever imagined partly because of people's fondness for it, but mostly because no e-reader device has yet gotten the technology right. The Kindle alone hasn't, nor has the iPhone. Together, though, they are greater than their sum. And, despite some minor tweakings, they are both essentially first-generation devices that are already market share leaders. They will only get better technically, and bigger marketsharedly ("marketsharedly" = 0 hits on Google ... I just coined that word!) And they already have a content delivery model -- a real, live, functional content delivery model -- already in place.
Ten years. I give paper ten years as a viable publishing medium. And this time, I actually think I'm right.
-- mm
---
SUBJECT:

Kindle Books Suck

DATE:

March 6, 2009
Yep. That's right. You heard me. After several days of predicting the death of print heralded by the Amazon-Apple/Kindle-iPhone partnership, I'm telling you today Kindle books suck. Downloaded a bunch. They suck. Doesn't change my prediction a jot, though.
Allow me to clarify: Kindle books are formatted -- mainly by Amazon, by they way... most publishers haven't gotten involved in the formatting work at all yet -- with the most rudimentary HTML. No tables or CSS effects or scalable graphics or customizable views. Squat. Just text on screen, some TOC links to chapters, a figure wedged in here or there. They suck. Seriously.
And why is that a good thing? Growth potential. A whole new set of standards, a whole new industry of device-independent XML coders, is coming soon. Just look at the changes in the display sophistication of websites (all but mine, that is!) over the past ten years and imagine that coming exponentially quicker to handheld readers. I don't think you'll miss your beloved print all that much when you have a thousand cross-referenced encyclopedias with embedded video figures and tables and in your vest pocket.
-- mm
---
SUBJECT:

Off to Disney World / Day 1

DATE:

March 7, 2009
I'm taking the family to a week's vacation in Disney World today. A couple things worked out and the timing, with the kids now 5 and 8, just made it a good time to go, as our civilization crumbles around us.
I've never been. I'm not a big Disney fan. I like some Disney movies, but I prefer most of the Pixar films. I can't stand Mickey Mouse. Annoying twerp of a witless cartoon character. Bugs Bunny kicks his little red knickers six ways to Sunday.
Be that as it may, I'm kind of looking forward to the trip. I've never been. Went to Disneyland once when I was 21. My main memory is that its pristine, hyper-manicured look creeped me out. We'll see how the mothership sits with me. I won't be able to post anything from location, so I'll gather some thoughts on the day by day when I get back.
---
DAY 1:
So far, so good. Got the kids up at 4:30am and made the 7:00 flight without incident. After some swim time at the hotel (Disney Resort Port Orleans - French Quarter), we hit the Magic Kingdom for a few hours. Quite a place. Much bigger than Anaheim, as I remember it. The kids' interests are already splitting, unfortunately. Took my 5-year-old daughter on a 25-foot high Goofy coaster and she screamed her head off the whole time. Took my 8-year-old son on Big Thunder Mountain and he screamed "That was awesome!" for half-an-hour afterward. I was glad of that. If he had hated it (he has a history of freaking out at amusement parks and refusing to go on any rides), we would have wasted a few thousand bucks.
Moment of the day: On the Jungle Boat, which is totally tongue-in-cheek with a constant stream of cheesy jokes, the guide asked "Why does Peter Pan fly all the time?" My son jumped up to answer. They guy waited. A boat of 30 people watched my boy hem and haw for a minute as he thought. He answered at last: "Because he can't breathe underwater?" The whole boat cracked up. The guide said it was the best answer he'd ever heard (FYI... the "correct" punch line is: Because he can Never-Never Land. The boy's was definitely better, in a dadaist sort of way.)
Some indelible memories:
first catching site of Cinderella's Castle from Main Street
seeing the fireworks while riding Big Thunder Mountain with my son
Seeing the inside of Space Mountain on the People Mover

All in all, a great day. The kids finally got to sleep around 12:30 am, wide awake for 20 hours straight and dramatically less cranky than the wife and I by the end of the day.
-- mm
---
SUBJECT:

Disney World Day 2

DATE:

March 8, 2009
DAY 2:
We all slept in a bit, recovering from yesterday's marathon, and got to the Magic Kingdom @ 12:30 losing an hour to daylight savings times.
Space Mountain was first. Since my daughter won't ride coasters, and my wife and I both want to go with my son, we've come up with an ingenious plan. We get four Fast Passes, go on to something else together to kill the waiting time, then my wife and son go and when they get off, my son and I go. Works like a charm. The boy gets two rides, the parents each get one, and each parent gets solo time with the girl.
To balance with something just for her, we took the girl to Ariel's Grotto to meet the mermaid herself. Unlike costumed characters, Ariel can talk, and my daughter was completely smitten by her. Disney really puts effort into casting and training these character actors, and it does show. What seems cheesy and overemphasized to adults plays real well with a 5-year-old girl.
Oh, and here's something I'm utterly charmed by: my son wanted Mickey Ears... the classic, black beanie with ears. That's what he asked for the moment he saw it. $12. How could I say no?
The day's big disaster: the Haunted Mansion. Both kids were clamoring to go on Day 1, but I wanted to be sure they had plenty of comfortable, fun experiences in the park before we tried anything remotely scary. In the dark waiting hall, my daughter freaked out. I did the same thing in a haunted house ride at her about her age... probably a year or two older, even. Anyway, I had to exit with her through the "Full of Fear" side door, but she calmed down outside pretty quick. My son went on the ride with my wife, and came out a little cowed. He doesn't like things popping out at him in the dark and, as mild as the Disney HM is for that, it still bothered him. He said he'd go again with me, though. We'll see.
The in-laws arrived in the afternoon and got an adjoining room. We went to Epcot for dinner in a fake Mayan pyramid and watched the fireworks over the lake. Despite bumps, another very nice day.
-- mm
---
SUBJECT:

Disney World Day 3

DATE:

March 9, 2009
DAY 3:
Today was mostly Epcot. "Experimental Prototype Community of Tomorrow" -- that was Walt's original idea: a real, functioning, hyper-planned city -- which it ain't. It's just another theme park -- but a novel one. The rides all make some attempt at an educational flavor. And the World Showcase, with re-created landmarks from 11 different countries, is pretty neat. The park has a huge, sprawling layout that's a pleasure to stroll leisurely, a pain to traverse quickly.
First thing, breakfast in Norway with the Disney Princesses. Bought my daughter a Jasmine costume. She wanted it. God knows why. She's never actually seen the movie, and it was $60... but, well, how often is your daughter going to run around Disney World in a princess outfit? I know. Sucker. Well, she loved it and was in her glory as each princess came to our table. My son groused the entire time. He's makes quite a show about hating all things "girl" or "princess" -- wouldn't even stand next to one for a family picture -- though I still sometimes see him playing with Barbies when he thinks no one's looking. Seems right for an 8-year-old boy.
The day's big hit: Soarin'. I was a little worried how the girl might take it, but she screeched with delight the entire time. Came off it bouncing and said she want to live on Soarin'.
The day's big disaster: Star Tours. The Disney Hollywood Studio had "Magic Hours" (every freakin' thing is "magic"), which gives people staying at a WDW Resort a couple extra hours to go on rides in a given park. They check by looking at your hotel key. Anyway, since it was a motion control ride synced to a movie -- similar concept to Soarin' -- I thought my daughter would be OK. She was at first, but when the ship nearly crashed into an asteroid, she freaked and was hysterical for 10 minutes. I felt really bad, since I talked her into going. I don't want her to become afraid of every ride, and I want her to trust me when I say things are not scary. Hopefully, she'll bounce back.
Again, another good day, in total. Except, I've got a wicked sinus cold. I always get sick on vacation, every time. One of the reasons I rarely take them.
-- mm
---
SUBJECT:

Disney World Day 4

DATE:

March 10, 2009
DAY 4:
Back to Epcot in the morning. It's so big, we missed a lot. Got to do Spaceship Earth, some undersea ride with Nemo (I miss the "real" submarine ride, dismantled years ago...a maintenace nightmare, I have no doubt), and Soarin' again, all within the first hour. I'm getting the hang of the whole Fast Pass thing.
I loved Spaceship Earth. It's a simple "people mover"-style ride, but it winds up and up into that big silver ball, traveling in time by going past animatronic vingettes of the Egyptians and Romans and Renaissance and Industrial Age and Electronic Age and Digital Age and a Space Age future. Really amazingly designed. I'd love to see the blueprint of how the fit all that stuff into a sphere. Very Western skewed, though. No mention of how the Chinese pretty much invented everything 1000 years before the European equivalents.
Here's something else that impressed me. On the Nemo and friends undersea whatever ride, at the end, they project fully animated Nemo & co. into a real fishtank. Really seems to be swimming around in there. Obviously, it's projected onto the glass somehow, but the images are 100% opaque, brightly colored, with no ghosting at all. How the hell did they do that?
Oh, and this "Turtle Talk with Crush" show, where a fully animated turtle interacts live with an audience. There's definitely a hidden guy with a mike who can see the room controlling the cartoon. He calls on kids (called my boy "you there... the talkative one with the ears") and speaks to them directly, and the turtle's mouth sync and facial expressions are pretty close the whole time. With today's technology, it's all but impossible to fully render a CGI character in such detail on the fly in real time, so there must be a limited menu of preprogrammed actions the operator has to work with, but it's seamlessly pulled off.
I spared my daughter the Test Track ride (she'd have hated it) and let her play in a jumping fountain for half an hour while everyone else went. Got to go with the boy afterward (love them Fast Passes!). Kind of an underwhelming ride. It's a just car that veers around a bit unpredictably. I can experience that anytime I let the wife drive.
-- mm
---
SUBJECT:

Disney World Day 5

DATE:

March 11, 2009
DAY 5:
Downtown Disney this morning. It's this open-to-the-public area of themed shops and restaurants. Nothing remarkable about it, but after four days of going full-tilt in the parks, it feels like a breather. My daughter had a princess makeover appointment at Bibbidi Bobbidi Boutique (just saying that feels creepy somehow), so off went the girls (daughter-wife-grandma), leaving the boys (son-me-grandpa) to fend for ourselves. We built stuff in the Lego store for half an hour, then made Mr. Potato Heads in another store for the remaining 45 minutes. I've had worse times. There was a kiosk where you could build your own lightsaber. My son really wanted one, and I found no good reason to stop him spending $20 of his souvenir money. Now he's got a lightsaber and mouse ears.
My daughter came out looking insanely adorable, all made up with her hair glitter-sprayed in a tiara-speared bun and little plastic jewels in the shape of a rose stuck to her cheek. She got a goodie bag with a hair and make up kit and insisted on doing everyone's hair at lunch. Even offered to do the waitress.
So far in this trip, I've been thoroughly impressed by how the Disney operation designs everything to foster the illusion you're in a magical place devoid of unpleasantness. As cynical as I am, I have to admit they pull it off better than I'd imagined possible. But this Downtown Disney thing is just a shopping mall that exists to push knick-knacks. I look at ten-foot-tall stacks of $100 castle and monorail playsets and am just overwhelmed by all that wretched plastic American excess (made entirely in China) in a world where millions abroad have nothing, and domestically we need government handouts just to keep our lifestyle afloat. Really broke the "magic" illusion and made the place just seem like a titanic monument to consumerist overkill. Takes the fun out of souvenir shopping.
Interestingly, all toys everywhere in WDW were marked with 35% off signs. A person in a checkout line told me she's been here a dozen times over as many years, and has never seen advertised discounts on anything before. Sign of the times.
The end of the day was spent at Disney's Animal Kingdom. We took the safari ride, which is a real bus to see real animals in an open enclosure. Nice enough experience, yet they still had to Disneify it with gunfire from fake poachers and an animatronic baby elephant you help rescue. Finally, there was Expedition Everest -- a neat indoor/outdoor, forwards/backwards coaster where you get attacked by a yeti, seen only in cinematic shadows. My son closed his eyes. Didn't want to see a yeti jumping out at him in the dark.
Again, a pleasant enough day, but I'm starting to weary just a bit. Oh, and I'm sick as a dog, too. Barely keeping running on Advil Cold and Sinus every four hours.
-- mm
---
SUBJECT:

Disney World Day 6

DATE:

March 12, 2009
DAY 6:
Breakfast in the Animal Kingdom this morning with the costumed characters. How the heck do they see out of those costumes? I stared point-blank into Mickey's cold, dead, plastic eyes and I'm damned if I can see any glimmer of translucency. And Goofy's head is obviously on top of the performer's like a hat. I can't detect anything in Goofy's neckline where someone could see through. Seriously. How do the people in those suits see?
In many ways, Animal Kingdom feels less like an amusement park and more like a zoo, with lots of walk-by or ride-through animal enclosures. The park's centerpiece -- equivalent to Cinderella's Castle or Epoct's Spaceship Earth -- is a gigantic fake tree made to look like it's covered with animal carvings. Kind of neat to see, and inside it houses another "4D" movie-thing called "It's Hard to be a Bug." This was definitely my favorite of these, combining a 3D movie with animatronics and squirting water and vibrating seats. Scared the crap out of my daughter, but I still enjoyed it. She seems determined to be scared of things, so we're just dealing with it the best we can. At least she's game to try them. My son, at her age, would not even go near any ride or show he was anxious about.
The day ended at Disney's Hollywood Studio. The big thing here is the Aerosmith-themed (how'd they get involved in the licensing for this?) Rock'n'Roller Coaster. I ran off to Fast Pass that, while the rest of the family went straight to the Indiana Jones Stunt Show. Went I met them, I found my kids had been singled out to announce the show. While you wait in the theater, there's a Casting Director who pulls people from the audience to be extras for a few onstage gags. My beautiful, pathologically extroverted children got to stand up in front of 1500 people, say where they were from, and yell "Lights, Camera, Action!" to start the show. Quite a wonderful memory... though all the explosions and gunfire in the show itself scared my daughter a little.
My daughter's timidity is getting harder to deal with. She even wouldn't go to see a Little Mermaid show because she's scared of Ursula, so we wandered a bit. All the little-kid safe rides get packed and, even at this low-volume time of year, have 50-minute wait times and the finite Fast Passes run out by midday. Actually, one of my very few beefs with WDW so far is that they close some rides and attractions without notice and/or logic. A car stunt show was closed for the day. OK, I can kind of see that, given the operational complexities of such a thing. But then we go to a "Honey I Shrunk the Kids" playground and find it closed at 5:00 pm. What's the deal with that? It was the one place I thought both kids could have equal fun. So we kept wandering aimlessly ...though, if you have to wander aimlessly, Disney World is pretty much an ideal place to do so, so it was a fine time. After a crushing meal of burgers and fries (I've never eaten so much fast food in a week in my life... I'm going to have to detox when I get home) I was too bloated to go on the Tower of Terror falling elevator ride, so thankfully the wife took the boy. After that, it was time for Rock'n'Roller Coaster.
I have to say that, sadly, I've reached an age where I don't really like my body tossed about by giant machines anymore. The relatively mild coasters of Disney are pretty much my limit now. This one pushed it. This coaster doesn't go up a hill for a gravity start, but accelerates like a bullet -- 0-60 in two seconds -- courtesy of aircraft carrier deck-grade electromagnets. The rest of the ride was a pretty tame corkscrew coaster, but that launch took my 43-year old breath away. The boy rode it twice. I sat the second out.
Last full day tomorrow.
-- mm
---
SUBJECT:

Disney World Day 6

DATE:

March 13, 2009
DAY 7:
Last day in Disney World. Had to spend it, dawn to dusk, in the Magic Kingdom.
First up, Fast Passes to Peter Pan's Flight. Since it's OK for all ages, it crowds up quickly and I want don't want to miss it. I want my daughter to regain the sense that rides are fun, not scary. While waiting for our time, we do the Jungle Boat and Dumbo again. After Peter Pan, I Fast Pass the Winnie-the-Pooh and we kill the interim in Mickey's Philharmagic (another 4D movie), It's a Small World, and the carousel. This morning of pure children's rides was, in many ways, the most pleasant yet. It's nice to have my girl once more beaming rather than screaming. The boy's had enough thrills--besides, he's still young enough to enjoy these simple attractions thoroughly. If we ever come back, he won't likely be.
By midday, the crowds made it harder to zip from ride to ride, so the womenfolk set off to Tom Sawyer's Island while the fellers went to the Haunted Mansion. Since it worried him a little the first time, I was pleased my son was enthusiastic about showing it to me and grandpa, like a thing he'd conquered. Hats off once again to the Disney vision. While the Haunted Mansion seems dark and creepy at first, it is ultimately silly and non-threatening, which helps kids face and master fears in a very healthy way. Lesser entertainers than old Walt don't understand the value of that.
Case in point: upon meeting with the gals on Tom Sawyer's Island, my scaredy-cat daughter got to lead her big brother through a dark cave she had already explored. Winding through these realistically tight and twisty caverns, I wondered if anybody ever got lost or injured in here... then I remembered "Oh, this is Disney World." It's not actually a geological maze, just a one-way path under constant infrared video surveillance. That little moment of worry, followed by the realization that this is all completely safe and manufactured fun, struck me as akin to what kids must unconsciously experience a hundred times a day in the parks.
Finally, Splash Mountain. Having built up some confidence, we were able to coax my daughter on. However, she got increasingly upset with each small, six-foot slashdown, and as we ascended toward the final 40-foot drop, she was hysterical, her heart fluttering like a bird in her rib cage. She was, once again, quite upset when she got off -- but a piggyback and a promise of M&M's in Goofy's Candy Shoppe solved that surprisingly quick.
After a late afternoon swim at the hotel, we returned to the park one last time for dinner and fireworks. We had a vast and excellent meal at The Liberty Belle Tavern. Our waiter was from Haiti. The scale and opulence Disney World impressed the hell out of me. I can't begin to guess what someone from Haiti thinks about the place. Can you imagine how many applications they must get on recruiting trips to Port-au-Prince?
As I watched the last night's fireworks -- my 5-year-old daughter on my shoulders, my 8-year-old son holding my hand, my arm around my wife of almost 20 years -- I stood there overwhelmed by the sense of what an astoundingly lucky man I am. Oh, I gripe and grumble daily about all manner of things, but I know am surrounded by the raw materials of happiness in humbling magnitude. I got to take my family to Disney World. It may sound trivial, but it is not. In this world -- not to mention this economy -- with all the cascade of things that can go wrong in a life, I am further ahead of the game than I have any right to be. Blessed is loaded word I do no wish to use here. Lucky is more accurate. I am a lucky man.
When I looked at my wife, she had tears in her eyes. I knew exactly why. A very dear friend of ours -- a colossal Disney fan who once threatened to kill me if I ever took my kids to Disney World without him -- is gravely ill with cancer. Interesting how the joy of any heightened moment in life is defined by who we share it with, who's presence or absence counterbalances our private emotions. Notes of sadness don't always diminish happy moments. Sometimes, they accentuate how precious they are.
Back home tomorrow.
-- mm
---
SUBJECT:

Back from Disney World

DATE:

March 14, 2009
Flying back from the family's week in Disney World. I have to say, it was quite an experience. Some things I will never forget:
the kids' excitement on seeing the hotel pool with a giant sea serpent slide
my son screaming with joy on Space Mountain
my daughter shrieking with glee on Soarin'
my son cracking up the Jungle Boat driver
my daughter's cackle at teaching Cinderlla to high-five
her deadly serious little face as she got her princess makeover
both kid's enraptured faces watching the Spectra Magic Parade of Lights
both kid's serene faces as they slept with us in a hotel room every night
...and a hundred other moments from a week of constant, go-go-go togetherness with my family. Don't get me wrong, there was some unpleasantness as well. Whining and bickering and moments of ill temper on all fronts, but the scales tip dramatically to the positive in every measure. I am hyper aware that these are my children's golden years. That's why we took the trip. I want to give them a rich palate of memories from this time and milk every bit of it for what it's worth before they turn away -- as they will...as they should -- from the embrace of family. I don't care if it's over-indulgent or financially wasteful or what have you. I'm glad I we were able to do this.
Upon returning home, I find the house has not been reduced to a smoking crater in the ground... a subconscious fear I have every time I go away. Pretty much makes it a perfect trip.
-- mm
---
SUBJECT:

Family Vacations

DATE:

March 15, 2009
The Disney World vacation I just returned from with the family got me to thinking about the family vacations I took as a kid. Never to Disney World, that's for sure. I had never even been on a commercial plane until I was 19. Do I feel lacking for that? Not at all.
We had our annual trip "down the shore" (as Philadelphia area folks say) to Wildwood, New Jersey. Went there pretty much every year of my life until I was 21 (the latter five or so years were definitely not with family... den of teenage iniquity that Wildwood is). We once took a two-day car trip to Lubeck, Maine. We took some day trips to Six Flags Great Adventure. Franklin Institute in Philly once or twice. Valley Forge. John Wanamakers department store in Center City for the Christmas light show. The summer open house days at the naval airbase my father worked on. I have vivid memories from all these different places, even if (in retrospect) some of them were pretty mundane spots. (Lubeck, Maine, is the eastern most point in the United States... yet, even to a 7-year-old kid, it seemed like the ass-end of the world).
Nope. I don't feel cheated at all by our family vacations. Except, sadly, the "family" part. Literally, until I had my own, "family" was an alien and unpleasant concept to me. If we sometimes went places or did things together that were interesting, the presence of my parents and siblings never added anything but discord. I suppose (in retrospect) we were no more unpleasant a unit than any nuclear gang-of-six packed into a mid-70's station wagon, but I think of so much of those trips torturous even when I was pleased with the destination. I guess most people feel that way at least sometimes, but the lingering bad taste of makes me want to give my own family a different experience. I hope I'm succeeding, at least a little. Lord knows I can be as grumpy an ogre as any dad, but I know I -- both of us, my wife and I -- laugh and play with our children in ways I have zero recollection of with my parents.
I don't know what my kids will make of their early family memories 30-odd years from now, but I hope they will be able to mine them for better overall feeling than I seem to be able to do.
-- mm
---
SUBJECT:

Lessons from Disney 1

DATE:

March 16, 2009
So, after a week in Disney World, what are my lasting impressions of the place? Aside from my experience of it as family resort, what did I learn?
The biggest revelation came from thinking about the place as a business. Not so much in a financial, P&L kind of way, but how it functioned as an organization. What struck me time and again was this complementary dichotomy between its vast scale and minute attention to detail. The place boasts the land area and population of a small country, yet everything about it is meticulously crafted to enhance the guests' experience. They move tons of food and waste in and out of the parks every day, and you will never see a garbage or supply truck. All practical necessities are taken care of without any evidence. Reality is not permitted to intrude.
Another example: my hotel had 500-some rooms, each filled with slovenly vacationers and their grubby, distructive kids--yet the maid took the time each day to fold the extra towels into little cloth-i-gami elephants. It was such a tiny thing, yet I remember the place fondly for it. It was not a flawless place. We bumped into all the problems you'd expect with big hotel. They gave me the wrong room, misplaced my luggage, and had flyers with incorrect park hours at the information desk. However, any time I complained, I was met not only with calming courtesy, but a willingness to help set things right so eager it had me apologizing to them ("No, no... you don't have to do that. It's not a big deal. I'm sure it will be fine. Sorry to have bothered you.") Time and again, the grand vision and the practical implementation were in perfect lockstep.
How many times, how many meetings, how many endless e-mail chains have I endured where VPs talk about the company's grand vision without the sligthest concern for the day-to-day, nuts-and-bolts work needed to achieve it. Operational obliviousness is not seen as a virtue at Disney World.
So, Lesson 1 from Disney: The big picture is made of small details.
-- mm
---
SUBJECT:

Lessons from Disney 2

DATE:

March 17, 2009
One day at Disney World, I'm just standing there while the kids are off climbing on something, when a trash guy comes. He's dressed in an impeccable white-and-blue uniform. He says "Good morning, sir" then empties the can, wipes the edge with rag, and has it back in place inside of ten seconds. He smiles and says, "Have a Magical Day," and goes on his way. I actually had a moment where I wanted to run after him and tell him he was doing a good job--that's how stunned I was to see someone perform a task like that pleasantly and efficiently.
When my daughter met Ariel, the 20-something gal in the mermaid suit was all bright eyes and smiles. Her voice was a perfect soprano quaver, with an unobtrusive giggle every 20 seconds or so. She spent maybe two minutes with my daughter, but her attention was totally focused and my daughter was mesmerized every second. To a 5-year-old, that was the Little Mermaid.
I think of these two workers -- the maintenance man and the character actress -- and how perfectly they each did their jobs. On the surface, it may seem ridiculous to compare them, but they were both park employees ("cast members" WDW calls them) visible to the public and, as such, were carefully schooled in the image they were to present. Both made my visit more pleasant, exactly as they were intended to. I think of all the surly, clueless, and arrogant clerks and operators and managers I had to deal with over the years. We have this tacit assumption that most people are too bitter about their jobs to perform them with pride. Well, there's no way your job sucks more than emptying garbage in the Florida heat, or greeting pre-schoolers for hours wearing nothing by a smile and a shell bra. We're all working grunts that have to answer to some foreman or chairman or stockholding everyman we hate, but that's no excuse to pass that on to the public, yet we have learned to tolerate behavior that is both bad manners and bad business. Obviously, Disney doesn't
Lesson 2 from Disney: Train your employees to treat every customer interaction as important.
-- mm
---
SUBJECT:

Final Lessons Disney

DATE:

March 18, 2009
Having taken in an interest in Disney Word, specifically in the lessons it has to teach the business world, I looked up some different books on the topic. Turns out there are dozens. All these different authors, insiders and outsiders, dissecting the success of WDW to fine tidbits that can be applied elsewhere. My favorite observation was one book that had a chapter about customer service entitled: "'When is the Three O'Clock Parade?' is Not a Stupid Question." Brilliant.
Aside from many operational specifics, it seems to me the root of Disney's success is, no surprise, Walt Disney. It's all his vision. He thought it all up and laid out how it should be, from the landscaping and architecture to the rides and shows... all the way down to the placement of the garbage cans and underground service tunnels. Yes, many, many people contributed both in ideas and execution, but all of it was ruled over by Walt, his way or no way. While flipping channels in my hotel, I happened to catch Amazon's Founder and CEO Jeff Bezos -- only a year older than me, by the way -- talking about how encourages innovation and creative thinking at Amazon, but rules over everything having to do with "the customer experience" a with an iron fist. When 44-year-old, self-made billionaires who have revolutionized half-a-dozen industries talk, I'm inclined to give them a bit more credence than, say, a middle-management schmuck.
Armies of workers build castles. Managers monitor their comings and goings. Committees track the progress and costs. One architect designed it. All can have useful roles in the process, but only one is indispensable. The one who has the idea and the will keep driving it forward against all impediments, is the one who changes the world... or creates their own, as the case may be. Walt was the philosopher-king that made it all happen. Other companies can mimic operational details all they like, but without such leadership, they'll never accomplish greatness. They may become profitable. They'll never become legendary.
Final lesson from Disney: The most successful enterprises are driven by a singular vision, not by committee.
-- mm
---
SUBJECT:

Two-Day Meeting

DATE:

March 19, 2009
During a two-day meeting -- that's two full, nine-to-five working days at the office -- I just attended with a dozen colleagues, here's what we did:
three consultants taped up large rolls of paper, floor-to-ceiling, all around the room
said consultants then taped large color prinouts of notes from a previous two-day meeting on the same topic held overseas the prior week over the paper
we then discussed those notes for a few hours
we then were given different color markers and post-its and told to add our comments onto the previous meeting's notes on the walls
we did the same thing on day 2
at the end of day two, the consultants rolled up the paper on the walls -- now covered with hundreds of colored post-its and miles of scribbling -- so they could type everything up for new color prinouts for the third installment of this two-day meeting on the same topic to be held overseas the following week
Oh, and all these meetings were about a very specialized software development project. Not a single software developer was invited to any of them.
No amount of bailout money can save us until we realized how fucked up that is.
-- mm
---
SUBJECT:

A Conspiracy of Nothing

DATE:

March 20, 2009
A disturbingly large percentage of people I have known professionally over the years believe this: they deserve to be paid for sitting around conference room tables and offering their opinions.
I'm completely serious. There's an enormous swath of mid- to high-level white-collar professionals who think simply expressing their opinions constitutes a service worthy of compensation. I won't even get into a discussion of whether or not their opinions have any merit, except to say that I'm not talking about people of exceptional accomplishments. No billionaire entrepreneurs or Nobel prize winners here. Just regular corporate ladder-climbers. Most of these people do nothing on a daily basis, except discuss their opinions in meetings, then repackage them in e-mails, with maybe the occasional the PowerPoint (usually assembled by an assistant).
One tends to think of a "conspiracy" as a complex, secretive plot perpetrated on unsuspecting masses by a powerful few--and I'm sure such things exist (though I suspect they're less frequent than many like to believe). However, millions participate daily in the vast, out-in-plain-sight conspiracy of the modern American "service economy." You don't actually have to do anything -- in fact, doing something is typically frowned up as either menial or disruptive -- to earn a living. Just show up, sit in conference rooms, and say things. From time to time, fill out some paperwork to further the illusion of progress, but mostly, just say the right things at the right times. If you can do that -- and allow others to do that -- without pointing out the obvious madness of it, we'll all get keep getting paychecks.
There's a conspiracy for you. Shhh. Don't tell anyone. Pass it on.
-- mm
---
SUBJECT:

The Purpose of a Corporation

DATE:

March 21, 2009
I've been pondering lately what the purpose of a corporation is. I'm taking about the large-scale business entities that control trillions in commerce and employ millions of workers -- here and abroad. Why do they exist? Aside from any arguments about the worth of whatever products and services they may provide, what is their fundamental contribution to the world?
Near as I can tell, the most basic function of a corporation is to absorb financial risk. A corporation can afford to invest in dozens of failed projects for the sake of the often-unforeseeable one that will turn a profit. Entreprenuers can't really do that. Only well-established corporations typically control that kind of speculative wealth. Beyond that, though, is the idea of the continuity of wealth. Small businesses and single workers are too tied to individuals with natural human life cycles (i.e., they die) to build up a body of wealth over generations that can predictably withstand the punishment of fluctuating market forces. In a democratic, capitalistic society, corporations are the new old-money aristocracy, the ruling class of feudal lords that enlists armies of peasants to form stable city-states. Corporations are geographically unbound kingdoms
I'm actually not joking here. I'm pretty sure that's what Exxon and GE and Toyota and ING and all the rest are: multi-national economic kingdoms. If you're bothered by the word "kingdom" just substitute "empire" and you'll find it goes down much easier in modern parlance.
-- mm
---
SUBJECT:

Monsters v. Aliens v. Daughter

DATE:

March 22, 2009
Took the kids to see Monsters v. Aliens in 3-D yesterday... as did every parent in the county. We got to the 12:30 matinee at 11:45 at it sold out as we were in line. Got 2:30 tickets and had a greasy lunch at Applebee's. I'm not a picky eater, but I've decided Applebee's is incredibly mediocre food, even compared to other family-friendly chain restaurants.
Anyway, my daughter, apparently worried that big 4D effects were going to jump out at her like in Disney World, cried for the first 10 minutes saying she didn't want to watch it and wanted to leave, when she all but had a tantrum when we had to wait for the next showing. You know those moments when you turn into that awful parent you never thought you'd be? "You just sit there and close your eyes then because we're staying here and I'm never taking you anywhere again, you ungrateful little crybaby." Know what I mean? Well, trust me, parents do. See calmed down and ended up watching it, mostly with glasses off. She claimed to not like it but drew her own versions fo all the characters for two hours afterward. Go figure.
Oh, and the movie itself, even in 3D, was only so-so. Nosiy and jokey and chaotic and not very imaginative, but far from awful. To offer a family-friendly chain restaurant parallel: it was maybe a notch above Applebee's... definitely not at a Houlihan's, or even a Friday's level, but way above Denny's. Know what I mean? Well, trust me, parents do.
-- mm
---
SUBJECT:

3D Overload

DATE:

March 23, 2009
Maybe it's just the lingering overload from all the 3D things at Disney World, or a residual of the fact that the movie wasn't particularly great, but I felt kind of underwhelmed by the 3D of Monsters v. Aliens. I remeber going to see Beowulf a year or so ago and being blown-away by the 3D. And we took the kids to see Bolt last Fall and I was fairly impressed as well. But this one. Meh.
I hope this was just a mediocre implementation of the technology because I really like the concept. When you have kids, you go see every kid movie in the theater then get the DVD and see it at home, too. (Know what I mean? Well, trust me, parents do.) It's really given me an appreciation for the power of the big screen -- especially with all these hyper-real CGI movies. Somebody worked for months to get the dust to drift off WALL-E's tank treads just so, and it actually does add something to the composition of the scene. That gets lost on, say, the iPod screen. So, yes, size matters. (That's what she said!)
But, as these 3D movies have convinced me, depth matters, too. (That's what she said!) The tired, old something-sticking-out-at-you bit is much less interesting now (That's what she said! OK...I'll stop that now.) than things receding away from you. A rolling hill where the leaves and grass seem layered over each other to the horizon is much more impressive that an explosion that spits cartoon shrapnel at you. When I was a kid, I have a ViewMaster--you know, the old stereoscopic toy with slide-wheels--and I was fascinated by the way the dimensional effects became more pronounced the longer you looked. I must have stared at the Carlsbad Caverns disk for hours (and, no, it wasn't when I was *ahem* in college).
Well, I hope the next 3D movie I see is more fulfulling. Pixar's Up is coming out in a month. I should probably just buy the matinee tickets now to avoid the rush.
-- mm
---
SUBJECT:

Talking iPod

DATE:

March 24, 2009
So the new iPod Shuffle talks. Apparently you can push a button or configure it somehow so it says the song and artist name, or reads playlists, in a digitized voice. Here are examples from the Apple site of what it sounds like:
Seems like a ridiculous workaround for the real problem: the thing has no screen and Unka Steve is too stubborn to admit that was always a crappy design. As much as I like Apple products, their willingness to stick with bad ideas (e.g., no replaceable batteries on iPods, Return key renames rather than opens a file, a one-button mouse for 20 years, etc.) does astound me.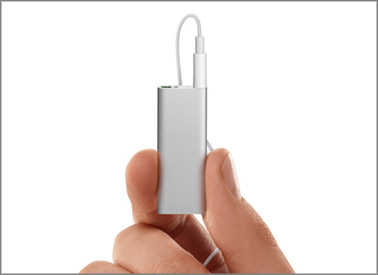 Yes, it's cute and tiny. Just stick a goddamn LCD on it and make it useful.
-- mm
---
SUBJECT:

Reading Redwall

DATE:

March 25, 2009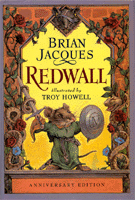 For the past month or so, I've been reading Redwall by Brian Jacques to my son. It's this older-kid/young-adultish book about peace-loving mice in an idealized Medieval abbey beset by a barbarian army of rats. In a literary continuum, it falls somewhere between The Wind in the Willows and Watership Down, with shades of The Hobbit and Harry Potter (which it pre-dates by a decade). I recall hearing of it a few years ago from a niece, and I happened to have the book because the previous owners of my house left a couple boxes of things their kids had outgrown they figured our kids might someday want.
It's a full-length novel, well over 50,000 words, and written with a rich adult vocabulary. Over the past couple years, I've tried a few times to read lengthy works to him, but abandoned each effort as he became disinterested after a few sessions. He's the right age now, and that was apparently the right story since we made in through with him eager to hear more every night. It was a lovely experience I hope to be able to repeat soon. On a long weekend, we made it through most of the Classics Illustrated Jr. Swiss Family Robinson, so I'm pretty sure he's ready for more.
Maybe I'll revive one of the past abortive efforts -- e.g., The Jungle Book or Peter and the Starcatchers, a contemporary Peter Pan prequel -- and see how they fly now. Or maybe take a whack at The Hobbit or Treasure Island or 20,000 Leagues Under the Sea. Definitely one of best parts of having kids is getting to share thing you loved as a kid with your kids. I remember having those longer, more sophisticated books read to me when I was about his age, and it really it a pleasure to pass that on.

-- mm
redwall.org - Site for the series and author Brian Jacques
---
SUBJECT:

Reading to the Boy

DATE:

March 26, 2009
I've just finished reading Redwall in its entirety (took about 3-4 weeks of bedtimes) to my 8-year-old son and we both quite enjoyed it. It's a nicely written book, the first in a series of some dozen or more related titles. I can see us delving into the world of Mossflower woods further someday.
At this point in my son's development, I like finding stories or movies that push his comprehension a bit. He certainly did not understand every word in Redwall (parapet, rampart, halberd, etc.), but he certainly got the sense of the action and liked the characters. There's combat and death in the story, with grief and loss, that introduce those concepts in a gentle but realistic way. All part of life he needs to come to terms with, and a story like this goes down the path in what I think is an appropriate way -- not too violent, not too sanitized.
I have read and/or made up stories to my son every night at bed time for the first six or so years of his life. But that kind of stopped over the last year or so, since 1) he can read himself quite well and likes to, and 2) I'm spending more bedtime story time with my 5-year-old daughter. It's a natural shift, but I do miss reading to him (pretty sick of making up stories, truth be told). With Redwall, I hope we'll jump start a next stage of this.
-- mm
---
SUBJECT:

The Girl's Favorite Not-Book

DATE:

March 27, 2009
Speaking of bedtime stories for my kids: my daughter brought home something from kindergarten the other day listing her favorite things: food, clothes, toy, and book. It was written neatly, so obviously the teacher did the writing, but it was colored and illustrated by her in her inimitable style.
The one that most caught my eye was her favorite book: Monster and Fairy. That's not a book. It's a series of stories I made up for her last year that's been a staple ever since. In the forest on the mountain near the village above the valley (thus they all start) lives a shaggy-furred, long-horned, sharp-tooth-and-claw cave Monster -- who's a gentle, bumbling creature and best friends with a forest fairy named Luna.
In my head, the Monster looks like a cross between something from Where the Wild Things Are and Ludo from the Jim Henson movie Labyrinth and talks a little bit like Pete the Puma, a one-off nemesis of Bugs Bunny. Luna's a fairy in a demure Renaissance or Elizabethan gown, based on illustrations from a book we have... not one of these Tinkerbells-Gone-Wild sexpots Disney's been pushing lately.
-- mm
My mental visual references for the Monster and Fairy:



Ludo from Labyrinth




from Where the Wild Things Are
by Maurice Sendak




from A Child's Book of Faeries
by Tanya Robyn Batt (Author), Gail Newey (Illustrator)
---
SUBJECT:

More Monster and Fairy

DATE:

March 28, 2009
I saw a kindergarten project where my daughter declared her favorite book to be Monster and Fairy, a series of stories I made up for her. Every night, the Monster and Fairy meet and have some sort of little adventure. To keep the material fresh, I've gone through several permutations of their origins, respective societies, how they met, additional characters that get involved (a little girl from the nearby village figures large), and how they celebrate every major holiday. Sometimes, things get silly and and we just act out scenes with toys. My daughter seems to prefer that, though the purist in me wants each one to be well-crafted with a beginning, middle, and end, and some kind thematic development.
Needless to say, after a year or so of making one of these up most nights, my well is pretty dry -- but that does't seem to matter to her. She still asks for Monster and Fairy every night and I -- mostly but not always -- acquiese. Some nights I just don't have the mental energy, but more often that not I give it a go. It's her favorite book, after all... and she won't want it forever.
-- mm
---
SUBJECT:

Telling Stories to my Kids

DATE:

March 29, 2009
I have history of making up bedtime stories for my kids. Superheroes for the boy. Monster and Fairy for the girl. These are very sweet, if sometimes exhausting, times with my kids, and I really do feel I'm helping give them good memories they'll have for life.
I stopped telling my 8-year-old son stories a year or so ago. He seemed kind of grown beyond them, and more often than not, just wants to be left alone in his room to read or draw before bed. I still tell my 5-year-old girl a Monster and Fairy story most nights. These have become quite interactive, as much play as story-telling -- which is a little counter-productive in that it riles her up before bed -- but I have to do less mental work at the end of the day. One night, after tucking my daughter in and coming to into my son's room, he asked why she gets a story every night and he doesn't.
I felt a little bad, but I can't be making up two separate stories a night. Besides, he mostly doesn't care, I can tell. He must have just heard us laughing and felt leaf out. Still, every now and then, I try to tell him one. Lately, I've gotten this great cheat idea: I just tell him the story of a book or movie. We get to spend the time together, and it takes the creative pressure off me. I don't take credit. I always tell him the source. He just wants to hear a story told to him. Then, later, we sometimes watch the movie or get the book. Works out all around.
-- mm
---
SUBJECT:

Book or Movie

DATE:

March 30, 2009
The popular widsom when comparing a book and movie of the same thing is that the book is always better. How many times do you hear that? The movie was awful, but the book was great. All the time.
It's not true, though. At least, it's not fair to make that comparison. They are totally different media... totally different experiences. A movie is two hours, with scenery and dialog and credits. A book (i.e., average 50-70k-ish word novel) if read out loud at a normal speaking pace is 10-12 hours. One shows detail in sweeping vistas. One describes it with calculated economy. One unfolds before you in a hundred minutes as you sit passively. One you invest hours of quiet time and imagination in. Totally different animals, yet the thin connection of narrative sometimes tricks us into missing that.
The more accurate rule of thumb is that people tend to prefer the version they encounter first. Since it is much less common that people see the movie then read the book, you hear about the reverse much more often. But try the opposite sometime. Watch a movie, then read the book. For example, I'm sure hordes of fans of the grandiose, weepy, cinematic Benjamin Button are disappointed by the quirky, satiric short story by F. Scott Fitzgerld it's loosely based upon. Watch Planet of the Apes, with its wry social commentary and mind warp ending, then read Pierre Boulle's novel... see which one sticks with you more.
Conversely, I'm sure Fitzgerald and Boulle fanatics probably hate the Hollywood abominations of their beloved tomes.
-- mm
---
SUBJECT:

Book then Movie

DATE:

March 31, 2009
When choosing entertainment for my kids (something I have decreasing power to do), I try to bear in mind the old the-book-is-always-better-than-the-movie chestnut. While I don't necessarily agree with that, literature and film being such quintessentially different aesthetic artifacts, I do grasp that a book stimulates imagination in a way a movie doesn't.
Bearing that in mind, I like it if my kids can see a movie after having read a book. My son did that with The Tale of Desperaux and I think it enhanced his enjoyment. We read How the Grinch Stole Christmas and The Cat in the Hat long before we saw the excellent 70's animated versions (I have banned the shitty 00's live action movies from this house) . For the reverse, I'm curious what my son will think when we get to read Harry Potter... a movie he was rabid about (after being all but forced to watch).
Recently, I finished reading Redwall to my son, and lo-and-behold, there's a cartoon of it made a few years ago in the U.K. that I found on YouTube. We started watching it and he seems absolutely capitivated by it -- and I get a chance to point out the differences and discuss why they were made. Interesting way to illustrate the characteristics of each craft.
-- mm
---