SUBJECT:
Today's Headlines
DATE:
January-31-2005
Just had to take a moment to note some of the big headlines I noticed today:
World Reacts to Vote in Iraq
Jury Selection Begins for Michael Jackson Trial
Hilary Clinton Collapses at Appearance
Injured Eagles' Receiver Terrell Owens Returns to Practice
Jennifer Aniston on the Rebound from Brad Breakup
That's a good grab bag, a snapshot of our culture's values. Four out of five are essentially celebrity focused. Only one is likely to have any real impact on the average American's daily life. I'm speaking, of course, of Owens returning to practice.
Seriously, in the short-term, who wins the Super Bowl is much more socially and economically important to the U.S. than who ends up on the assembly to choose the committee that will begin negotiations to draft a constitution for Iraq.
-- mm
---
SUBJECT:
The Kid Got a Dell
DATE:
January-30-2005
I set up an old laptop I had from work for my son to use. It's a Dell Inspirion 7000, about six years old now with a broken "T" key and cracked case. But it still works fairly well, has a huge screen (14"... colossal for its day), and with Windows 98, it actually run all the old kids' CD-ROMs I picked up in bargain bins much better than my OS X Mac (extremely poor backward compatibility is one of my big gripes against OS X--which, on the whole I do like, but it's got some real, real chowderheadedly over-designed attributes... but that's another entry).
I've often felt less guilty about letting my 4-year-old spend an hour at the computer as opposed to an hour watching TV. The games he plays on computer are all very educational and interactive--there's no doubt he's learning when he's using it. However, I'm still a little wary of it in that the computer is such a good companion, I don't want him to favor it as a learning/creative/entertainment/interactive tool above all others. Let's face it, proficiency with the ee-lectronic typ-er-writer is likely to remain a critical job skill for quite a while--and, as everyone knows, children (those rasa little tabulae) can pick it up effortlessly. I certainly want him to have that, but I want him to have other stuff, too.
Time and again, it seems to me parenting comes down to patience. Controlling your anger and fatigue and busy-ness and desire to simply be left alone for five minutes is the never-ending battle. Yeah, it's easy to park 'em in front a color-spewing rectangle--and, that actually has its place--but, like all things, in moderation.
That damn moderation. Always screwing up my fun.
-- mm
---
SUBJECT:
IKEA Sans Tools
DATE:
January-29-2005
I bought a small, kid-sized table from IKEA today. I buy everything from IKEA. Almost every piece of furniture I own--dining room table and chairs, bedroom bureaus, end tables, toy chests, bookcases, TV stand, kitchen table and chairs--came in flat boxes and was put together with an Allen wrench.
Except this kids' table.
This required assembly with a standard screwdriver and wrench. There was no little metal one--with the flat screw bit on one end, appropriate wrench mouth on the other--included in the box. I bought something from IKEA that a) did not require an Allen wrench to assemble and b) actually required you to supply your own tools.
Unbelieveable. What's next? Non-right angle joints? Claw-ball chair feet? A bed that sits higher than seven-inches off the floor? The big blue I is going radical. We have to nip this trend the bød, people!
-- mm
---
SUBJECT:
Iraqi Voting
DATE:
January-28-2005
So the big "Free Iraq" election is coming up on the 30th. Absentee polling for Iraqis living in the U.S. are already open. Several other countries will follow suit.
Let's assume, for the moment, that this election will go out without too many violent incidents and--for the sake of argument--a leader is chosen who can actually keep the country from breaking into all-out civil war. If things play out this way, will we have accomplished our goal in Iraq?
Certainly, the Bush Administration will say so. I can hear Dubya now talking about how we have planted the seeds of freedom in Iraq and made the world safer. Well, he can say that all he likes. And even if he scootches out of office with a chunk of the population buying it, the simple fact is that the repercussions of the U.S. invasion will continue for decades. In 2020--not 2008--we may have an accurate measure sense of how brilliant or stupid Dubya's call on this was--whether the ends justified the means (the means being a couple hundred billion dollars and a couple thousand American lives). In any event, I just can't see this election as any kind of a milestone of real consequence.
After all, just because you have an election, doesn't mean you can't still have a crappy government.
-- mm
---
SUBJECT:
One More Tsunami Point
DATE:
January-27-2005
One more thought about the tsunami disaster, then I'll shut up about it (probably not, actually... but anyway...):
On a recent business trip, the cab driver who took me to the train station and I got to gabbin' (he started it; I don't gab). When we got around to discussing the tsunami, the guy suddenly pulled out half-a-dozen quasi-rationalizations with the inference that the people caught up in this deserved it in some way. For example, he started going on about why they didn't have any advance warning network in a what-the-hell's-wrong-with-these-wogs sort of way (note that some of the affected countries were participants in the Hawaii-based Pacific Tsunami Warning Center, although no similar network existed for the Indian Ocean). Then he went into how primitive they were. They don't have decent roads. They live in tin shacks. They have no infrastructure. What's wrong with their governments, that they can't help? And as for the Muslim countries (Malaysia is about 50% Muslim; Indonesia, almost 95%, with over 200 million--the most populous Muslim nation in the world) protesting the presence of U.S. troops on their soil? Screw 'em! Let's pack up and go and leave them to their own devices.
I have to confess, I was a little taken aback by this. I thought about what might motivate this guy (and I have heard a few others make similar arguments) to say such things--to a relative stranger, nonetheless. Prejudice certainly figures in. There's a whiff of general American arrogance, as well as a good bit of post-9/11 Muslim-hating. However, it seems to me--and I don't think I'm over-analyzing--that such sentiments are strongly influenced by a psychological need to distance ourselves from the tragedies of others. It's essentially a "this couldn't happen here" rationale. We're safe because we're more prepared/advanced/smarter/better/stronger--not to mention worshippers of the right God. And I do have to admit, it is comforting to think like that. But, I'll tell you, folks: I saw the WTC burn, fall, and smolder for a month. Shit happens. Ultimately, it's a roll of the dice as to whether or not it happens to you.
-- mm
---
SUBJECT:
Enough With the Relief Already
DATE:
January-26-2005
Caught a news headline--did not see the full article--that said the Red Cross and UNICEF were now urging people to stop donating money to the Asian tsunami relief efforts, and encouraging them to give to other causes instead.
I can believe it. The magnitude and nature (i.e., natural) of the disaster definitely spurred something in people. Wars, famine, droughts, and general poverty are always there. We barely notice them, let alone muster up a surge of financial sympathy. Constant cognizance of such constant need would make our comfortable lives much less satisfying. During the recent blizzard, the guy across the street from me took out all three of his cars (Toyota Land Cruiser, Porshe Cayenne, and some old Toyota 4x4) in turn for comparison drives through the snow. He'd enjoy such a diversion less if he kept a picture of a kid with rickets on the dash.
I'm not saying I'm better than him. Just poorer. Percentage-wise, I blow as much dough on useless luxuries as this fellow with his $100K worth of cars. This does cause me some anxiety, but I console myself with the idea that I am, at least, aware of the incongruity of my well-offedness v. the desperate, desperate want of so many. So, basically, I grant myself a sense moral superiority because I experience guilt.
Who says 16 years of Catholic school education doesn't have some real-world benefits?
-- mm
---
SUBJECT:
Another 80 Bil for Bush's Wars
DATE:
January-25-2005
I just read that President Bush is likely to ask congress for $80 billion more for this year's costs of fighting wars in Iraq and Afghanistan. According to this article that would bring the total spent on the post-9/11 war on terrorism to $280 billion. When adjusted to 2005 dollars, that's nearly half what United States spent for World War I ($613 billion) or the Vietnam War ($623 billion).
For me, it's all a simple question of return on investment. What are we getting for the $280 B's we're expending (we'll ignore lives in the equation, for the moment). A notably decreased likelihood of major terrorist attacks? More stable oil prices? A strategic launching pad to invade Iran (a major backer of the 9/11 terrorists...I'm telling you)? Basically, are we on a path that will eventually bring an incrementally better life for a greater number of Americans or not. 'Cause that's what it's all about, after all. All this spreading-freedom-and-democracy/tyrants-beware crap Dubya slings is meaningless rhetoric. We all know that the whole point of all this war stuff is--or certainly should be--how do we allow more Americans to have a more comfortable life. Tossing away a few hundred billions and few thousand lives is well worth that.
What? That's callous and cynical? Well, at least it's a goal that fits the facts so far. If that's not what it's really all about, I--for the life of me--can't figure out what the hell we're up to.
-- mm
Associated Press article on comcast.net
---
SUBJECT:
Snowblowin'
DATE:
January-24-2005
The Northeast and Midwest U.S. got its first blizzard of 2005. About 6-8 inches of snow in North Jersey. So... I got to use the new snowblower.
First off, let me say that it is not exactly easy. I guess I knew that, but I was a little surprised to find how much physical effort it took to maneuver the thing around. I have a sloped driveway--nearly 30-degrees at its steepest grade--and it was definitely work to get the thing up and down. However, I refined my navigating techniques as I went (slow traction gear going down, higher speed up, and only blow the snow on the way down). Another issue is that the blower only gets snow that at is least a few inches deep; for anything shallower--or anything that's been packed down already--it's shovel time. Finally, the very basic problem of where to blow the snow in a narrow drive with houses then four-foot retaining walls on either side certainly complicated matters. All in all, it took me about two-and-a-half hours to do the whole thing. Shoveling alone would have taken me six--and I'd probably be in the emergency room with three new lumbar disk bulges--so I take it in stride.
As with all things, experience helps. This may have been my rookie outing with the machine, but I worked out a system for next time. I'm acing it in 90 minutes, guaranteed. You can time me.
-- mm
---
SUBJECT:
Tsunami Contributions Jan-23-2005
DATE:
January-23-2005
Another update from the Amazon and Yahoo Tsunami Relief donation trackers, showing how much each site has collected, respectively.
Amazon's Red Cross donation page

| | | | |
| --- | --- | --- | --- |
| | as of 12:35 am - Jan-4-2005 | as of 1:36 am - Jan-11-2005 | as of 12:33 am - Jan-23-2005 |
| Total Collected: | $13,754,533.98 | $15,296,606.00 | $15,602,810.65 |
| # of Payments: | 169,881 | 187,255 | 189,834 |
Yahoo's Red Cross Donation page

| | | | |
| --- | --- | --- | --- |
| | as of 12:35 am - Jan-4-2005 | as of 1:37 am - Jan-11-2005 | as of 12:36 am - Jan-23-2005 |
| Total Collected: | $4,424,640.00 | $6,126,080.00 | $7,298,185.00 |
| # of Payments: | 43,996 | 63,606 | 76,429 |
Google page with links to relief organizations and news:
Google's Tsunami Relief page
-- mm
---
SUBJECT:
Pope of the Spotless Mind
DATE:
January-22-2005
Just wanted to note one more thing about the movie Eternal Sunshine of the Spotless Mind. The title is taken from "Eloisa to Abelard" by English poet Alexander Pope (1688-1744):
How happy is the blameless vestal's lot!
The world forgetting, by the world forgot.
Eternal sunshine of the spotless mind!
Each pray'r accepted, and each wish resign'd;
This is the passage quoted in the film--and amusingly misattributed to "Pope Alexander." Alexander Pope is actually one of my favorite poets, though one rather out of favor with contemporary readers and scholars. His perfectly constructed rhyming heroic couplets, I think, sound a little too much like Dr. Seuss to us today. Also the epic length of his poems--hundreds of lines--puts off most modern readers who think of a poem as something that has to fit in a block of page space equivalent to that allotted for New Yorker cartoon. Still there's bucketloads of craft, wit, insight, and quotability in Pope that anyone can enjoy.
Another reason to tip my hat to screenwriter Charlie Kaufman.
-- mm
Text and commentary on "Eloisa to Abelard" on the University of Toronto's site Reprsentative Poetry Online
---
SUBJECT:
Spotless Minds
DATE:
January-21-2005
Watched Eternal Sunshine of the Spotless Mind on pay-per-view. Note that that's not on HBO--which I already pay for. I actually wanted to see this enough to give in to the great Hollywood release control conspiracy (theaters first, then SpectraVision, then DVD, then pay-per-view, then premium cable... a full year of systematically tiered chances to pay for a heavily hyped film before it's available on broadcast), so I forked over $3.99 for it. Further note that I don't necessarily object to films making money--it's a commerical enterprise after all. But since I pay over $100 per month for enhanced cable that usually has dick on, the idea that they still manage to sting me for more really bugs me. But I digress.
Eternal Sunshine of the Spotless Mind. I liked it. Adaptation, the last movie written by Charlie Kaufman--by far the most innovative commercially successful screenwriter working today--was one of my favorites of last year. The way Kaufman plays with traditional narrative and script conventions, twisting them into convoluted, pseudo-autobiographic, intellectual puzzles with real emotional resonance, is pretty damn impressive. I know the movie stuck with me because I had a whole series of complicated dreams influenced by it. And not just based on the film's text, but also its pacing and visual style. I mention that because it's a credit to the the director, Michel Gondry, who--like so many good and bad cinematic innovators today--cut his teeth on music videos. Kaufman got billing over Gondry, but the contributions of both gave the film its impressive uniqueness.
In a nutshell, the movie's about a guy having his memories of a relationship gone sour literally erased from his brain with a neurological procedure. All the implications of that--the nature of memory and human relationships and the what-if ramifications of the procedure--are deftly rolled out for your consideration. Frankly, there are so many interesting ideas in the film that it's almost hard to latch on to one to dissect. However, one thing in particular I found myself wondering about afterwards was why this movie was rated R. The MPAA.org site simply says "Rated R for language, some drug and sexual content" -- but all this was pretty mild. It's almost as if they were trying to shoo away younger viewers who were likely to be just confused by it.
-- mm
---
SUBJECT:
Guitar Gals Stealing My Kids' Thunder
DATE:
January-20-2005
A while back, contemplating how I could turn my kids into a big-selling pop act someday to supplement my social security income (which Dubya will probably have eradicated by then), I came up with the image of making them into an acoustic, classic-rock guitar-playing duo to hopefully snag both teens and their nostalgic parents. While flipping channels, I caught a video of an act not too far off that on the Disney Channel: two teenage girls playing guitars and singing the 60's Lovin' Spoonful hit "Do You Believe in Magic."
They were younger (looked under 16), and had a more cutesy image (bouncy dancing, pillow fight on the bed, etc.) than I wanted to have for my kids' future act, but the concept was pretty similar. I have no idea who they were, who made or manages them (parents or producers), or how successful they're likely to be going forward -- but I find it fascinating that, once again, I put my finger on the beat of media-driven pop culture and anticipated a fad.
Seriously, I'm pretty good at it. Five years ago, I was trying to explain to people how digital music players would revolutionize the industry. I predicted audio commentary tracks on DVDs before The Matrix made this an instant industry standard. I knew celebrities would hawk hybrid cars the first chance they got, and I give this low-carb thing another year at best. I don't think I'm a Pop-Culture Studies Ph.D. (and I guarantee there's at least one university in the country that offers such a degree), but I do consider myself a bit more observant of nascent trends in commercialized mass-opinion manipulation than the average consumer zombie. I just have to figure out some damn way to make money on it.
-- mm
---
SUBJECT:
Toothpaste V. Shaving Cream
DATE:
January-19-2005
An observation from recent travels: you can always squeeze one more use out of a tube of toothpaste, but when a shaving cream can is empty, it's empty. And shaving cream goes empty instantly and completely; you get no warning. One second it's coming out, then next...ttffftt! Zip. You can't milk it for one last use in an emergency. You've got to go to Plan B.
I've found you can take bar soap and a little of the hand lotion that all hotels give out and work that into an acceptably sticky emergency shaving lather. I once lambasted hand lotion as a pointless hotel bathroom-counter accessory, but I see the wisdom of it now. Of course a little ketchup-style packet with shaving lotion would be better. And, while were at it, toothpaste and a toothbrush would be a lot more useful than the sewing kit and shoe mitt.
Still floating this idea out there, but nobody seems to have picked up on it yet.
-- mm
---
SUBJECT:
Last Creche Standing
DATE:
January-18-2005
There seems to be something of an arms race in my neighborhood to see who can keep their Christmas lights up the longest. It's now about three weeks after Christmas and, as much as I'm a fan of letting the holiday linger a bit, one can take it too far. About four or five homes on my street are still turning on their lights at dusk. Some keep them on all night (something it's a tradition with me to do only on Christmas Eve).
And the folks who are still burning the holiday wattage don't just have a string or two along the eaves or some window candles. Oh no, these are the Griswold-esque ones with strands wrapping every window, column, tree, and bush--plus a few animatronic white wicker reindeer (they do move, but so slightly you have to stand still for a minute--sometimes closing one eye and lining it up with a known stationary object--in order to detect it) and/or Santa Claus train and/or three-quarter life-size light-up Nativity statuettes (though Santa and Jesus rarely appear on the same lawn).
I guess when you put so much effort into your display, you're loathe to take it down. Personally, I say de-decorating can acceptablly be done any time after New Year's day--ideally not before Twelfth Night (Jan 6), but certainly before Martin Luther King Jr. day. Actually, that seems like a good un-official attribute of MLK day: to have it be the official end of the holiday season. Any procrastinators who haven't gotten around to it get the third Monday in January off to take down the lights as they contemplate the legacy of the non-violent African-American civil rights movement. Hey, if every other national holiday also serves as an excuse for retail sales, rounding out the Christmas season doesn't seem like a bad secondary function for hail-to-the-King Jr. day.
-- mm
---
SUBJECT:
Body on the Tracks in Connecticut
DATE:
January-17-2005
I'm on the 7:20 Amtrak Acela from Boston to New York. The train was held up for about 20 minutes at New Haven for a "police action" at a station a few miles away. We finally were given the go ahead and just now rolled slowly through the Connecticut station (between New Haven and Bridgeport... not sure which; I'll try to find out) in question. I see what the problem was.
There were several cops on the platform and tracks, with yellow police-line/do-not-cross tape all around. On the tracks, there were a couple of sheet-covered forms and blood and visceral were visible scattered along the ground. Looks very much like someone cut in half.
I hope this was a suicide. That's sad and tragic enough, but an accident or act of violence would bother me more. I guess that's because if it's a suicide, it's easiest to philosophically distance myself from it in a can't-happen-to-me way. Though I suppose the odds that I could become severly depressed are about the same as someone deciding to snatch my iPod and shove me off the platform (the former even more so, since I don't have an iPod). I don't even want to contemplate running to catch a train and slipping on ice. Now that I have a wife and kids, I think more about the void that each person leaves when they die. Previously, other than some grief among friends, my passing would have caused nary a ripple on the surface of the world. Statistically speaking, I guess it's not much different now--though thinking of those three people who depend on me makes all the difference in my universe. If at all avoidable, I'd rather not die just yet.
Yet one more reason I'd make a lousy samurai.
-- mm
Connecticut Post Online story about this event on connpost.com. Does appear to be a suicide.
---
SUBJECT:
Boston, We Hardly Knew Ye
DATE:
January-16-2005
Time to leave Boston. Spent three nights here for work; taking the train back to New York tomorrow.
This was one of those airport-hotel-airport trips, with the airport being a train station in this case. When you travel for business (and I use that term generically) and you tell people who don't travel for business where you're going, they often respond with some enthusiasm ("ooh, Boston! That must be fun!") as if you're going on a little vacation. Non-work travelers don't get that such trips are mostly drudgery. Sure, staying in decent hotels and eating at nice restaurants can be pleasant, but actually site-seeing or enjoying much of what a different town has to offer is often out-of-the-question on a three-day trip where you work full days, typically on a weekend, then have mandatory dinners with clients or colleagues.
I'm not complaining, mind you. When I was younger and kid-less, I usually tacked a day or so onto each trip to experience the locality. I mainly enjoyed just walking around the city; I've come to know Chicago, New Orleans, San Francisco, DC, and even parts of London pretty intimately that way. But with two little ones at home and sciatica that takes all the fun out of long walks (damn you, middle age!), I pretty much cut these trips as short as I can. This one in particular was in a convention center attached to a mall attached to my hotel, so I didn't even need to set foot out-of-doors.
However, I did. Saturday night at about 10:00, I figured I should go out and do something with a night of freedom rare in my circumstance. I walked around the block, looking at loud, non-smoky (no smoking at bars in Boston; New Jersey seems to be the last place on earth that still permits it) bars packed with twenty-somethings. I passed these all by and ended up at the Cheesecake Factory with a decaf cappucino and a slice of chocolate, peanut-butter, cookie-dough cheesecake. It was delicious, and nobody stared at me as if I was the balding, middle-aged freak hanging out inappropriately at a twenty-something bar. I'm just glad I realized that before I became that guy.
-- mm
---
SUBJECT:
Conventioneers
DATE:
January-15-2005
Anyone who's ever gone to the exhibit hall at a convention--any convention, any where--knows what they're like. They're all the same: rows of pipe-and-drape booths with the big island booths in the center, usally with some kind of two-story sign rotating up top like a 50's Texaco station. Same type of backwall displays in the small booths, same carpet smell, same overpriced snack bars. If you've ever worked the other side of the table as an exhibitor, they're even more the same. You show up with the same set-up, hawking the same stuff, in a vast, windowless concrete-columned exhibit space with overly dry air and shadowless fluorescent lighting. You could be in Chicago, Philadelphia, New Orleans, New York, San Francisco, Orlando, Annaheim, Las Vegas, Boston, Dallas, or where ever. Doesn't matter. Those eight hours at the booth always look and feel the same.
The whole culture of the exhibits is always the same, too. Attendees wandering around with bags, picking up freebies. I always stock up on pens and Post-it pads. I don't think I've actually bought either type of product in a decade; everything I write with or on has somebody else's logo and URL on it. The whole concept of an exhibit is to meet-and-greet potential customers, hopefully to actually sell things or negotiate deals, though little of that really goes on. Mostly exhibits are just big branding bazaars where you try to make some kind of mental impression on customers by how nice your booth looks or how momentarily amusing your giveaway tchotchke (a word only used at conventions as far as I can tell) is. At this one, we had a little combination key chain, whistle, compass, and flashlight. I'm sure it will be a big hit with the attendees' kids--which is, of course, where most of the stuff you give away ends up.
I had an idea with my co-workers as we loitered in they booth chit-chatting the hours away, waiting for our turns for lunch (again, if you've ever been, you know). We give away a lot of stuff--pens, pads, bags, books, key chains, and the occassional stress ball--which people pick up happily and move on. This is an expense for which we receive some promotional value but little tangible effect. What if we charged a very nominal fee for the giveaways? Say a dime for a pen or pad, a quarter for a paper bag, or even a buck for the big, much-coveted canvas bags our company is famous for. THEN we give the money to charity. Tsunami relief is big this year--but we could pick whatever local charity best fits the tenor of the meeting (literacy, schools, medical research, etc.) The whole thing would be on the honor system; we'd leave the formerly free knick-knacks on the table as always, but also put out a slotted-box with a sign politely saying if you would like a pen, please deposit a dime and we'll donate all proceeds to X charity. There would be no enforcement, just a suggestion for a behavior modification. I actually think it would generate a fair bit of buzz and even good will.
If nothing else, it might give those notorious "handful grabbers" ("I'm just taking some extras for folks back the at office!") a moment's pause to think if they actually want the thing their taking or not.
-- mm
---
SUBJECT:
First Train to Boston
DATE:
January-14-2005
I have to go to Boston for work (note that I don't say "for business" since that, to me, implies there's some direct, profit-driven reason for me to make the trip; this is more about the general need for office grunts to work the convention circuit and it's my turn in the rotation). Rather than fly, I decided to take the train from New York. The Amtrak "Acela" express takes about 3.5 hours. Flying is only an hour, but once you factor in airport travel time, check-in, security, baggage claim, etc., it probably comes pretty close.
Anyway, just wanted to say that I love this train. It ain't cheap (@ $100 each way), but it's very convenient and comfortable. The overhead bins are large enough to handle a full-size garment back with ease. The "Business Class" (the Acela has no "coach" -- though it does have a first class car) seats are bigger that most airline first class seats, and there are power outlets for your laptop at each. That alone, makes it worth it. Not to mention a "quiet car" where cell phone use is banned.
It looks like I'll have to go down to DC in February (again, for work, not business). I'm actually kind of looking forward to getting to train it again.
-- mm
---
SUBJECT:
Playing With Emotions
DATE:
January-13-2005
My four-year-old son did something very interesting today. As I was leaving to go to work, he sat at the breakfast table with his Cheerios and looked up at me. He pouted, his lip quivered, and he silently started to weep. I asked him what was wrong and he said, with a heavy sigh, that he was sad I had to go to work.
Now, I go to work every day (FYI... I noticed, looking over my work attendance records for the year, that I took no sick days in 2004. Of course not. When I don't feel well, the last place I want to be is home with those insane kids.), and he sits at that table and watches me leave at least three days a week. He knows the drill, and if on some level I can believe that he's sad to see me go, I can't believe that his sadness actually welled up palpably on this particular day. I have no doubt he was sad, but what I saw was him purposefully experiencing the emotion. Reveling in it. Playing with it as an actor summoning tears might.
Notice I did not say faking or counterfeiting it. I'm sure he felt just the way he said he did. My point is that he made himself feel that way, or at least turned up the volume. I don't think it was done for my benefit or to manipulate me. I think he was indulging in the intoxication of bringing on an emotion that he could control. It's an utterly new concept for him: the idea that he can control his own feelings. When you willingly watch a tear-jerker movie, or a comedy, or read an article that gets your political indignation up, you're doing the same thing: bringing on a powerful emotion in a controlled way. We all learn to do it; we couldn't cope if we didn't. It's a way to feel, yet still feel safe... to skirt the edges of that which, unchecked, can overwhelm us. It was fascinating to witness that uniquely human behavior in its infancy.
-- mm
---
SUBJECT:
iPod Implant
DATE:
January-12-2005
Addressing a standing-room only crowd at MacCon, Apple CEO Steve Jobs announced the newest member of the iPod family: the iPod implant. Smaller than a stick of gum and made of a gleaming, sterile, and biochemically inert polymer, the iPod implant is inserted directly into the brain between the parietal and occipital lobes. Intended to expand Apple's already-dominant position in the MP3 music player market, the iPod implant is clearly aimed at Apple loyalists who eagerly snap up any of the company's experiments. The fact that the player lacks a display screen, has no expandable memory, and requires major surgery does not seem to deter the Apple faithful, many of whom were seen lining up at neurological clinics shortly after Jobs presented the new iPod as his famous "one more thing" keynote closer.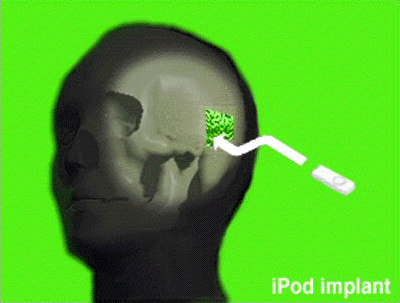 "I want to be the first to get one," said one fan shortly before the anesthesia took effect. "It's the closest you can get to actually being in Steve's reality distortion field." The iPod implant works similarly to other products in the iPod family, playing MP3 and AAC-encoded files and featuring the iPod's trademark navigation wheel--which is designed to protrude from a hole cut in the skull along the inferior border of the squamosal suture. It syncs with iTunes playlists wirelessly, using either Bluetooth or Airport Extreme technology, and allows customers to purchase 99-cents songs from Apple's iTunes service just by thinking about it. Also, the iPod implant forgoes the need for those omnipresent white earbuds as it transfers sound directly to the middle ear via bone induction. "It's perfect for joggers or commuters or anyone who just tends to 'zone out' at any time for no apparent reason," said an Apple product specialist, who claims he's had two implanted (the minimum allowable for Apple employees). He further noted that, in addition to iTunes music, the new iPod implant could also receive product announcements directly from Apple to "take the guesswork out of your purchasing decisions."
While the iPod implant is certainly stylish and offers excellent sound quality, it is unclear how well it will fare among the numerous low-cost consumer options available for piercings and ornamental bodily mutilation. Toward the end of the afternoon throughout the exhibit hall, one could spot dozens of happy new implant owners by their tell-tale head-bobbing and foot-shuffling, which Jobs assured the crowd was only a temporary post-surgical effect. Time and again, Apple has proven that it knows what its customers want even better than they do, uniting form, function, and premium pricing into technolust fashion statements. Judging by the initial surge of enthusiasm for the new iPod implant, it's not out of the question that horseshoe-shaped cranial scars may be all the rage this year.
-- mm
---
SUBJECT:
Lest We Forget
DATE:
January-11-2005
With all the attention focused on tsunami damage in Asia, the Iraq war has slipped a bit from the headlines. A few reminder stats:
American Military Casualties in Iraq (as of Jan-11-2005)
Source: antiwar.com

| | | |
| --- | --- | --- |
| | Total | In combat |
| Since war began: | 1357 | 1071 |
| Since 5/1/2003: | 1220 | 961 |
| | Official | Estimated |
| Total wounded: | 10252 | 15000-20000 |
Civilians reported killed by military intervention in Iraq (as of Jan-10-2005)
Source: iraqbodycount.net

| | |
| --- | --- |
| Reported Minimum | Reported Maximum |
| 15229 | 17443 |
According to ABC News Online in Australia, the latest official death toll from the tsunami is 157,000. A recent agreement in Sudan has brought a peace after 21 years of civil war that has claimed an estimated 1.5 million lives.
In the end, nature may still have more destructive power than humanity, but we make a respectable showing, don't we?
-- mm
---
SUBJECT:
Tsunami Contributions on Amazon and Yahoo
DATE:
January-10-2005
Just thought I'd update what I found on the Amazon and Yahoo Tsunami Relief donation trackers, showing how much each site has collected, respectively.
Amazon's Red Cross donation page

| | | |
| --- | --- | --- |
| | as of 12:35 am - Jan-4-2005 | as of 1:36 am - Jan-11-2005 |
| Total Collected: | $13,754,533.98 | $15,296,606.00 |
| # of Payments: | 169,881 | 187,255 |
Yahoo's Red Cross Donation page

| | | |
| --- | --- | --- |
| | as of 12:35 am - Jan-4-2005 | as of 1:37 am - Jan-11-2005 |
| Total Collected: | $4,424,640.00 | $6,126,080.00 |
| # of Payments: | 43,996 | 63,606 |
Again, Google also has a page set up with links to relief organizations and news:
Google's Tsunami Relief page
-- mm
---
SUBJECT:
My Big Fat Sikh Wedding
DATE:
January-9-2005
Watched Bend It Like Beckham on HBO last night. I was curious ever since I first heard about it last year and finally managed to find the time to sit through it. Essentially, it's about an 18-year-old Indian girl, born and raised in London, who dreams of becoming a professional footballer (that's soccer player to all you Yanks) like her (all of the UK's, it seems) idol, David Beckham. Her family, devout followers of the Sikh religion, are uncomfortable with such un-traditional ambitions for their coming-of-age daughter.
There's laughter, tears, betrayal, support, a wedding, a big game, friendship is tested, forbidden love is kindled, and the bonds of family prove--surprisingly, but not suprisingly--to be the strongest of all. Yada, yada, yada. Perhaps the most remarkable thing about this movie that has, as its center, a cinematically uncommon cultural focus on Indian Sikhs living in London, is how formulaic it is. You've seen this story a hundred times. That's not to say you won't enjoy sitting through it again. It's a well-done entry in the genre, with a reasonable brain and heart, and an excellent cast. The lead female, Parminder Nagra, is cute and charming, and Keira Knightley--already a bona fide Hollywood starlet (King Arthur, Pirates of the Caribbean, Love Actually)--is hypnotic. I haven't watched girls' soccer practice with such fascination since junior high.
Interestingly, there was just enough detail about the Sikh religion to get me wondering about it. I knew nothing of it before I saw this. I'd always figured it was just an offshot of Islam. However, it seems to be a hybrid of Muslim and Hindu cultures, that pointedly claims doctrinal uniquness from both faiths. The foundation of the faith was laid in the 1400's through 1700's by a series of gurus (a term which seems to combine the concepts of teacher and saint). More than that, I haven't uncovered yet. I'll have to pick up my religion encyclopedia and get back to you.
-- mm
---
SUBJECT:
Dinosaur Fails
DATE:
January-8-2005
Not far from the New Jersey Meadowlands, a children's play/party space called Dinosaur Falls has opened recently. Having heard about this, and seen it advertised on the web, the wife and I decided to drive the kids (4 and 1.75 years of age) over to have a look. Big mistake.
First of all, they charge $18.95 for kids over two, adults are $5.00 each, and children under two are free--so it cost us $30 just to walk in the place. I bit the bullet because, as any parent of young kids will tell you, any fun spot where the little tykes can safely run off some energy on a winter's day for a couple hours is worth it. This place ain't. Basically, it consists of two platforms with some slides, steps, tunnels, and fake dinosaur bones for kids to climb on. OK... fine, but the structures are covered with sprayed-on concrete (bare plywood was still exposed in some un-finished spots). It's supposed to look like rockface in a dinosaur dig--but it's rough and scratchy and could nicely injure any kid who falls on it. Think about it: it's an indoor playground made of friggin' CONCRETE! It was opening day for this place, and I was walking around picking up bits that had broken off; had a whole pocketful by the time I left. Ridiculous.
And that wasn't the worst of it. There was a tiny game room with several exposed plugs and an unsecured cord running over the floor to a small ride. One of the small slides was set at such a steep angle that it was little more than a four-foot drop onto a (thankfully) rubber-matted floor. There was a large rock-climbing wall still under construction, yet was only blocked off from the open play area with an "X" of two-by-four boards that a kid could easily duck under. To top it off, the place had real, polished fossils--the kind of things you pay a mint for at "mineral art" galleries--set decoratively around the room. No wonder they had to charge so much.
As you can tell, this place really irritated me. Kids need places to play in bad weather; parents will gladly pay for that. This Dinosaur Falls could, in theory, have provided a vital community service--as well as been a successful business. But it is designed stupidly, made to appeal to adult aesthetics rather than children's play needs. It's not much fun, it's overpriced, and it's downright dangerous. I hope the investors lose their shirts on this--or better yet: they get wise and hire a new designer (hint: foam rubber everywhere, ace).
You gotta take the kids somewhere on a snowy day? Try a Burger King. The playspace is far superior, immeasurably safer, and for $3.50 you get a meal (nutritionally suspect, I know, but what do you expect?) and a toy. Still can't grasp how the economics of that work out, but I am grateful they do.
-- mm
Dinosaur Falls website - dinosaurfalls.com
---
SUBJECT:
Willie May Kit and Betty Wohnt
DATE:
January-7-2005
I'm a card-carrying literature snob (translation: former English major) and I pride myself on my ability to accurately interpret any literary passage I encounter. I'm not trying to say I know all about everything ever written; my ignorance about books would fill a library. What I mean by that is I have the formal training to know my limitations when it comes to what I read. For example, many people skip over words they don't know; I look them up. If there's an allusion or reference I am not familiar with, I recognize that my lack of knowledge may cause me to miss implications in the text; i.e., I can tell when I'm not quite getting it.
This may seem like an esoteric point, but I think it's a pretty important skill to develop when dealing with the enormous amount of information in the modern world. Learn how to know when you don't know. Of course, you can still screw that up.
As my favorite example, take this passage from Shakespeare's Richard III
Why, I, in this piping time of peace,
Have no delight to pass away the time,
Unless to spy my own shadow in the sun
And descant on my own deformity.

"Descant" means "talk at great length about something of one's interest." I didn't know that when I read the play in college, and I thought it meant the same as "decant" (to pour out a liquid). Obliviously confident in this, I stood in front of class and talked about how this passage revealed Richard's vulgar nature and self-loathing since he delighted in urinating on his own hunchbacked shadow.
At least it got a good laugh from the professor.
-- mm
---
SUBJECT:
Twelfth Night or What I Will
DATE:
January-6-2005
"If music be the food of love, play on;"
That's the opening line of Shakespeare's Twelfth Night. I will never forget that because I got it wrong at a critical moment in a trivia game (I guessed A Midsummer's Night Dream).
I will also never forget the subtitle of the play: "What You Will." This is the only play for which Shakespeare had a subtitle, and there is much speculation as to its meaning. Is Shakespeare saying that he's giving the people what they want with a comedy full of cross-dressing, songs, and lowbrow humor? Is he referring to a contemporary play by John Marston entitled What You Will that mocked rival Ben Jonson--calling attention to the idea that the pompous, Puritanical Malvolio in Twelfth Night could also be construed as a mockery of Jonson? Is he alluding to a Twelfth Night (that is, the end of the Christmas season) tradition where masters and servants pretend to switch places, echoing a theme of social-status inversion in the play--so what happens is not what should, but what you would like to see happen? Many interesting possibilities.
The stupidest explanation I ever came across was in an article I encountered in college. The American author apparently did not know of the European "Twelfth Night" holiday tradition and thought the title was utter gibberish--a fact Shakespeare chose to reinforce with a cynical subtitle intended to mean something like a modern "Yeah, whatever." It's pretty easy to misinterpret details in a 400-year-old work of literature, but if you're that off on the title, the rest of your conclusions are pretty suspect.
-- mm
---
SUBJECT:
Twelfth Night Eve
DATE:
January-5-2005
January 6 is the final of the Twelve Days of Christmas. In pre-Christian tradition, the day is associated with end-of-year revelries. Christian doctrine has married it with the Feast of the Epiphany, when the gift-bearing Three Wise Men are said to have reached Jesus. In European and Latino cultures, the day is much more celebrated, with parades and parties and gift-giving, than in the U.S.
I've always hated the way Christmas in America starts so early, build up to a fever pitch, then is utterly done on December 26. Of course, this is driven by the needs of the retail industry, but so many people seem to have taken it to heart. I often see decorations come down and trees on the curb before New Year's. People go nuts to deliver you a present on Christmas Day, seemingly horrified by the idea that they might be late. Why? I've always liked letting the holiday linger a little. After such a taxing build up to it, why can't we just relax and savor it for an almost-fortnight?
-- mm
---
SUBJECT:
Crusin' Kid
DATE:
January-4-2005
The other day, I'm walking down a local street pushing my 1.75-year-old daughter in a stroller, when a kid drives past me. He looked to be all of about 17, driving a copper-colored PT Cruiser, blasting Neil Young's "Keep on Rockin' in the Free World." I'm sure he thought he was (as the kids say) "all that." I just had to smile at this image of a contemporary teenager tooling around in a retro-styled economy car listening to a middle-aged folkie-rocker's protest song recorded 15 years ago. Wonder what he thought of me, shuffling through the 'burbs pushing a baby stroller, admirin' his ride and bobbin' my head to Mr. Young as he passed.
I've hit an age where I often hear my contemporaries complaining about "kids today" ... their disrespect, their self-absorption, their inappropriate fashions, their cacophonic music, etc., etc. I don't buy it. They're no worse than we were, or previous generations back to time immemorial. Only the flavor of their rebellion has changed since my day. And not even all that much, apparently.
The music in particular caught my interest. When I was in high school in the early 80's, the bands big among my peers included Led Zeppelin, The Doors, and The Who--all groups a decade or more past their heyday (sorry, Pete and Roger!). Call it an urge toward classicism, if you like, but it seems an interesting truism that teenagers rejecting the teeny-bopper pop pablum foisted off by record companies often dip back to the past to find "new" music to adopt as their own. No 16-year-old I know would be caught dead with an Ashlee Simpson record, but they'll proudly rattle off their favorite Beatles' albums. When I was 16, you couldn't have paid me to listen to Rick Springfield, though I recall writing a term paper about "Tommy."
-- mm
---
SUBJECT:
Tsunami Contributions on Amazon and Yahoo
DATE:
January-3-2005
Yahoo and Amazon have both set up special web pages to accept donations to the Red Cross for relief efforts for the Asian tsunami. They also both have little siddebars to show the contributions that have been collected through their sites respectively.
Amazon's Red Cross donation page (as of 12:35 am - Jan-4-2005)

| | |
| --- | --- |
| Total Collected: | US $13,754,533.98 |
| # of Payments: | 169,881 |
Yahoo's Red Cross Donation page (as of 12:32 am - Jan-4-2005)

| | |
| --- | --- |
| Total Collected: | $4,424,640.00 |
| # of Payments: | 43,996 |
Again, Google also has a page set up with links to relief organizations and news:
Google's Tsunami Relief page
-- mm
---
SUBJECT:
Lenny Bruce Blahs Blah
DATE:
January-2-2005
I just caught the Bob Fosse film Lenny, a stylized biography of comedian Lenny Bruce, on Flix--an obscure, quirky movie channel hidden among the basic cable list that is slowly growing in my estimation. I'd never seen any of the movie before, only the mock editing-room clips Fosse worked into All That Jazz, his own stylized autobiographical film.
Anyway, Lenny Bruce. A legendary comedian of the early-60's, famous for turning stand-up comedy into biting social commentary and for his arrests and legal battles over using profanity in his act, who died of a drug overdose in 1966 at age 41. Beyond that, I knew little about him prior to seeing this movie. I gained a lot of respect for what he did from it. Oh, he was narcissitic and self-destructive, to be sure--but he was also a pretty smart and brave pioneer in his own way. Comedy as social criticism is nothing new, and attempts by the establishment to supress vulgarity is as hip as ever. What Lenny did was irrevocablly smash the two together. For better or worse, when some smart alek hurls invective at a powerful figure and is punished for it (jailed, fined, sued, fired, blacklisted, etc.), the line between fair play, repression, freedom, decency, and abuse of power has become forever blurred.
Without Lenny Bruce, they're be no George Carlin, no Richard Pryor, no Howard Stern, no South Park, no Saturday Night Live, no Daily Show with Jon Stewart, no Dave Chappelle, no Rush Limbaugh, no Michael Moore, etc. I guess how much respect you have for Lenny Bruce depends on what value you place on those assorted institutions and personalities. Complacent societies (America, I'm looking your way...) need revolutionaries to keep them from sinking too deep into oblivious self-satisfaction. Personally, I think an obnoxious wise-ass who may actually make you laugh from time-to-time is about the safest incarnation of the revolutionary any society could ask for.
-- mm
---
SUBJECT:
New Year
DATE:
January-1-2005
Happy New Year all.
-- mm
---