SUBJECT:
Rock Rolls Over the Oscars
DATE:
February-28-2005
I watched Chris Rock's opening monologue on the Oscars. I didn't watch the rest of the show because 1) it's generally boring 2) I don't go to movies anymore (two small kids), so I don't know any of the films and 3) it's completely predictable. Before the show, I rattled off all the winners with 100% accuracy. That's not me being a genius (again, I haven't see a single nominated film or performance), that's just parroting what I read in the entertainment columns. For the past few years, everybody has nailed the winners ahead of time. I should start betting on it (though the odds payouts probably suck).
However, I did find the Chris Rock opener amusing. I think he's a good stand-up and his refusal to change his style for the show was refreshing. He definitely knocked the whole evening down a peg, which was welcome; the air of self-importance that's come to surround a bunch of movie industry people giving out trophies amongst themselves had it coming. I thought his political stuff fell a little flat, though. I'm all for Bush-bashing, but when you've got a globally televised bully pulpit in front of a smug, liberal Hollywood crowd, less is definitely more. Still, it set a kind of defiant, down-but-not-out tone for the Beverly Hills blue-blood blue-staters that I found encouraging. Somebody's got to counter-balance the rise of the Konservative Khristian Koalition.
Speaking of which, I did also catch Robin Williams' gay SpongeBob cracks. His line about Donald Duck's questionable orientation ("Sailor top, and no pants. Hello?") was pure gold. Williams' was riffing on a conservative Christian group's recent complaint that an educational video being sent to public schools--in which SB and dozens of other cartoon characters appear--promotes tolerance of homosexuality. In the group's defense, they weren't actually suggesting that SpongeBob himself was gay, they were protesting the general concept of promoting tolerance. Very KKKhristian of them.
-- mm
---
SUBJECT:
Ghetto Soldier
DATE:
February-27-2005
Flipping channels, I stopped on a video from Destiny's Child. The song was called "Soldier" and was, essentially, an ode to black ghetto stereotypes as filtered through a highly stylized hip-hop fashion aesthetic--tatoos, gold teeth, jewelry, do-rags, cellphones, low riders, etc. (but no guns, interestingly--though the "soldier" implication seems pretty clear). As a middle-class white guy through-and-through, I found it simultaneously fascinating and baffling.
The only way I've ever been able to wrap my head around today's "gangsta" rap is to compare it to "satanic" heavy metal in its late 70's-early 80's heyday. Those who feel disenfranchised--whether by youth, or race, or perhaps embracing disenfranchisement as a lifestyle choice, or even people with day jobs who dabble in disenfranchisement fantasies--need to have an art form that's exclusively their own. Even better, one that conveys a sense of power by seeming intimidating to Society-at-Large. Rap adopts the imagery of street gangs in the same way that satanic metal adopted the imagery of biker gangs. Bottom line is that it's about having an art form that's just yours. If Society-at-Large embraces it, time to drop it and move on--hence the decline of metal and the death of "def."
As for the potentially negative aspects of the imagery--be it satanism or gang violence--it's all in fun. Ozzy Osbourne was about as serious about devil worship as Snoop Dogg (with his lucrative commercial contracts and budding acting career) is about gang-banging. You play a role for the fans. Still, there are always impressionable teenagers and unstable adults who don't grasp that it's all just playacting to sell records. They not only imitate the fashions, but up the ante and act out the sensibilities--the downside of not fearing the reaper and keepin' it real.
-- mm
---
SUBJECT:
Adaptation
DATE:
February-26-2005
Caught a chunk of Adaptation on HBO. I've seen it several times, in whole and in parts, and each time I find in more brilliant. I've never seen anything that skewers the creative writing process in such a dead-on-the-mark way.
My favorite moment is where Nicholas Cage as the screenwriter character "Charlie Kaufman" (the real name of the real screenwriter) sits in front of a typewriter telling himself (in forbidden voice-over) he has to get to work. He thinks he needs a cup of coffee. He decides that he'll reward himself with a cup of coffee once he writes a page. Yeah... coffee and a muffin. Banana nut, maybe. This writer's block sequence is later contrasted with a frantic sequence where he has the idea to write a screenplay about his inability to write a screenplay and is wildly flipping through his notes dictating a scene about a screenwriter flipping through his notes dictating a scene. The other priceless moment is when, after he's flown to New York to meet the New Yorker staff writer who's book he's adapting for the screen, he can't bring himself to step out of the elevator to go to her office. As the full force of his spinelessness is hitting him, she, Susan Orlean (Meryl Streep), obliviously steps into the elevator with him--and he still can't manage to utter a single word to her.
Those bits alone would make this movie a classic in its own right. But throw in a savage parody of Hollywood screenwriting hackery (Nicholas Cage again as Charlie's twin brother Donald), Chris Cooper's amazing performance as an orchid poacher who's both loathsome and heart-breaking, some downright poetic insights into the workings of nature, and the most harrowing car crash ever put on film--bar none--and you've got one astounding piece of work. It's one of those movies where I envy people who haven't seen it yet, who get to discover it fresh.
-- mm
---
SUBJECT:
Sugaholic
DATE:
February-25-2005
Before sitting down to write today's blog entry, I decided to get a little late-night nosh. I poured myself a glass of Coke and got two chocolate Pop Tarts. As I stood there looking at my chosen snack, I couldn't help but wonder: When the hell did I become a raging sugar addict?
True, I've always had a proverbial sweet tooth, but for years, I was a borderline health food nut. Whole grains, wheat germ, soy milk, tofu, organically grown vegetables, etc. Now that I think back on it, I always interspersed the healthy stuff with a balance of crap. I guess the big difference now is that hardly do the healthy stuff any more.
I got to pay more attention to this, because a grown man having Coke and Pop Tarts at midnight just ain't right.
-- mm
---
SUBJECT:
Leaving Photography to the Pros
DATE:
February-24-2005
I used to like to take pictures. I have an old, fully manual, no-name 35mm SLR camera that I haven't touched in years. For years, I would lug that thing with the flash, tripod, wide and telephoto lenses, starburst filter, and 12 rolls of film on every vacation or day trip to woods, shooting sunsets reflecting on lakes or trying to get a dewdrop on flower in macro. Sometimes I just walked around town (NYC at the time), standing on a corner for half an hour, waiting for the shadows to get just right. I never fancied myself a "photographer" since I never studied the technical aspects craft, but I did think I had a good eye and produced a few decent shots.
Now, we have a compact digital used exclusively for the kids. The 35mm is packed away in its case with about twelve rolls of exposed film I never bothered to get developed. What turned me off my budding passion? Well, a lot of things. First, I began to realize that, if on vacation for example, you can either take good pictures or enjoy yourself. You can't do both. Lying in the dirt to get the right angle while waiting around for magic hour can get pretty old after a while. Secondly, once I discovered Photoshop, the idea of trying to take a great picture when I could make any picture great seemed, at best, quaint.
And finally: I realized I wasn't that good at it. Granted, I'm much better than the average jackass I see posing his family on the beach with midday shadows bisecting their faces so they look like the Bravehearts at Coney Island, but I look at the work of professionals in coffee table books and I know I could never touch that (sans Photoshop, at least). On vacations, I just started buying souvenir postcard packs and guide books to "remember" a place. They were cheaper, easier, and far better quality than what I could have done. I'm not down on myself, but seriously, what would you rather look at: my picture of Half Dome in Yosemite, or Ansel Adams'?
Exactly. Me, too.
-- mm
---
SUBJECT:
Cheap Coffee Table Books
DATE:
February-23-2005
I love "coffee table" books. Big, hardcover books filled with lots of pictures and just enough words. Art. Architecture. Botany. Zoology. Geology. Landscapes. Gardens. Barns. Quilts. Birds. Insects. Maps. Cars. Trains. Planes. Battleships. Furniture. Etc. etc. Doesn't matter. Beautiful images and interesting topics sculpted into neat little packages that pass the time as agreeably as daydreaming through a fascinating lecture.
I particularly love going to big chain bookstores where they always have stacks of marked-down coffee table books on the clearance tables. Recently picked up one on Art Deco ($5.99) and New Jersey natural landscape photography ($3.98 ... and, no--it wasn't a pamphlet, you smart asses!). There's one on skyscrapers that came out a few years ago that's abnormally tall and thin I saw for $7.99 (originally $40). There's a couple on Gothic Cathedrals and the Southwest U.S. National Parks I'm keeping an eye on. When they dip below $10, I'm snapping them up.
-- mm
---
SUBJECT:
Dubya Jesus
DATE:
February-22-2005
I watched a documentary tonight about the rise of the influence of Evangelical Christians in presidential politics, beginning with Nixon addressing a Billy Graham rally right up to George W. Bush's highly overt alignment with the religious right. One of the interesting highlights was a clip from a 1999 Republican primary debate where Dubya was asked what philosopher or thinker had the greatest single influence on his life. He answer "Jesus."
Here's one of the very, very few areas where I'd agree with King George II. I'd certainly say of any single individual--historical or mythic--the sayings and actions attributed to Jesus have had the most a profound effect on my psyche. For example:
Jesus was a radical who challenged the hypocritically self-serving religious leadership of the day.
Jesus condemned the pursuit of personal wealth and was particularly harsh on those exploiting religion for profit.
Jesus embraced those labelled as sinners by the mores of the day and advocated introspection over judgement.
Jesus allowed himself to be killed even though he could have summoned the power to destroy his enemies.
And so on. That all adds up to a pretty tall example of sticking to your guns in the face of a society that believes its moral authority comes directly from the divine. I believe Jesus embodied ideals of resolve, forgiveness, and self-sacrifice that we, in our human frailty, can only struggle toward. I don't believe that rich guys who start pointless wars are struggling very hard at it.
-- mm
---
SUBJECT:
Snowman 2005
DATE:
February-21-2005
I like to build a snowman at least one a year. Doesn't always happen, but I managed to get one in today with a snow day and nice, wet, heavy 6 inches. Nothing fancy, just a traditional 5-foot-tall, 3-baller with hat, scarf, button eyes and mouth, carrot nose, and pipe (note that those accouterments all came from a "snowman kit" we got as a gift that I thought was the stupidest thing ever marketed... but hey, it came in handy).
Anyway, here it is. Enjoy Snowman 2005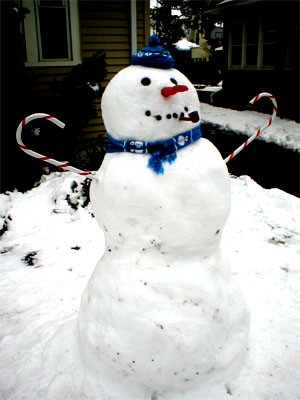 -- mm
---
SUBJECT:
Fountains of Britney
DATE:
February-20-2005
Speaking of Britney Spears--and who isn't?--I think the already-passe pop-princess got a raw deal. Heck, we chew up and spit out our pop icons nowadays like so much bubble gum (wow, origin of that never occurred to me before) that it strikes me as kind of sad the kid is, what, 24... 25-maybe? now and washed up. She was just a cute little girlie who sang dippy pop songs. Why do we have to crucify her for not being all things to all people. The recording buying public is truly a harsh mistress.
Regarding her songs, I've actually always had an admiration for well-crafted pop hits. The best of them show a real musical and lyrical savvy that reveals the work of a seasoned professional. Even if the songs themselves are not philosophically deep or musically sophisticated, their catchy simplicity shows some pretty slick craftsmanship. Take Britney's debut hit "Baby, One More Time":
Oh baby, baby -- How was I supposed to know
That something wasn't right here
Oh baby, baby -- I shouldn't have let you go
And now you're out of sight
Show me how you want it to be
Tell me baby 'cause I need to know, because

My loneliness is killing me
I must confess I still believe
When I'm not with you I lose my mind
Give me a sign
Hit me baby one more time
The song was written by a fellow named Eric Foster White who's also written and produced music for the likes of Whitney Houston and the Backstreet Boys. Now, I'm not going to argue that this is brilliant poetry, but you have to admit, it captures a pretty universal sentiment of loss and unrequited love. The cheeky power-pop band Fountains of Wayne (named after a familiar roadside store in Wayne, New Jersey, that sells fountains... seriously... it's true) recorded a mournful acoustic version of the song that could make you think it's a pretty decent folk-rock ditty.
Still, it's Britney in the Catholic School Girl uniform everyone obsesses over. Or is that just me?
-- mm
---
SUBJECT:
Brittinay Speeres
DATE:
February-19-2005
The other day in a blog entry I mentioned Britney Spears. I like Britney. Her music is perfectly boppy pop crap, sometimes quite impressive in its production quality (check out the ultra-thick electro-bassline on "Baby, One More Time"--and I defy anyone to listen to "Toxic" without being mildly hypnotized), and she is just cute as hell. Of course, my wife thinks this makes me a Dirty Old Man and I'm hard-pressed to debate the point. Recently, I've come to embrace my inner Dirty Old Man and I find him quite a charmingly incorrigible coot, with his trench coat and dark glasses that hide his wandering eye.
Anyway (contrary to how it might seem sometimes), I do try to check my blog entries for accuracy, so I ran a quick Google search on Ms. Spears name to see if I spelled it correctly. I did ("Brit-KNEE," as my wife mocks her spelling, sticks in my mind), but I came across a Google page listing 593 misspellings of her name it had cataloged in people's search inputs. The correct one was the most common by a factor of ten, while the incorrect ones ranged from logical variations ("brittany") to obvious typos ("britnsy") to phonetic mix-ups ("prittany"). Interestingly, everybody seems to have gotten Spears no problem.
-- mm
Britney Spears spelling corrections on Google.com
---
SUBJECT:
The Third First Line
DATE:
February-18-2005
The First Line, a small fiction magazine where every story in a particular issue must start with the same first line, has just accepted a story of mine. They've published two others ("Inboxed" and "Freak Showing" ) since I started submitting to them last year. They rejected one, "A Good Old Compromise", and there's one other I wrote with one of their lines but never submitted, "Greetings from Death Row ". They're also including "Inboxed" in an anthology of office-work related stories, Tales From the Cubicle.
One other story of mine, The World Within the Pane, was published in the sci-fi/fantasy webzine Parageography.com, devoted to stories of imaginary places. This brings the total amount I have earned as a professional writer of fiction to $45. Figure in $5 I got for a poem in college--oh, and add $41.80 in sales of printed booklets of "Scrooge & Cratchit", and my literary earnings start pushing a cent.
FYI... this website costs me about $20 per month, so $240 per year. The various related domain names I hold average me about $100 per year. Printing of the "Scrooge & Cratchit" booklet was about $1,000--plus about $200 for assorted mailings of it. I'll lump in a very rough estimate of $300 for materials, software, a post office box, and other miscellany. So... in the (rounded up) three years since I began the little self-publishing empire that is mattmchugh.com, it's cost me approximately $2,500 and netted me more-or-less $100 (... a businessman I ain't).
What's that they say about your day job?
-- mm
---
SUBJECT:
More Reasons to Hate The Gates
DATE:
February-17-2005
I'm speaking, of course, of Cristo's cloth-draped arches in NYC's Central Park, not Microsoft CEO Bill (that's a different entry).
Aside from the sheer waste of money, materials, and manpower in a city/country/age where the rich/poor split is already staggering, I've never liked Cristo. Wrapping buildings and bridges, or sticking umbrellas along rolling hills. BFD... know what I mean. It's all Art as Publicity Stunt. OK... fine. That gets people's attention, and perhaps makes them think and have opinions and talk and argue (hopefully, in that order). That's all good. Art as Catalyst to Social Interaction--I'm all for it. Still, any media event--a movie, a news story, a good game, a TV commercial. etc.--can do that. It's neither the sole nor best province of Art.
Art should be instructive. That doesn't mean it has to be didactic, with an unambiguous lesson to teach, but it should lead you toward some reconsideration of yourself, society, and/or the relationship between the two. Art should be a singular voice articulating something hidden in the collective unconscious of a culture. Just because something is interesting or pleasing to the eye doesn't make it Art, regardless of its scale or creator. Art has to be an artifact that has value that is not intrinsic to the fame of its creator. Cristo wraps cloth around a building and it's "Art." The Department of Public Works does the same thing and it's "Closed for Renovation." If I put on lipstick and kiss a napkin, nobody cares (except for some friends who might be quite disturbed). If Britney Spears does it, it's worth $1,000 on Ebay. The Gates is just a monumental piece of celebrity memorabilia. Cristo is Britney Spears for pretentious New Yorker-ers with desiccated libidos.
Well, would you get a load of me? Sittin' here rantin' on about the nature of Art, Society, Culture, Celebrity, etc. All because of The Gates.
Damn you, Cristo! You've won again!
-- mm
---
SUBJECT:
It's a CWrap
DATE:
February-16-2005
Saw some photos of Cristo's "The Gates" project. For those that don't know, The Gates is a massive art installation in New York's Central Park consisting of 7,500 steel archways hung with saffron-colored silk banners. These gates line and span public walkways all through the park so you can stroll through them for hours, if you so choose. I haven't been there myself and am likely not to make it--the installation is only up for 16 days--being 'burb-bound with little ones.
Now, I'm no Philistine. I recognize the importance of art as a random encounter, an unexpected and inexplicable experience that catches your attention spontaneously, without the need for discernable intellectual value. A kind of aestheticized Heisenberg Principle, where the observer and the event inextricably affect one another's outcomes. Ars gratia artis, beauty is its own end, and all that hooey. Still, I find myself mostly just annoyed by this one. First and foremost is simply the colossal waste of it all: Money (certainly millions, though I haven't heard a specific figure--all privately financed by the artist)... Effort (900 uniformed workers supposedly involved in the construction, unfurling, patroling, and eventual removal)... Resources (the website boasts the project uses 5,290 tons of steel, two-thirds as much as the Eiffel Tower, and 46 miles of fabric--all will be recycled, they claim). Imagine what that could have done if channeled to a lasting civil improvement project--such as landscaping or landmark refurbishing in the park--instead of a temporary curiosity good for nothing but a fortnight of NY metro-area water cooler chatter.
I've got an idea: what say we tear down the gates and silks and make tents for NYC's 38,000 homeless. Now there's a post-modern statement for you.
-- mm
The Gates information on the artist's and his wife's site: christojeanneclaude.net
---
SUBJECT:
Scrubs Tries Lowbrow
DATE:
February-15-2005
Scrubs is currently my favorite sitcom. Actually, it's the only sitcom I watch. Actually, it's the only show I watch with any deliberate regularity. Watching TV has become about serendipity to me: I flip around, I see what I find. I probably spend more time reading the cable menus and pop-up show descriptions than watching anything. Recently, I've discovered that the Mute button turns on closed captioning. Commercials and rap videos are particularly entertaining that way.
Anyway, Scrubs. On tonight's episode, a sitcom writer J.D. idolizes is diagnosed with terminal cancer. The rest of the episode is a J.D. fantasy where the hospital turns into a traditional sitcom, complete with a bright color palate, lots of cleavage, cheesy jokes, and an intrusive laugh track. It was definitely a good satire of numbskull sitcom conventions, but that's been done many times--after all, they're pretty easy targets. What impressed me about it most is that even when deliberately trying to aim low, the writers and cast had trouble pulling it off. Their best attempt at a stupid sitcom was markedly better than the average one you're likely to see any night of the week.
It's surprisingly hard to take something you do well and do it poorly on purpose. If you're good at something, you tend to have internalized the performance of it, i.e., you don't think about it. When you are so accustomed to operating on that just pre-conscious level at some task, doing it badly requires interrupting an automatic process and interjecting willful clumsiness into motions that have become all natural grace to you. Try it some time. Take something you do well (basketball, knitting, typing, singing, lying, etc.) and see if you can reconstruct it as a novice might. It will give you some renewed appreciation for your hard-won adeptness in your chosen field.
-- mm
---
SUBJECT:
Happy V.D.
DATE:
February-14-2005
Valentine's Day is definitely the most commercially fabricated holiday on the calendar. I used to protest it by refusing to purchase any gifts for my significant other as a matter of principle. That didn't wash at home, so I tried buying an extra large heart-shaped box of chocolates on Feb. 15 for half price. That one didn't fly either, so now I just go with the flow. This year, roses, candy, and a locket with pictures of the kids for the wife promptly on the 14th.
Of the news headlines I noticed today, one that stuck out was about a guy who tried to persuade lonely women he met in Internet chat rooms to join him in a suicide orgy. Another discussed how Valentine's Day is all but outlawed in Islamic countries--doubly vilified for its Christian associations and encouragement of public displays of affection. Aside from the sensationality of these two items, they illustrate an interesting spectrum of pathology triggered by the day. Lonely guy turns his resentment toward women into suicidal hostility. Young Muslims sneak behind their parochial elders' backs for the thrill of a stolen smooch in the park. A whole bag of nonsense brought on by greeting card idolatry of the many-splendored thing.
Heck, blowing a little cash on flowers, candy, and jewelry doesn't seem so bad by comparison.
-- mm
---
SUBJECT:
Robomotions
DATE:
February-13-2005
One more robot thought: last week, I went on a field trip with my 4-year-old's class (that's right, a pre-schooler field trip... I didn't even go to kindergarten) to the Liberty Science Center. I've been there before--it's a neat place--and my kid did like it, though mostly to him it was just about the glories of vast, open space to run around in and an ice cream vending machine in the lunchroom.
They had an exhibit on robotics (a traveling one... no doubt partially funded by some movie studios) that was interesting. In one, you could race a robot arm to see who could assemble a puzzle faster. When the arm--a big, industrial-grade piece of hardware designed specifically for the purpose--won (as it often, but not always, did) it took taunting victory "bows" that always got a chuckle from the crowd. In another exhibit, there was a film showing an experimental bipedal walking robot. This robot was far from perfected and fell often. Anyone watching inevitably cringed when it did. A sign next to the video monitor read "How do you feel when the robot stumbles?"
It's intriguing to me how easy it is to project emotion onto inanimate objects--even (especially?) ones that bear little physical resemblance to humans. There's a psychological principle (damned if I can remember the name of it) that says people react with sympathetic emotions to a piece of technology that approximates human behavior or appearance--but only up to a point. After that, the reaction tends to cross over to revulsion. For example, a computer with a cartoon smiley face on the screen engenders a positive reaction. A mechanical mannequin with a rubber face and glassy eyes gets a negative reaction. The inference is that a suggestion of humanity is more palatable than an imitation of humanity. To me, it's also tangled up with the notion that the cleaner the slate, the easier we find it to project ourselves upon it. That was one of the ideas at the core of my short story "Dear Otto". I'll have to toy with that concept fictionally some more at some point (if I ever get back to writing fiction, rather than blogging).
-- mm
---
SUBJECT:
iRobot
DATE:
February-12-2005
After watching the new I, Robot movie--a slick, action-overload flick loosely inspired by the work of Isaac Asimov--there was one element in the film I really enjoyed: the robots. In particular, the "lead" robot, named Sonny, the latest model from the monopolistic U.S. Robotics corporation, was a marvelous piece of film artistry. Totally computer-generated, he fit seamlessly into the picture with human characters. This worked so well since we have no experiential reference points for how a robot should look and move. Often, you can easily spot CGI for familiar objects--people, cloth, animals, etc.; the 99%-perfect recreation just doesn't fool your eye and seems more wrong because it is so close to right.
But a robot you've never seen before looks, well, exactly like you think it should (i.e., exactly as the film makers want you to think it should). Sonny is beautifully designed with a body that looks like a perfectly logical mechanical interpretation of skeleton and muscle, and translucent white plastic skin that makes him look like the ultimate iMac. Just watching him walk and talk and emote with a partially mobile face is fascinating. Seeing him run, jump, tuck-and-roll, and go Medieval on other bots' inferior-alloyed asses is pure geek love.
When I said that we have no reference points for how a robot looks and moves, I had forgotten about Honda's iconic ASIMO robot. You've all seen him on commercials... looks like svelte space suit and walks like an uptight hipster. The ASIMO (stands for "Advanced Step in Innovative Mobility"--but obviously somebody worked that out as a tribute to Asimov) is pretty fascinating and the first real glimpse of a practical humanoid robot. There's still a long way to go before we'll all have one at home, but there's no doubt in my mind it will happen before the end of this century. And, frankly, I don't really care if it makes me obsolete, I'll still want one!
-- mm
Image of NS-5 "Sonny" from I, Robot on the Internet Movie Database, imdb.com


Publicity photo of latest ASIMO model on world.honda.com/ASIMO


Movie promo site designed like advertising for the NS-5: irobotnow.com
---
SUBJECT:
Robo, Copped
DATE:
February-11-2005
Saw the I, Robot movie with Will Smith tonight. Wasn't anywhere near as bad as I had feared. I'm a big fan of Isaac Asimov's work, particularly the original collection of short stories published in 1950 from which I, Robot borrows its title, a few character names, and the basic premise of the Three Laws of Robotics (1. A robot may not harm a human or allow a human to be harmed ... 2. A robot must obey a human, except where it conflicts with Law 1 ... 3. A robot must preserve its own existence, except where it conflicts with Law 1 or 2). From these three rules, Asimov spun stories that were basically puzzles of interpretation on how those three, seemingly inflexible laws could be contorted in different scenarios.
The movie is basically an action film--and a pretty good one to boot. Scenes of robots fighting in hyper-slow motion is as good as a bit of Matrix-esqe CGI cyberpunk martial arts as you're ever likely to see. And there are a couple hanging-on-the-collapsing-bridge steadycam shots that are worth an instant rewind. The plot does hinge on the Three Laws, though it reduces them to pliant simplicity, whereas Asimov was always interested in exploring their complexity. The Grandmaster spent 50 years unfolding a universe where the Three Laws could be made to justify anything. This movie whizzes past a few of the major ones in 114 minutes in between car chases and gunplay.
While I didn't mind the movie borrowing and playing fast-and-loose with Asimov's brilliant conceit, I just wish it hadn't used his title. Even worse, you can buy paperbacks of Asimov's book with Will Smith on the cover--forever confusing in the popular imagination two loosely related but categorically different enterprises. It's like sticking Brad Pitt on the cover of The Illiad. In the late 70's, another sci-fi legend, Harlan Ellison, undertook to write a screenplay for I, Robot with Asimov's cooperation. It was never filmed (and has often described as un-filmable), and is now even less likely to be. Too bad. I like dumb action movies as much as the next guy, but I still like to see complex, head-trippy sci-fi make it to the screen, too.
-- mm
Entries on Harlan Ellison's I, Robot : The Illustrated Screenplay on Time Warner Books and Amazon.com
---
SUBJECT:
North Korea Goes Nuculer
DATE:
February-10-2005
So North Korea officially declared it has built an atomic weapon. There is little surprise here, being as they kicked out U.N. inspectors in 2002 and have made no secret of their ambitions. There seems to be some debate as to whether this is true or simply a boast--similar to ones made before, though none so direct as this statement coming straight from the North Korean Foreign Ministry.
The really interesting thing is how they phrased the announcement, referring to their need for a nuclear arsenal to protect themselves from the spreading hostility of the United States, specifically alluding to President Bush's frequent condemning rhetoric aimed at North Korea ("axis of evil" ... "outpost of tyrants" ... etc.). Regardless of their intentions or deceptions, you've got to hand it to them for being canny enough to claim the right of self-defense. While I doubt any country on earth is pleased at the thought of Kim Jong Il with a finger on the button, there are no doubt many who see the logic in M.A.D. for facing the Big Dog on the global block.
Now, even as one dismayed by Dubya's costly war-mongering and inept nation-building, I still would rather see U.S. holding all the nukes. However, since it looks as if we're definitely treading toward a new global cold war (if we're lucky), I suppose America will have to continue to refine--if not expand--its nuclear arsenal. We just managed to get through one era without massive annihilation, now we have to do it again. Only this time, it's a lot trickier with all the wild-card players trying to get in the game. Herein lies the conundrum of nuclear self-defense: if you do it (and we do), why do you not expect others to as well?
-- mm
---
SUBJECT:
The Elmonator
DATE:
February-9-2005
The other day, I'm watching Elmo in Grouchland with my kids. This is a live-action movie, starring Elmo and the Sesame Street cast (muppet and human) in which the greedy Huxley, played by Mandy Patinkin, steals Elmo's blanket and--yeah, yeah... you know the deal. Suffice it to say it's cute and witty enough for an adult to sit through one time. Beyond that, it's really pushing it. (Though, I have to admit, a guest appearance by Vanessa Williams as the Queen of Trash demonstrating for Elmo how to blow a razzberry has a certain fascination that transcends the material.)
Anyway, in the end, all of Elmo's flesh and felt friends--along with the normally apathetic citizens of Grouchland, roused to the call of justice--burst in on the evil Huxley to demand the return of Elmo's beloved woobie. Now, when watching something with my kids, I do make a point of discussing what's going on to help them get whatever lessons are to be gotten from it. So, at this point, I said:
"See, all of Elmo's friends came to help stop Huxley from being mean."
My 4-year-old boy, staring wide-eyed at the screen, nodded gravely and added:
"Yeah, he can't kill them all!"
That's right, son. He can't. Good point.
-- mm
---
SUBJECT:
Ahoy Thar, Me Scribblers!
DATE:
February-8-2005
I attended a seminar in D.C. yesterday where I got to hear from a Congressman (it was in D.C., after all) about the state of assorted intellectual property and copyright protection legislation kicking its way around the House. Interestingly, this distinguished gentleman seemed to feel that efforts to push through legislation to combat digital piracy were often hindered by a P.R. problem that boiled down to public perception that such initiatives amount to Big Media trying to oppress the Little Guy. Hollywood v. Homeroom. Lucas v. Librarian. And so on.
His suggestion for something that could tip the balance was that authors should become more involved. Apparently, film makers and studios and record companies and recording artists and songwriters and publishers regularly enter the fray to plead their case... but authors--novelists, scholars, and journalists--rarely show up at the podium. They--as the singular individuals with the most vested interest in copyright--would surely gain the most sympathetic ear from the lawmakers and the public.
Know why they don't show up? Because they're generally not victims of digital piracy that affects their earnings. John Grisham books--unlike George Lucas movies--are not pirated en masse in China. E-books are simply not very popular yet, therefore large-scale, profit-eating, illegal electronic distribution hasn't become a problem to popular book authors. It's an interesting paradox that the thing that is technically the easiest to distribute digitally (text) is still the thing most end users don't like to consume in digital form. When it becomes as comfortable to read 70,000-words on a screen as in a book, then you'll see the Grishams and Rowlings et al. knock-knock-knocking on Congress' door.
-- mm
---
SUBJECT:
It's Good to Be in D.C.
DATE:
February-7-2005
There's a seminar in Washington D.C. I need to attend today for work (not business), so I get to take the glorious business-class express train once more, this time in the other direction. Three hours each way. Metroliner down. Acella back. Both with nice big comfy seats and power outlets for the laptop. (Note to self: next time I have to take a train, be sure to bring a power strip and six devices that need recharging. May as well squeeze some added value out of the fare.)
The weather has been unseasonably mild in Jersey for the last few days, so I'm taking this trip below the Mason-Dixon line with no overcoat, only a suit jacket. I was worried I might have miscalculated, but it turned out to be sunny and 50-degrees in D.C., for what little time I spent outside (basically, cab to curb). It was a jolt of Spring, pleasant, but a little jarring. Not quite ready for it yet.
I've always found early Spring--that wet, foggy time when the weather warms enough to let you wander aimlessly in comfort--always a little depressing. Maybe it's some personal echo of the T.S. Eliotesque "April is the cruelest month" sentiment (or, as in a New Yorker cartoon synthesis of T.S. Eliot with Beavis and Butt-Head: "April sucks!"), but I just always find myself taking stock of all the things I'm unhappy about in my life. Nothing like seeing the world edging into rebirth to remind you you're the same paunchy, balding, wage-slave schmuck you were last year. Of course, I had these annual April misgivings long before I was a paunchy, etc., etc., so there's got to more to it than that. Anyway, it's not April yet, Jersey's still not as warm as D.C., and there's bound to be at least one more blizzard back home before Spring.
Ah... there. I feel better already.
-- mm
---
SUBJECT:
Master of My View
DATE:
February-6-2005
Oh, so what did I actually get my son with his $20 Toys R Us gift certificate?
A two-foot robot claw ($4.98)--basically a stick where you squeeze a handle on one end to operate a simple pincer on the other. It's pretty safe, simple, and we got a huge kick out playing with it in the store. At home, he spent fifteen minutes trying to eat a muffin using it, then an hour pretending he was a superhero called ClawMan.
The other thing was a ViewMaster ($5.99) with a couple reel packs ($3.49 each). Remember these things? You look into it like binoculars and see little 3D pictures on round cardboard reels. A direct descendent of the stereoscope, invented over a 170 years ago. The latest version of the toy solves an old problem: remember having to always crane your neck up to the light? Now, the reel sits flat on top, where light enters and is mirrored to the view lenses. I loved this as a kid and was quite pleased when my boy took an interest in one at the store. I bought it and left it on a shelf in my den with a Justice League reel in it. After I put the girl to bed, I came up and found him looking at. He had figured out how to switch reels and insisted on showing me every picture.
Two home runs, I'd say. Still questioning my toy-buying wisdom? I didn't think so.
-- mm
---
SUBJECT:
Toys R Me
DATE:
February-5-2005
Took the kids (girl just under 2, boy just over 4) to Toys R Us today. This was mainly to take them somewhere on a winter day where they could blow off some energy. They haven't really discovered avarice yet, so it's generally just fun, hands-on window shopping--though the boy has started to suggest "I wish that we could buy this" sometimes, but he's still distractable. Actually, we had a $20 gift card he got for his birthday, so picking something up wasn't out of the question.
I never ask him what he wants. I see what he shows an interest in, or I try to interest him in things I think he'd like (or I like... very grey area here). If I actually buy him something, I do it behind his back. When we get it home, I like to open and assemble it privately. If I decide if it's a good toy (well made, decent play value), I leave it without fanfare to be discovered in the playroom. My thinking is that I want to foster in him a sense of possibility for serendipitous delight, rather than consumer lust--that is, if he sees something he likes in a store, it could magically appear at home without his demanding it.
This may sound awfully complicated and manipulative, but--as any parent will tell you--there are so many toys out there that anything that can be done to control a child's desire for and delight in them makes everybody's lives easier.
-- mm
---
SUBJECT:
Protecting the Institution of Marriage
DATE:
February-4-2005
There is one thing, however, that President Bush mentioned in his State of the Union--something he has brought up many times--that I am in 100% agreement with: the need to have a Constitutional amendment to protect the institution of marriage.
Again, I agree with Mr. Bush that marriage and the family are one of the cornerstones of our society--nay, all human civilization!--and that in recent decades there has been a growing, insidious movement to erode the sanctity of that hallowed institution. So I heartily say YES! It is time to formally alter the law of our land to protect marriage from what is, undoubtedly, the greatest threat it has ever faced:
Divorce.
Freaking seriously. Who's a greater threat to the institution of marriage: pill-poppin' conservative class clown Rush Limbaugh and his three wives... or Ted and Gary, who want to buy a co-op together in the Mission District? You've all heard the stats: 50% of all marriages end in divorce. That, kids, is a sacred institution that's long been rendered a travesty. Even the Catholic Church has pussed out on this one. Annulments, my sacramental ass.
So, Mr. Bush, if you want to be taken seriously on your claim to protect the institution of marriage, have the guts to speak out against the number-one, hands-down biggest mockery of it. Divorce--or, more particularly, the frequency with which it is sought and ease with which is obtained in America--has been steadily undermining marriage and the family for generations. I dare you to say so, Mr. plain-talkin' pseudo-Texan. Go on. I Triple Dog Dare you.
-- mm
---
SUBJECT:
Dubya Goes Anti-Social
DATE:
February-3-2005
I did not watch the State of the Union address. I know I should have (my Bushku page is embarrassingly out of date), but I just can't stand to listen to the guy. Practically speaking, though, he is the president and I should pay attention to what he's doing... since he can--and does--do a hell of a lot of damage and I ought to do what I can to prepare for it.
Take the whole Social Security bugbear. Now, my grasp of macroeconomics is nil, so I can neither affirm nor refute anything he says about it being broke and needing whatever to fix it. I'm sure I'll read umpteen news articles detailing different perspectives on it that will give me a little more knowledge, but no real understanding of the issue. As the election coverage proved to me once and for all, news is little more than national cocktail party chatter that offers no real elucidation.
In any event, my initial reaction to the notion of allowing workers to invest a percentage of their social security wages in the stock market: it just seems like a plan to funnel money to Wall Street. Essentially, this is just Dubya trying make good on back-room promises to his financial industry backers. What other possible purpose could it serve? I mean, if he's arguing that the stock market will give future retirees a greater return than whatever social security is investing in now (where do they put that money, anyway?) ... why doesn't the government just start investing incoming social security funds in those markets? Why does it matter if individuals or the government are doing the investing... ain't it the same 4% either way? Is the difference that the government would demand returns the stock market couldn't guarantee? That individuals would be more able to absorb and/or less able to protest the risk? Or is it that he wants to raid social security funds now, and has to give future retirees a Plan B?
As I say, I really don't understand this. I'll ask some friends who know more than me what they think--but there's one thing I'm confident of in any event: I distrust King George II's motives in all things.
-- mm
---
SUBJECT:
Groundhog Day Song
DATE:
February-2-2005
Groundhog Day has been usurped in the popular consciousness by the Bill Murray/Harold Ramis movie. I like the movie just fine, but to me, Groundhog Day will always call to mind first a classic Warner Brothers cartoon ("One Meat Brawl," directed by Robert McKimson - 1947). The cartoon is culturally notable in that in that it contains a reference to meat shortages, common in the U.S. during and for a few years following World War II. However, it's a groundhog singing this song about his shaky weather-predicting talents that has stuck with me for 30 years:
A groundhog and his shadow are a very famous pair
They forecast the weather together a trick that is rare
The one little thing that bothers me when out of doors I go
Now does my shadow mean springtime or 16 feet of snow?

Never know which
I just can't re-mem-ber
Will it be warm?
or make like December?

The whole thing just confuses me and that is why I sing
A groundhog's shadow just doesn't mean a thing
I could never remember all the lyrics, so I Googled around for a bit and came up with them on this site: Looney Lyrics, with dozens of songs from old WB cartoons lovingly transcribed. In my search, I also came across the encyclopedic Warner Brothers Cartoon Companion site. I e-mailed the owner, who was kind enough to send me the lyrics as well.
Ah, but there's a controversy! For the rhyme with "remember" Looney Lyrics has "December" ... the Cartoon Companion site webmaster had "November." I seem to remember December, so I used that--but I'll have to put these two fellows (do you think any women would spend their free time cataloging 60-year-old cartoon trivia?) in touch with each other and let 'em fight it out.
-- mm
---
SUBJECT:
He Loves Me
DATE:
February-1-2005
My 4-year old son just said this to me:
"Daddy, I love you. I love you forever. I love you when I have a time out. I love you if you do something to me good, or bad, or a little confusing."
Ah, would that we all had such capacity for unconditional affection! Although, if I loved everyone who did something a little confusing to me I'd have to take out a second mortgage every Valentine's Day.
-- mm
---